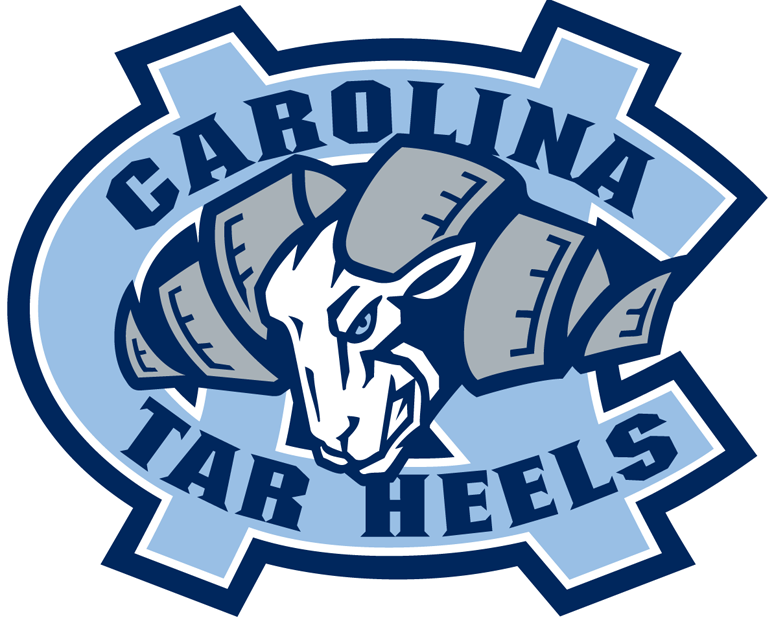 The North Carolina Tar Heels are also referred to as the Tar Heels. The team has taken home five NCAA Tournament cups in 1957, 1982, 1993, 2005 and the latest one in 2009. The team is tied for the third most of all time. Also, the Tar Heels have won a total of 18 Atlantic Coast Conference tournaments with 30 Atlantic Coast Conference regular season wins. The school's basketball program has produced greats such as Michael Jordan, Bill Cunningham, and James Worthy. The team has made it to 19 NCAA Final Fours, and have entered into the NCAA tournament a record of 44 times which puts them in second most all time. A total of 116 wins, and the fact that they were the no.1 seed 15 times, with the latest one being in 2016. An AP poll ranked the Tar Heels in the top 25. Plus, most fans love the fact that the team has beaten no.1 ranking teams a total of 12 times, along with 20 consecutive season wins. ESPN ranked North Carolina's men's basketball program in the top 50 in half a century.
If you're a fan of the North Carolina Tar Heels, but don't want to spend top dollar on cable television then below is how to can stream the Tar Heels live online!
Watch North Carolina Tar Heels Online Using the Official Tar Heels Website
The official Tar Heels website is good enough if all you want is to watch a few clips from a past game or live stream audio commentary. You can't stream the team's game live, so despite being free, it's not the best option unless you're broke!
Streaming North Carolina Tar Heels via CBS All Access
All college basketball fans are probably aware of the fact that CBS broadcasts the North Carolina Tar Heels whenever they play. After all, it's one of those teams that get advertisers excited. However, if you don't have cable or don't want it, you can subscribe to CBS All Access for around $6 a month. The subscription enables you to stream all CBS programming including the Tar Heels via the All Access app for iOS and Android devices. You can also stream on your laptop!
Live Stream North Carolina Tar Heels Online with Sling TV
If you are a real hardcore sports fan or even just a NCAA basketball fan, in particular, a Sling TV subscription will make sure that you don't miss a tournament. Sling TV is a service which live streams an array of channels to your computer, iOS (iPad, iPhone), XboxOne, Chromecast, and Android device. However, of particular interest to Tar Heels fans will be TBS, TNT, and ESPN, all of which are available with the $25 Blue package.
Live Stream the North Carolina Tar Heels Online with DIRECTV NOW
DIRECTV NOW is also a live channel streaming service like Sling TV. The major difference is that AT&T owns this one, and the basic package starts at $35 but in addition to an array of channels like Fox, CNN, Disney, etc. you also get TNT, ESPN, and TBS. Plus, AT&T does not charge for the data you use up during streaming which may be something that millennials will find worth considering.
>>Get a Seven Day Free Trial to DIRECTV NOW<<
Streaming North Carolina Tar Heels on Netflix, Hulu, and Amazon
No way you'll be able to stream the Tar Heels live on either of these three services. Netflix, Hulu, and Amazon are perhaps best subscribed to if you want to watch episodes of hit television shows like MacGyver, or The Blacklist maybe.
Other Methods of Streaming the North Carolina Tar Heels Free Online
The Tar Heels are one of the most popular NCAA basketball teams which is why we are sure that there are many nefarious ways to stream the team playing for free. However, avoid all those methods like the plague unless you want to spend time in the slammer!