The Michigan State Spartans are MSU's men's basketball team that plays in the Big Ten Conference of the NCAA's Division I College basketball. The team is coached by Tom Izzo who has been with the team since 1995. The Spartans have over the years won 13 Big Ten Conference Championships and two NCAA Championships. Interestingly the 1979 National Championships game was the most watched in college basketball history with 35.11 million viewers across the country, and it's also when the Spartans won the Championship. The team included greats such as Greg Kesler, Jay Vincent, and Magic Johnson. The Spartans solidified their win by beating the previously undefeated Indiana State Sycamores which was led by the Hall of Famer Larry Bird. The Spartans have participated in 19 consecutive NCAA tournaments from 1998 to 2016, making it the third longest active streak in NCAA men's basketball, right behind Duke and Kansas. The team also has the 8th most Final Four appearances.
Whether you're a long-time Michigan State Spartans fan or love the way they are heavy on defense, you certainly don't want to miss work or travel anymore to watch them play. So, below we look at how you can stream the Spartans live online!
Watch NCAA Basketball on Any Station with Fubo TV
Fubo TV is a name you may not have heard of yet but it's fast becoming one of the better streaming options for sports out there. You get CBS, TNT, TBS and a ton of other sports channels including Michigan State games. Check out their free trial and start streaming the game below:
Watch Michigan State Spartans Online Using the Official Spartans' Website and Official App
The official website and its accompanying app for iOS and Android devices should suffice if all you need is to keep up with the team and stream a couple of highlights from last night's game. However, you'll not be able to stream the team playing live. The closest you'll get to anything live on the website is commentary! That said if you're a huge Spartans fan then below are a couple of options which will enable you to live stream the team online.
Stream Michigan State Spartans via CBS All Access
CBS airs just about every game played by the Michigan State Spartans. That said if you don't have cable or would rather spend on a service which allows you to live stream when on the go then you can't go wrong with Paramount Plus. All Access allows you to stream the Spartans live whenever they are playing and college basketball in general. You also get access to dozens of original hit CBS shows like Supergirl, Rush Hour, etc.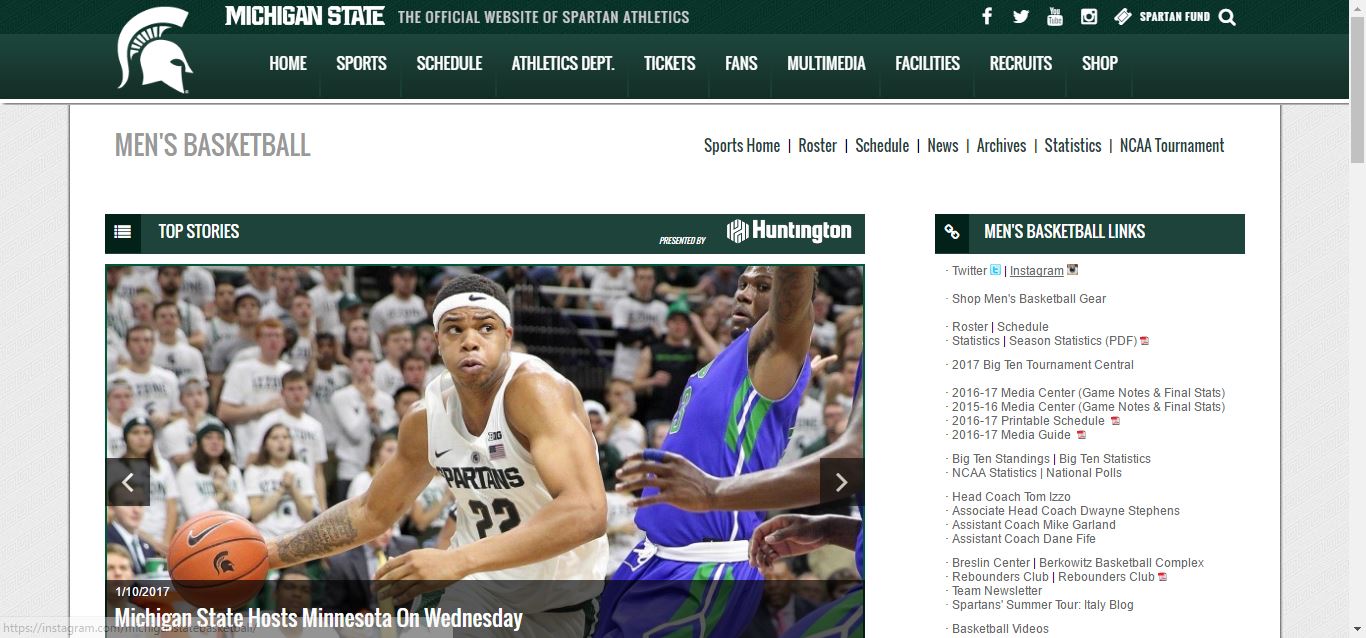 Live Stream Michigan State Spartans Online with Sling TV or Hulu Live
Sling TV is a full-blown streaming service offering dozens of channels starting at $20 a month. If you want to watch the Michigan State Spartans play or college basketball in general, then Sling TV is a great option, because, in addition to ESPN, you can also stream TNT and TBS both of which air NCAA basketball games.
or
Live Stream the Michigan State Spartans Online with AT&T TV NOW
AT&T TV NOW is a streaming service by AT&T which means that they can throw in the data you consume during streaming for free with the package. Starting at $35 for the basic package you can stream all the games played by the Michigan State Spartans, in addition to other channels such as CNN, Fox Sports, Disney, etc. Plus, thanks to apps for iOS and Android devices you can stream using the service when on the go!
Streaming Michigan State Spartans on Netflix, Hulu, and Amazon
You'll not find college basketball games streamed live on Netflix, Hulu or Amazon for that matter. So, it's only fair to assume that being a subscriber to any of these services is not going to help if you want to stream the Spartans live.
Other Methods of Streaming the Michigan State Spartans Online for Free
We are not aware of any other ways of streaming the Michigan State Spartans for free and legally. The only legal methods, and we must add reliable methods are the ones described above. If you're caught pirating a Michigan State Spartans game, then be prepared for some time the slammer!