How to Watch the Macy's Day Parade Online Free for Thanksgiving
|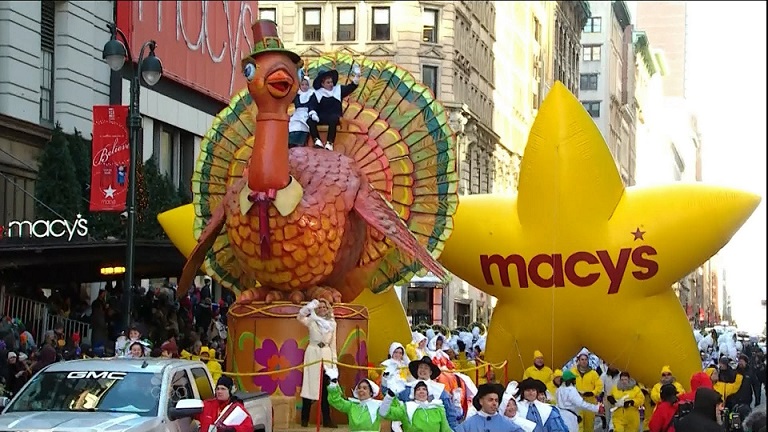 Update 2017: The Macys Day Parade will be streaming on NBC yet again this year! That means you can get it a few different ways online. Through the NBC App or through a service like Sling or DIRECTV NOW that gives you NBC live, including the Macys Parade. Sling gives you a seven day free trial so you're good to go just for this occasion. You can watch almost every NFL game online with Sling as well so it might be good for the Giants, Lions, Vikings, Redskins, LA Chargers and Cowboys fans in your life (or the drunk, bored ones).
The best way to stream The Macy's Day Parade is with DIRECTV NOW, their standalone streaming service that doesn't require cable or any contracts. You can get full access to their service for free for seven days, so give it a try here:
Try DIRECTV NOW Free for 7 Days
The best part? You'll get full access to dozens of other channels as well if you're looking for something fun to put on the TV while your family is visiting.
Sling, another streaming service, has a 7 day free trial here, and just like DIRECTV NOW, you can get access to lots of other great channels as well:
>>Get a jump on the holiday shopping rush! View the best Black Friday deals on the web HERE<<
The Macy's Day Parade is a Thanksgiving tradition that has been running since 1924. Starting as a fun promotion for the brand, the parade has evolved into a massive event that has become just about as much a part of the day as pumpkin pie, cranberry sauce and playing board games with drunk relatives. It has a storied history, well worth a read if you have a few minutes here.
Some fun Macy's Day Parade facts:
The parade started in 1924
The parade was suspended 1942-1944 during WWII
The first balloon in the parade was Felix the Cat, introduced in 1927 – it caught fire on some wires
Floats were introduced in 1971
There have been over 20 incidents with balloons deflating and often times causing injury
For those looking to watch it on the big screen, remember, the Macy's Day Parade is available to watch free with a digital antenna hooked up to a television set, no need for a cable subscription. This is often times the most overlooked element of broadcast television, that it's available for free anywhere in the US assuming you are within range with digital antennas.
If you've got nothing more than an internet connection, Macy's will be broadcasting the parade on their Parade website here for anyone without access to a television. The 89th annual Thanksgiving Day Parade will stream in its entirety online.
Will the Macy's Day Parade be on Hulu or Netflix? Hulu might pick up the streaming rights to the parade but it is relatively unlikely. Netflix is pretty much a guaranteed no, as the service rarely orders such time-sensitive content.
The NBC app will also likely be streaming the parade if you're looking to watch the Macy's Day Parade on a mobile device or tablet.