"You refer to the prophesy of the one who will bring balance to the NFL." No, this isn't Star Wars, but it feels like it sometimes. The New York Giants seem to be a team of destiny. They'll make the playoffs when you least expect it. Eli Manning will suddenly become the greatest QB of all time right when he needs to be. And when the New England Patriots need slaying, The Giants will be the ones exacting their vengeance upon thee. They're a fun team to watch, in the biggest market in the country. Fans from New York AND New Jersey love the Giants and want to stream their games wherever they are. The Giants play in a contentious division alongside the Cowboys, Redskins and Eagles.
There are several ways to legitimately stream The New York Giants games online. Here are just a few of them.
Live Stream the Giants Game on Sling TV
Sling is a new cable alternative that allows you to choose only the channels you want to subscribe to and stream them online using a proprietary app. What that means in reality is that you'll get stations that the Giants play on like ESPN, NFL Network, NBC and even Bravo and HGTV for the wife. It starts at $20 a month and that gives you most of what you'll need to stream the Giants. There's a 7 day free trial so give it a go if you're interested in the future of television:
Fubo has Local Streaming Access to Giants Games
Local streaming deals for NFL broadcasting rights can be complicated. Fubo has done a great job of securing some of them and, like the options above, will allow you to stream NFL games and RedZone live on mobile devices in most major markets. Head over there now for a free trial and to find out what teams are streaming with Fubo:
Use a VPN to access out-of-market Giants games
Live in one city but want to watch a game broadcasting in another city? NordVPN has you covered. Set up a VPN and just like that, you can use any of the above streaming services to access live streams of your favorite team.
Stream Giants Games with Hulu
One of the biggest names in streaming, Hulu has live streaming options that will give you access to ESPN, FOX, CBS, and NBC. That should cover a good chunk of the Giants games you're looking to stream if your local team is available on one of these networks.
Game on CBS? Watch the game here:
If you're looking to stream your team's game on CBS, Paramount Plus now offers streaming of NFL games through their handy streaming service. Get a free trial here and start streaming.
Watch NY Giants Games Live Without Cable with AT&T TV NOW
Fans of the NY Giants love a good deal when they see one.  AT&T TV NOW's service is a new one that has all the channels you're wanting. ESPN, Fox News and of course you'll be able to stream all Giants games from anywhere. Grab the 7 day free trial because this is the deal of the century?
Watch The Giants Online for Free with NFL Mobile App
We have some good news for you if you're a person with a cell phone. You are? Great. Are you a Verizon customer? If you are you should open up your app folder and click on the NFL Mobile app. It's free and mandatory for all subscribers. You'll get all special games meaning Monday Night Football ans well as TNF and SNF for free with this app. If the Giants are playing in one of these games you'll be able to stream it for free with the NFL mobile app. It's the easiest way to get the job done and you can stop reading now.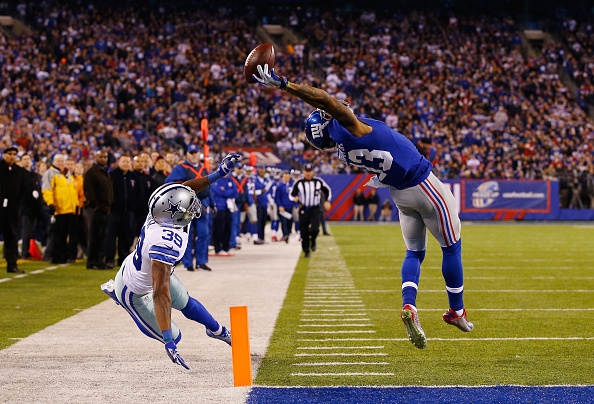 Are The Giants on Netflix or Hulu? How About Amazon?
No. Netflix and Hulu have yet to master the world of sports, particularly the NFL where they've never yet had access to a Giants game or any game for that matter. Maybe someday in the future there will be a bundle that includes TV, Sports and streaming apps all in one (pssst it's called cable) but today is not that day, Giants fan!  Now go out there and beat The Cowboys!
Amazon actually does have 10 Thursday Night games this year so Prime members can stream the Giants live and free! Check out their 30 day trial:
Try Amazon Prime Free for 30 Days
Illegally Live Stream Giants Games for Free
If you're looking for a less legal way to stream the giants games you can hit up Reddit and ask for one. We can't recommend taking this route because most of these streams are low in quality, give you a ton of buffering and worst of all, you'll probably end up with a virus on your computer instead of a free stream of the Giants game. No one's got time for that, right?
If you search Google or your favorite search engine for a Giants live stream you'll probably see several options. Don't waste your time because there are several other, official channels online that will allow you to stream the Giants. Again, you're taking your computer's life into your hands as well as your own freedom. Support the Giants and choose a legal option above!