Based in Los Angeles, California the club started playing in the 1960s. Back then the team was a charter member of the AFL, during which it spent the first season in Los Angeles before moving over to San Diego in 1961. In January 2016, the NFL approved for the Chargers to be relocated to Los Angeles but the team's CEO Dean Spanos decided to represent the city through the 2016 season which means they could be playing for Los Angeles in 2017. They're in the AFC West with the Broncos, Raiders and Chiefs. That said if you're a Chargers fan but are too busy with work to catch the game then here is how you can stream it online and on the go.
Live Stream Los Angeles Chargers Online with Sling TV
Sling TV is similar to having a cable service provider hookup cable to your television but with Sling TV it's hooking up all your smart devices. Subscribers to Sling TV don't need a setup box or even a television all they need is the will to pay upwards of $20 a month, have a broadband internet connection and a smart device like an iPad or iPhone, etc. The $20 is for the basic package and includes many sports channels, ESPN and Fox Sports being one of them. However, with these two channels, there is no question about the fact that you'll be able to stream the Los Angeles Chargers online and on the go.
Fubo has Local Streaming Access to NFL Games
Local streaming deals for NFL broadcasting rights can be complicated. Fubo has done a great job of securing some of them and, like the options above, will allow you to stream NFL games and RedZone live on mobile devices in most major markets. Head over there now for a free trial and to find out what teams are streaming with Fubo:
Stream Chargers Games with Hulu
One of the biggest names in streaming, Hulu has live streaming options that will give you access to ESPN, FOX, CBS, and NBC. That should cover a good chunk of the Chargers games you're looking to stream if your local team is available on one of these networks.
Use a VPN to access out-of-market games
Live in one city but want to watch a game broadcasting in another city? NordVPN has you covered. Set up a VPN and just like that, you can use any of the above streaming services to access live streams of your favorite team.
Chargers Game on CBS? Watch the game here:
If you're looking to stream your team's game on CBS, Paramount Plus now offers streaming of NFL games through their handy streaming service. Get a free trial here and start streaming.
Watch the Chargers Live Without Cable with AT&T TV NOW
Chargers games are getting easier to stream, Los Angeles. Similar to Sling, AT&T TV NOW's service is the new kid with the big brand in town. ESPN, Fox News and of course you'll be able to stream most cable channels online as well. You get a 7 day free trial so you have nothing to lose and it's only $35/month after that.
Watch The Los Angeles Chargers Online via Their Official Website
The Los Angeles Chargers have an excellent website because everything is free! The videos, forum, photos, etc. don't cost a dime which means that you can keep up with your beloved team and even book tickets to their next game. The only thing that's missing is a live streaming option, though we wish they were a live streaming option, but they don't because that has little to do with the team and everything to do with the NFL! Though if you're hell-bent on streaming a live Chargers game below are a couple of different methods.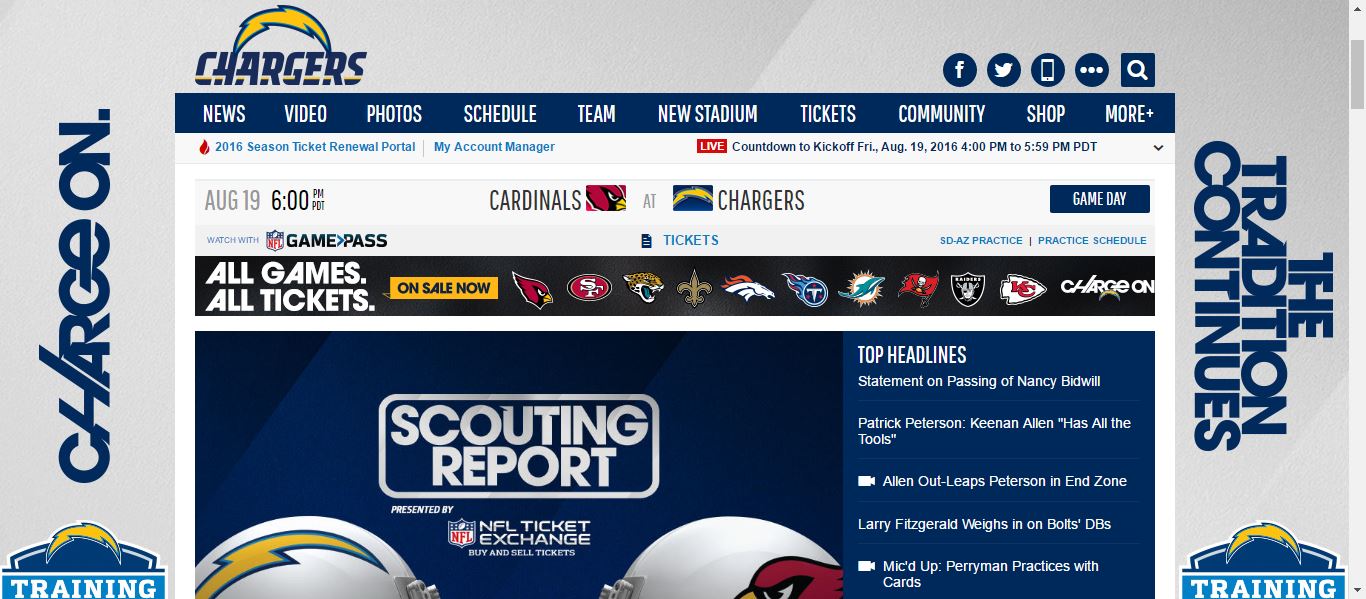 Streaming with the NFL Game Pass
The NFL Game Pass costs $99 a year and allows subscribers to watch all the regular season games as soon as they are over. When you download and install the pass app, you can access live preseason games and listen to commentary without accompanying video for regular season games. There are also various camera angles and a few snippets of exclusive content which is not available on regular television. You also have the ability to replay all of the regular season games, Super Bowl, and Playoffs.
Other Streaming Options for the Chargers
Verizon has an NFL Mobile app that is free for their customers. If the Chargers are on Monday, Sunday or Thursday night you'll have them.
Playstation Vue is another options similar to Sling where you pay for channels online. The Chargers play on several different channels.
Head to the game! The Chargers will be live streaming right into your pretty little face.
Amazon also has Thursday Night Football live streaming for all Prime members free of charge. Not a Prime member yet? There's a 1 month free trial:
Try Amazon Prime Free for 30 Days
Avoiding Illegal Live Streams of Chargers Games
In addition to the above, there are a few free streaming options one of which is to actually be there at the game i.e. spend some money on tickets if you're a real Chargers' fan.. and don't forget the hot dogs! But all jokes aside we are against piracy and you should  be too since it's illegal. But while the odds of the FBI kicking in your door for watching Phillip Rivers throw a pass on an illegal Russian streaming site are slim, the chances of you contracting a computer virus are actually quite high.
Don't say we didn't warn you and happy streaming, Los Angeles.
Last Updated on by Exstreamist