Living Biblically is an American sitcom produced by Johnny Galecki for CBS. It is based on the best-selling novel The Year of Living Biblically by A.J. Jacobs. The series is about a married film critic who decides to become a born-again Christian after the death of his friend Ray and starts living life biblically as commanded by the Holy Bible. However, things aren't that simple as he soon finds out and people tend to think of him as a loon. That said it still makes for an interesting and often funny watch as he goes about ditching modern life for ancient dogma.
If you are a fan of strange comedies, then this will be right up your alley. Below is how you can live stream Living Biblically without being offended!
Watch Living Biblically Online Using the Official CBS App or Website
The official CBS app for iOS and Android devices along with their website enables you to live stream episodes of Living Biblically for free. However, before you accuse us of misguiding you, keep in mind that these services only work for subscribers because they require you log-in with your cable subscription details. So, obviously, if you don't have a cable subscription the apps and website are useless. Though there are other ways of streaming the show via a cord-cutting service.
Live Stream Living Biblically Live via AT&T TV NOW
AT&T TV NOW is one of those cord-cutting services we were alluding to earlier. It is a service run by AT&T, which includes a number of networks like CBS, Syfy, FX, etc. all of which are streamed live. So, it stands you reason that you'll be able to stream all the episodes of Living Biblically. That's in addition to the fact that thanks to apps for Android, iOS and a load of other devices it is possible to stream from anywhere. That means you don't have to be in a hurry to reach home just to catch another bible thumping episode! Also, starting at only $35 a month it's not going to break the bank either. That said click below for the free trial before signing up.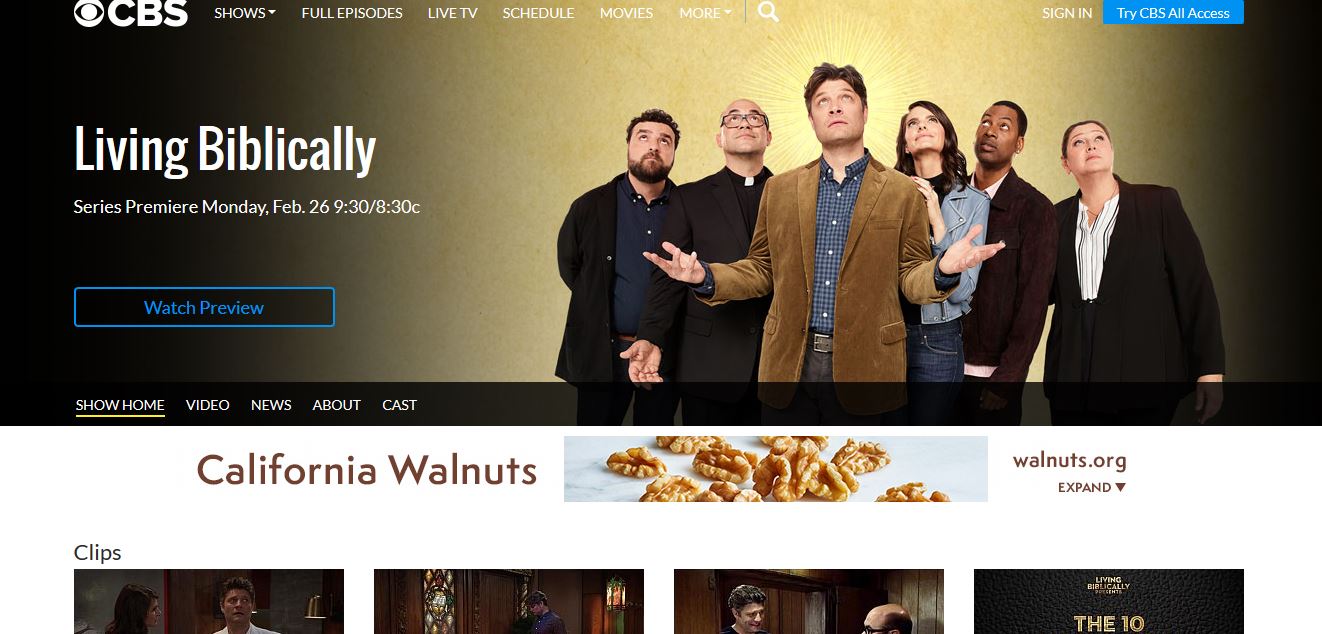 Live Stream Living Biblically Online with Sling TV
Sling TV is another cord-cutting service which starts at a slightly cheaper price point of just $20 a month. However, you'll need to upgrade to watch Living Biblically. That said in addition to CBS you get to stream many other live networks via a series of apps for all the latest devices. All you need to make sure of is that your internet is up to snuff! Click below for a free 7-day trial.
Streaming Living Biblically on Netflix, Hulu, and Amazon
It has become very hard to find CBS content on Netflix which is why at least for now Living Biblically is not available. Though we don't expect it to be available anytime soon either.
Hulu too does not have episodes of Living Biblically yet. However, apart from a few old shows, there isn't much CBS content on here either.
You should be able to download the latest episodes of Living Biblically from Amazon Prime to watch later. However, you'll also be looking at paying a whopping $2.99 an episode.
Other Methods of Streaming Living Biblically for Free
Have you heard "Thou shalt not pirate"? Well if you haven't then we're not surprised but let us educate you about this commandment. The first being that most freebie websites are run by pirates. The second being that if you're caught streaming Living Biblically free, you may not be stoned to death but instead have to pay a hefty fine. So, you're better off using one of the cord-cutting services mentioned above.
Last Updated on by Exstreamist