How would you like to watch Golf 24/7, not to mention watch the LPGA, PGA, and European tour live in addition to numerous other championships such as the NCAA and PGA Tour? The Golf Channel is part of the NBC Sports Group, which was acquired by Comcast, which also acquired NBCUniversal. Since the acquisition in 2000, the channel has increased its ratings by 57% and viewership by over 45%. It is considered to be the no.1 most successful ad-supported television channel both in primetime and daytime transmissions.
If Golf is your thing and you love watching everything Golf related, then you'll want to stream The Golf Channel live online so here is how you do it.
Stream the Golf Channel with their Official App
The Golf Live Extra app is available for both the iPhone and Android devices. The app allows users to stream The Golf Channel online for free 24/7 complete with commercials on the go. However, to stream via the official app, you will have to be a subscriber to the channel via your cable service provider. If you're not a subscriber you could try to borrow a friend's or family member's credentials if they are golfing fans but who in the world loves golf and is broke? But if you are then check out a few other live streaming options below.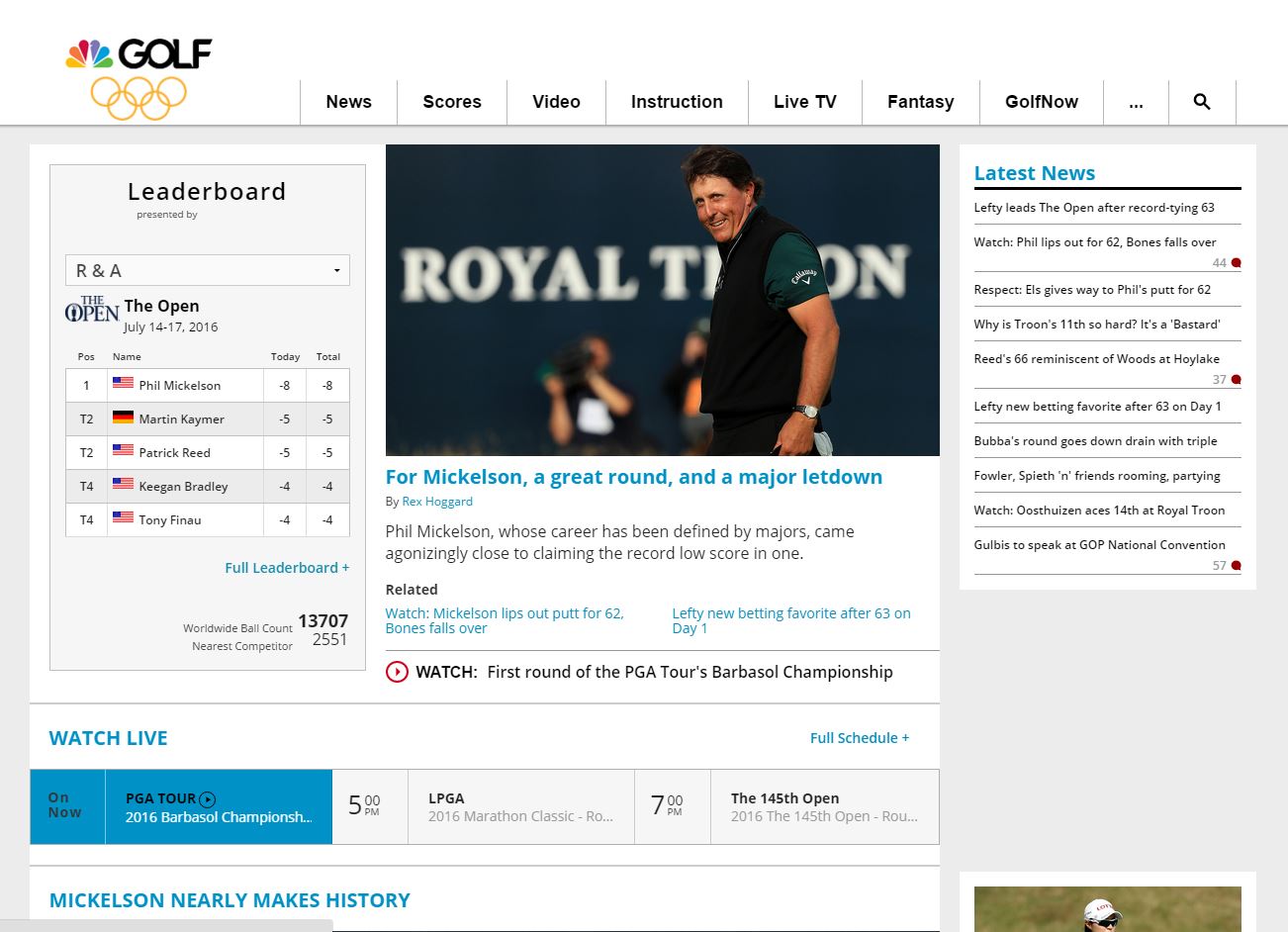 Stream The Golf Channel Free by Becoming a Sling TV Subscriber
One of the best ways to stream The Golf Channel without spending a whole lot of money is to subscribe to Sling TV. Sling TV is a cheap, online alternative to conventional and often expensive cable television which if you watch too much of will ensure you never have enough money to tee off. That said for $19.99 a month you get access to dozens of channels but for an extra $5 a month you can choose to add The Golf Channel to the list. $5 is practically nothing especially considering how much we pay for a golf ball! You can stream the channel live across all your Android and iOS devices.
Stream The Golf Channel with AT&T TV NOW
Another method of streaming the Golf Channel online is via AT&T TV NOW. The service includes the channels as part of its "Go Big" package for $60 a month. However, in addition to being able to stream the Golf Channel you'll also be able to stream dozens of other channels. Plus, thanks to the iOS and Android apps for the service its possible to stream on the go. Having said that the big advantage of AT&T TV NOW over the competition is that you're not charged for the data consumed when streaming golf 24/7!
Live Stream the Golf Channel with fuboTV
fuboTV brings the PGA Tour and a load of other hot golfing tournaments to a device in your backpack or pocket. Costing a mere $44.99 a month subscribers to the service stream dozens of sports networks in addition to news and entertainment. It is like carrying around a cable subscription! fuboTV is currently offering a commitment free 7-day free trial to anyone who clicks on the button below to get started.
The PlayStation Vue has Golf Too!
The PlayStation Vue is just like Sling TV except more expensive. If you want to stream the Golf Channel online via the Vue, you'll be looking at paying $45 a month for their 'Core' package. However, once you're a subscriber, you can stream the channel live to just about any device you may own. The only restriction is that you're expected to stick with a trusted internet connection. The upside is you can switch between The Golf Channel and gaming on your PlayStation 4 in a few seconds!
Nefarious ways of streaming The Golf Channel online for free?
You can stream The Golf Channel online for next to nothing officially so why go the route of using a nefarious method? If anything breaching copyright law is bad for your health. That said Golf is a game for the wealthy or retired if you're neither then you should consider something like Baseball!
Last Updated on by Exstreamist