Morning Joe is a daily MSNBC News talk show which airs from 6 am to 9 am EST. The show features Joe Scarborough a former GOP rep who discusses the news and enterprise reports with a panel of co-hosts comprised of Willie Geist and Mika Brzezinski. The show was created back in 2007 to replace Imus in the Morning which aired since 1996. However, the program has managed to rise significantly by shifting focus mainly to enterprise journalism with many reports sourced from Brzezinski and Scarborough themselves. Both anchors obviously leverage the connections they have with the State Department, US Congress, and the White House. The show attracted over a million viewers a day for the first time in its history starting in May 2017. But not only does MSNBC report the news but also plays matchmaker case in point being Scarborough and Brzezinski are now engaged and planning to get married!
If you're one of those people who'd rather spend their Morning with Joe, then below is how you can stream Morning Joe online.
Watch Morning Joe Online Using the Official MSNBC Website
Subscribers to MSNBC can watch Morning Joe online for free via the official website. While we are sure that most people will want to stream the show on the go via some sort of official app, but MSNBC doesn't  have one yet. Though you could try to access the stream via your phone's web browser which worked for us. Though don't expect an app anytime soon. And if you are not a subscriber and still want to live stream Morning Joe every day then check out the streaming options below.
Live Stream Morning Joe Online with AT&T TV NOW
AT&T TV NOW is owned by AT&T and live streams a number of news and entertainment channels via its apps for mainly iOS and Android devices. The lineup of channels includes MSNBC and starts at $35 a month. So, all you need is to subscribe, install the app and start streaming Morning Joe live starting at 6 am EST. You can also switch to other channels like CNN, Fox News, ESPN, etc. during commercial breaks! Use the service for free (for a limited time only) via the button below.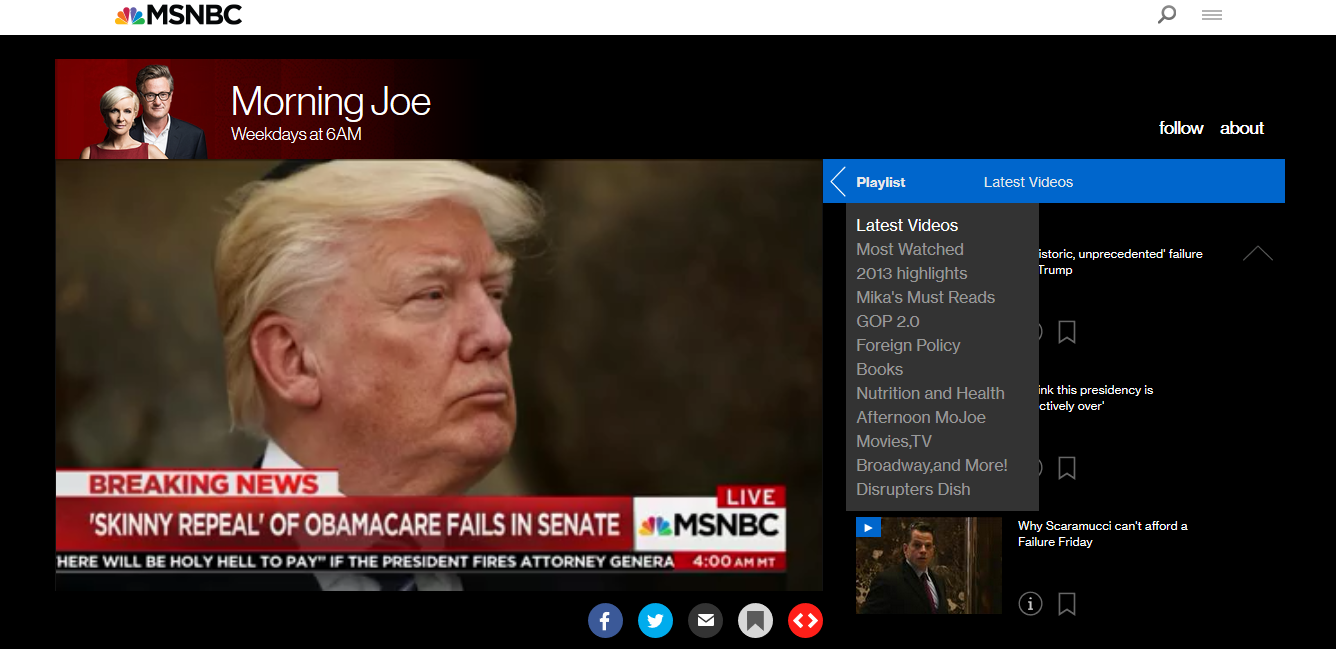 Live Stream Morning Joe Online with Sling TV
Sling TV is a cord cutting service which amongst other channels live streams MSNBC ensuring that you never miss another episode of Morning Joe. Slightly cheaper than AT&T TV NOW, Sling TV costs just $20 a month. However, you'll need to add-on the 'News Extra' package for another $5 and that can only be added to the 'Blue' package. That said you still get access to literally over a hundred channels all of which are streamed both via a conventional web browser and apps for iOS, Android, Chromecast, and Fire devices, etc.
Streaming Morning Joe on Netflix, Hulu, and Amazon
Netflix and Hulu don't stream or have episodes of Morning Joe. The reason perhaps is that despite rumors both services haven't gotten down to dealing with news outlets just yet.
You also won't be able to download episodes of Morning Joe or any other news show for that matter from Amazon Prime. Then again who'd want to pay upwards of $5 for a show aired live every day!
Other Methods of Live Streaming Morning Joe for Free
One way we found was to stream MSNBC on YouTube. However, if that does not work for you, then try searching for the previous day's or weeks' episodes of the show on YouTube. In most cases, you should find what you are looking for, and it's not entirely illegal. But using any other method of streaming Morning Joe live other than searching YouTube can get you behind bars!
Last Updated on by Exstreamist