La Liga is the Primera División and also called La Liga Santander. It is one of the top pro association football divisions of the Spanish football league. The league is administered by Liga de Futbol Professional or LFP. La Liga consists of twenty teams the bottom three teams are placed in the so-called Segunda División and later replaced by the top two teams, plus a team that's won the play-off. Over sixty teams have competed since La Liga's inception, with nine teams crowned champions. Real Madrid won a whopping and record breaking 32 times, with Barcelona close behind at 24 times. Real Madrid was considered the best team from the 1950s, through to the 80s. However, Barcelona caught up in the mid-1990s by picking up 14 titles compared to Real Madrid's seven titles. UEFA has ranked La Liga as the top European league for the past five years. La Liga enjoyed an average attendance of 26,741 for its league matches through the 2014-15 season. It is the sixth highest attendance closely behind Bundesliga, Indian Super League, and the Premier League.
Whether you're a general soccer fan or a fan of specifically La Liga below is how you can stream their games online!
Watch La Liga Online Using the Official La Liga TV App
The La Liga TV app is tied directly in with La Liga TV. The app does allow you to stream La Liga TV live which means that you'll get the lowdown on all the latest games, highlights, and various other soccer related shows. Streaming the network live is free but only if you are a subscriber. If you're not a subscriber, then this will not work for you. That said there are other ways of streaming La Liga games online for free.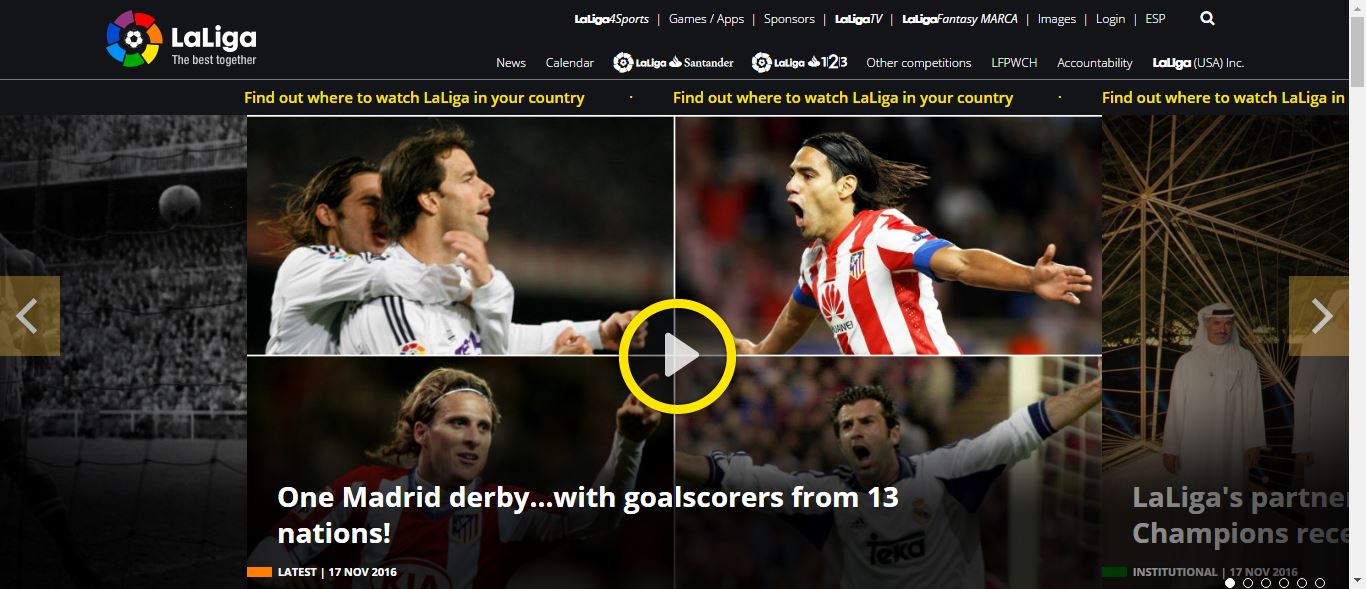 Live Stream La Liga Online with Sling TV
Sling TV streams dozens of channels live. Sling TV subscribers are treated to hundreds of sporting events during any given calendar year. However, if you are a La Liga fan, you can watch all the games on Bein Sports, Fox Sports, and ESPN 1&2. In addition to being able to watch La Liga, you can also live stream WWE matches, NFL, NBA, etc. A Sling TV subscription starts at just $20 a month and with the Sling TV app you can stream La Liga or any other sporting event for that matter on the go.
Watch La Liga With the PlayStation Vue
You can stream all the La Liga games with the PlayStation Vue just as you would with Sling TV. However, the PlayStation Vue is slightly more expensive starting at $40 a month, but the 'Core' package which includes Bein Sports costs $45 a month. That said thanks to the PlayStation Vue app you can stream all the channels live on your mobile device not to mention also on your PlayStation Console.
Other Ways of Streaming La Liga Online for Free
We are not aware of any free and legal ways of watching a premium La Liga soccer match. That said be careful because there are many illegal websites which if you are caught using could get you penalized for piracy. It is one red card you don't want to get!