New Girl is about a girl obviously! No, we're not kidding she's called Jessica or Jess, a young woman who happens to be a middle school teacher. One day she returns home to find her supposedly perfect boyfriend with another woman after which she dumps him and finds another place to live. She hops on to Craigslist (another blonde move) and finds a new roommate or mates who are three young semi-attractive men i.e. Coach, Schmidt and Nick. Later on, Coach is replaced with Cece, who is Jess' best friend since childhood and a successful fashion model. But if you're a fan of Coach he does return now and then.
If you like watching chick flicks and movies with lots of awkward situations, then this serial is for you.
Check out below how to watch New Girl online for free because that's the only way millennials should rock!
Watch New Girl online free on Fox Now!
Fox Now is Fox's official app for the smartphone age! When you've got the Fox Now official app installed on your iOS or Android device you can watch the latest episodes of New Girl live as soon as it is aired, no delay what so ever. However, you'll need to be a subscriber to Fox via your cable service provider. You could also try borrowing the subscription credentials from your friends and family members, but we doubt that they will trust you with it. Oh and one more thing there will be commercials…lots of them!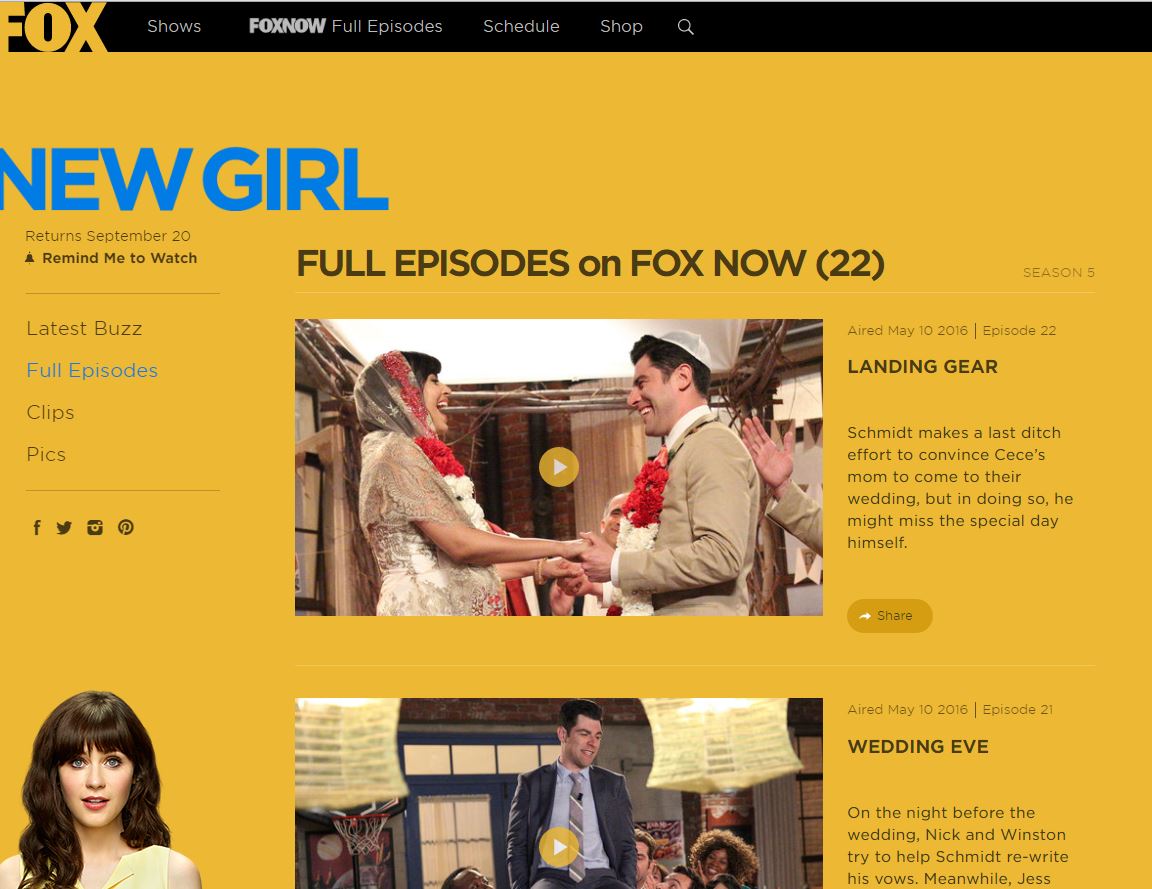 New Girl Streaming Live on Sling TV
When it comes to watching New Girl online for free, you simply cannot beat what Sling TV has to offer. Sling TV is a subscription based online television service which allows you to stream dozens of channels like Spike, Bravo, TBS and NBC Sports for a flat monthly fee for $19.99. The package includes Fox, so you should be able to stream the latest episodes as soon as they are aired.
Head over there now to check it out and sign up for the free seven day trial.
Catch Full Episodes of New Girl on Hulu and Amazon Prime
We just checked, and all the latest episodes of New Girl are available on Hulu and Amazon Prime. Though you're not going to find episodes that haven't yet be aired on Fox or ones that were aired last night, you'll have to wait a while. However, with Hulu, you can stream past and present episodes as well as previous seasons all for one tightly wrapped monthly package which isn't more than a few dollars.
Amazon Prime has all the seasons of New Girl, but you'll be paying per episode($2.99). The one upside is you skip through all the ads. But at around $24 for a complete season we reckon it's way too expensive for a regular, run of the mill, jobless youngster. It's probably better suited to maybe a tech billionaire.
So you might be wondering why we didn't cover how to watch New Girl online for free?
The simple answer is that you can't watch it for free! Nothing worth watching in life is free. Though some websites stream Fox for free, it is illegal, and they steal your identity.