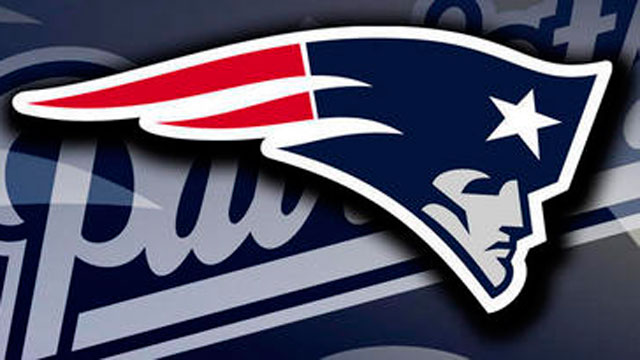 UPDATE 2017/2018: The Patriots games on broadcast networks NBC, FOX and ESPN are now available on DIRECTV NOW this year, no cable required. If you're an AT&T Wireless customer you'll save a ton of money as well. Sign up for their seven day free trial to see if it's for you:
Try DIRECTV NOW Free for 7 Days
When you think of the New England Patriots what do you imagine? An amazing team from Boston that mercilessly destroys opponents? A bunch of cheaters that do whatever they can to win? The Patriots are many things to many people but there's no denying one single fact: they're fun to watch, online or otherwise.  New England is in the AFC East with the Jets, Dolphins and Bills (wow, no wonder they win so often!)
The NFL restricts streaming on the whole but offers a few different methods for getting the Patriots game online. Here are some of them.
Live Stream the Patriots Game with Sling TV no Matter Which Channel They're On
What if I told you there was an online streaming service that offered not only RedZone, Monday Night Football (as well as TNF and SNF) in addition to AMC, MTV and lots of other channels for $20-30 depending on the package you select? You'd check it out right? Well Sling is all grown up and is just that service. There's a trial period so give it a go. You'll get all Patriots games without fuss or buffering. Learn more about it here.
Watch New England Games Live Without Cable with DIRECTV NOW
Patriots games are getting easier to stream every day.  Here's another option: similar to Sling, DIRECTV Now's service is a bit newer but has all the channels you want. ESPN, Fox News and of course you'll be able to stream SNF, TNF and MNF online too because you know the Patriots are featured more often than most. You get a 7 day free trial so any Patriots fan can afford it.
Try DIRECTV NOW Free for 7 Days
Live Stream the Patriots for Free on Verizon's NFL Mobile
If you're using Verizon you should have an app on your phone called "NFL Mobile".  If not, you can download it from the Play or Apple store. Verizon customers can stream any Patriots game including Thursday Night Football, Monday Night Football or SNF for free via the NFL Mobile App. There are no catches, you'll have to experience a blank screen during commercials but you can totally stream any "special" Patriots game mentioned with impunity. Normal Sunday morning games won't appear in this app but you can always watch those on traditional television if you're in Boston.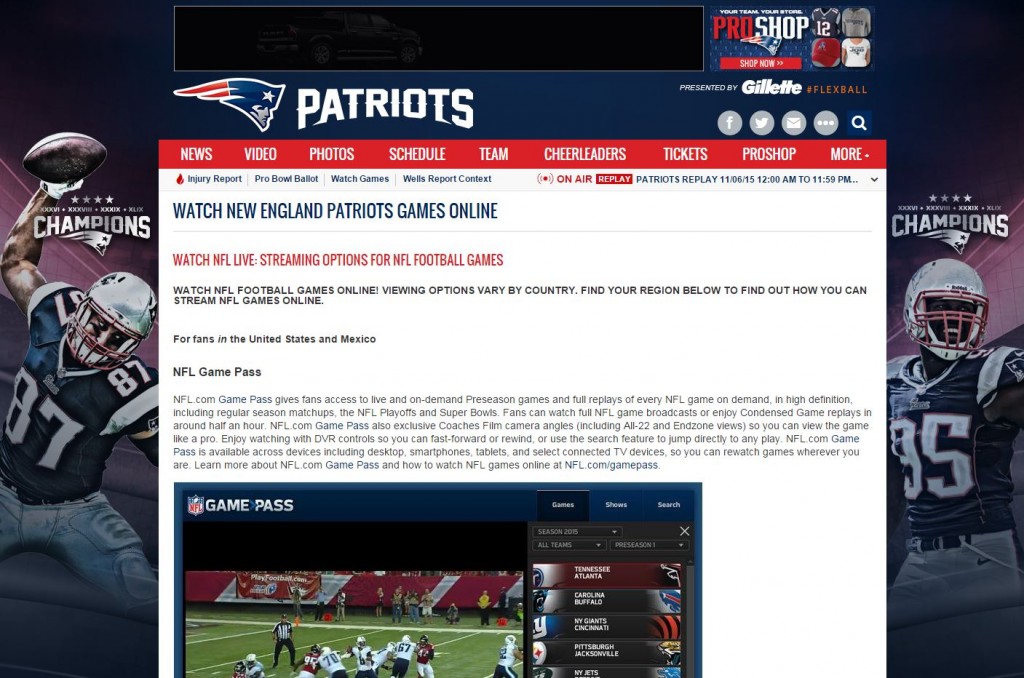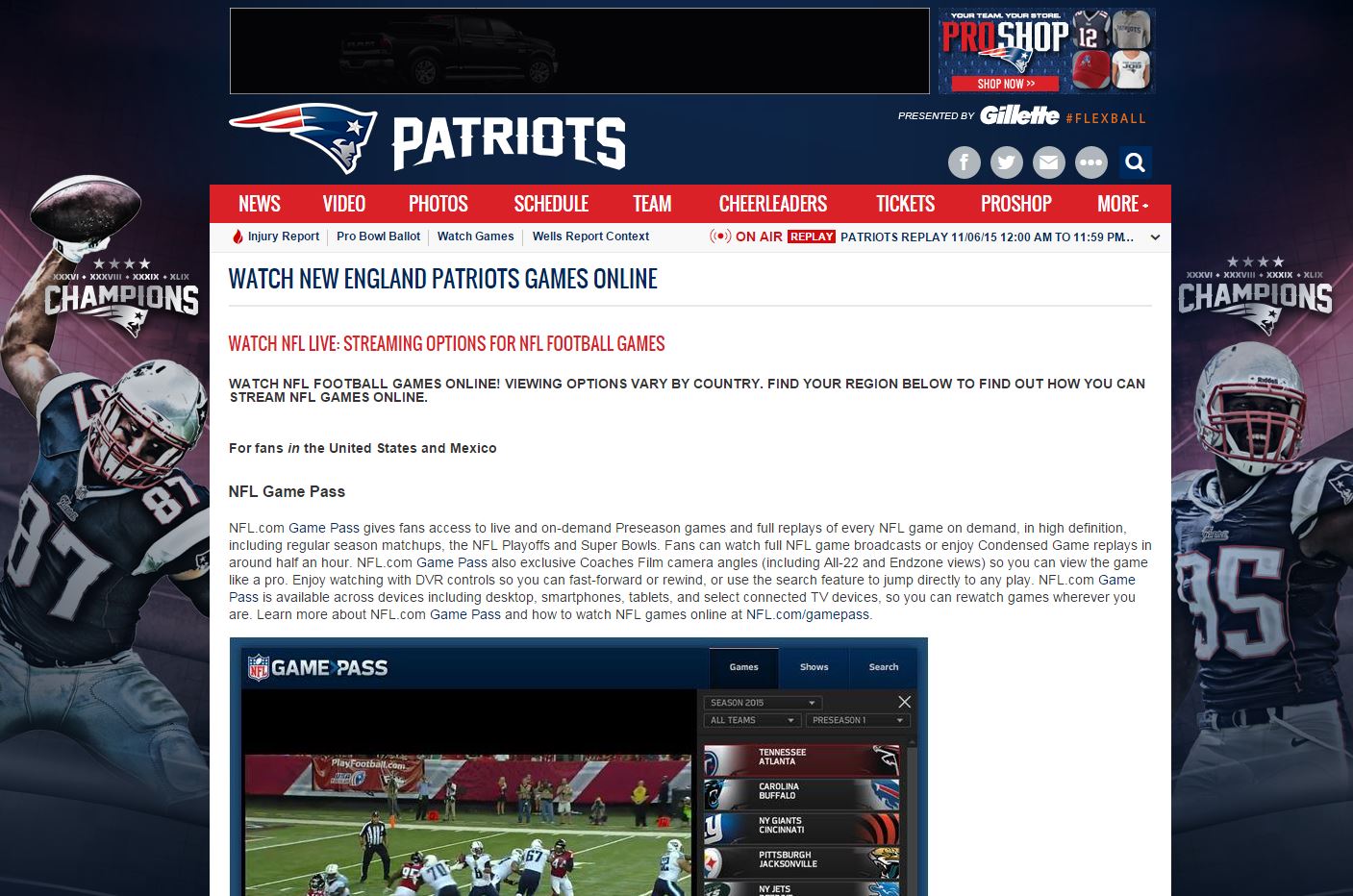 Patriots game on CBS? Stream it free with CBS All Access
CBS All Access now gives you access to NFL games in your region! If you're looking to watch the Patriots online when the game is on CBS, their inexpensive streaming service is a great way to do so. It also gives you access to their back catalog as well as live streams of all their shows.
Subscribe to NFL Game Pass for Streaming Patriots Games
This won't apply to most Patriots fans but if you're willing to wait until the game is over, you can subscribe to what's called "NFL Game Pass". For about a hundred bucks you can gain access to all NFL games on the replay. The Patriots may have already won or lost the game hours before but as long as you're unplugged, it's new to you! Simply log in and start streaming the Patriots for free along with your subscription to NFL game pass.
The great thing about this is that you'll not only have access to the New England/Boston game online, you'll get all NFL games streaming for free.
Are The Patriots on Netflix or Hulu?
Netflix hasn't figured out sports yet. There are no live sporting events, including the Patriots games streaming on Netflix. It would be an epic turn in the saga of online streaming if an NFL game appeared on Netflix but so far it hasn't happened.
Hulu also has not broken into the live streaming of Patriots games, or any sporting event yet.
Amazon just took control of Thursday Night Football this season! Give their Prime service a 30 day trial and you'll be ready to watch the Patriots on Thursday nights:
Try Amazon Prime Free for 30 Days
Avoid Illegal Streams of Patriots Games
You want to support Tom Brady, right? You're his number one fan. Well, every time you search for an illegal live stream of The Patriots game you cause your team to lose a point. We're kidding, of course but the fact remains that you're not doing the league or the game you love any favors by resorting to illegal live streams. In addition, you'll probably encounter malware as well as choppy, non-HD streams that ruin the NFL experience online. Use one of the above methods instead of searching for a live stream of the Patriots game that might not be so official.