The Campus Insiders is operated by Silver Chalice Networks in collaboration with IMG College. The channel mainly focuses on live streaming the latest college sporting events as well as replays of last nights or last week's most exciting sports events. The content aired is produced in Chicago. It is one of the three networks launched by Silver Chalice in 2013. It broadcasts over 3000 sporting events each year and has a digital distribution license. The channel has contracts with the Patriot League, Mountain West Conference, the CIAA and the West Coast Conference which allows them to produce and distribute games exclusively which would otherwise not be televised. One of these events includes the Arizona Bowl. The channel's platform also allows for schools to produce and stream their own content which without it would not be televised.
Campus Insiders is a channel for hardcore college sports fans, and so you can't go wrong without it. Below we look at how you can stream the channel online for free.
Watch Campus Insiders Online Using the Official App and Website
The official 'Campus Insiders' app is only available for iOS and Android devices. That said once you've downloaded and installed the app, you just need to log in with your subscriber credentials to start streaming all the college sports you want for free. You have access to dozens if not hundreds of live college sporting events on the go. However, the one drawback is the fact that you need to be a subscriber to the channel for the app to work. We also experienced a few glitches with the app which does not make it ideal for streaming college sports especially when it unexpectedly shuts down.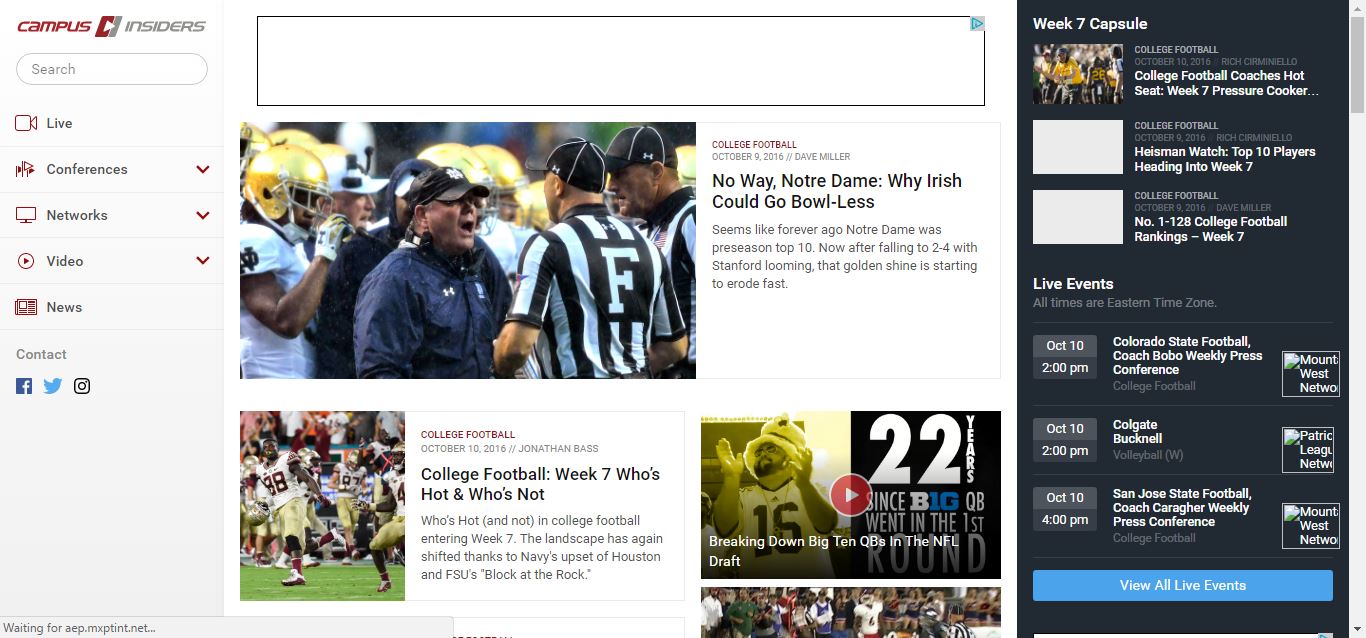 Live Stream Campus Insiders Online with Sling TV
Campus Insiders is considered to be exclusive to Sling TV especially since no other online streaming service offers it. When you subscribe to Sling TV, you get to stream dozens of channels including ESPN, CNN, AMC, Syfy, etc., all of which are part of the basic package. However, if you want to stream Campus Insiders live you'll need to add the 'Sports Extra' package which costs an additional $5. So, with the 'Sports Extra' package you end up paying $25 a month which includes many other channels that broadcast college and professional sporting events. Obviously, you can't go wrong with a Sling TV subscription regardless of if you want to watch TV on the go or just want to stream college sports events.
Other Ways of Streaming Campus Insiders Online for Free
Campus Insiders is one of the best ways to watch live college sports. However, it is not and can't be free! Anyone / any website that says you can stream it free is either kidding you or wants to see you behind bars. That said if you're broke then subscribe to Sling TV and probably split the monthly fee with a few friends all of whom can stream it on their devices. It certainly beats going to jail, and you'll save a truckload of cash.