Fight Network is a Canadian cable television network headquartered in Toronto, Ontario but they happen to broadcast internationally including in the United States. Launched in 2004, it was initially called TFN. Owned by the Anthem Sports & Entertainment company, the channel as you've probably already assumed broadcasts live and recorded combat sports which include boxing, MMA, professional wrestling, and kickboxing. Interestingly the network is co-owned by Impact Wrestling.
If you are a fan of TNA Wrestling, World Series of Fighting and other similar contact sports events, then this is the channel for you. Below we'll look at how to stream Fight Network Live online.
Watch Fight Network Online Using the Official App or Website
Fight Network has an app but its only for fourth-generation Apple TV media boxes. Apart from that, the official website has a lot of news and short clips of various fights and interviews, but you can't stream online here either! That said if online streaming on the go is something you want and Apple TV is just not practical for you then perhaps choose a cord-cutting service like the ones mentioned below.
Live Stream Fight Network with AT&T TV NOW
AT&T TV NOW helps fight, and sports fans cut the cord in seconds. The service is owned by AT&T and happens to stream over a hundred different networks. Starting at $35 a month it streams networks like ESPN, SEC Network, CBS, etc. though at the moment Fight Network is not part of their lineup. They also have apps for various devices including iPhones and Android devices making it possible to stream your favorite shows on the go. You can also try the service for free by clicking below.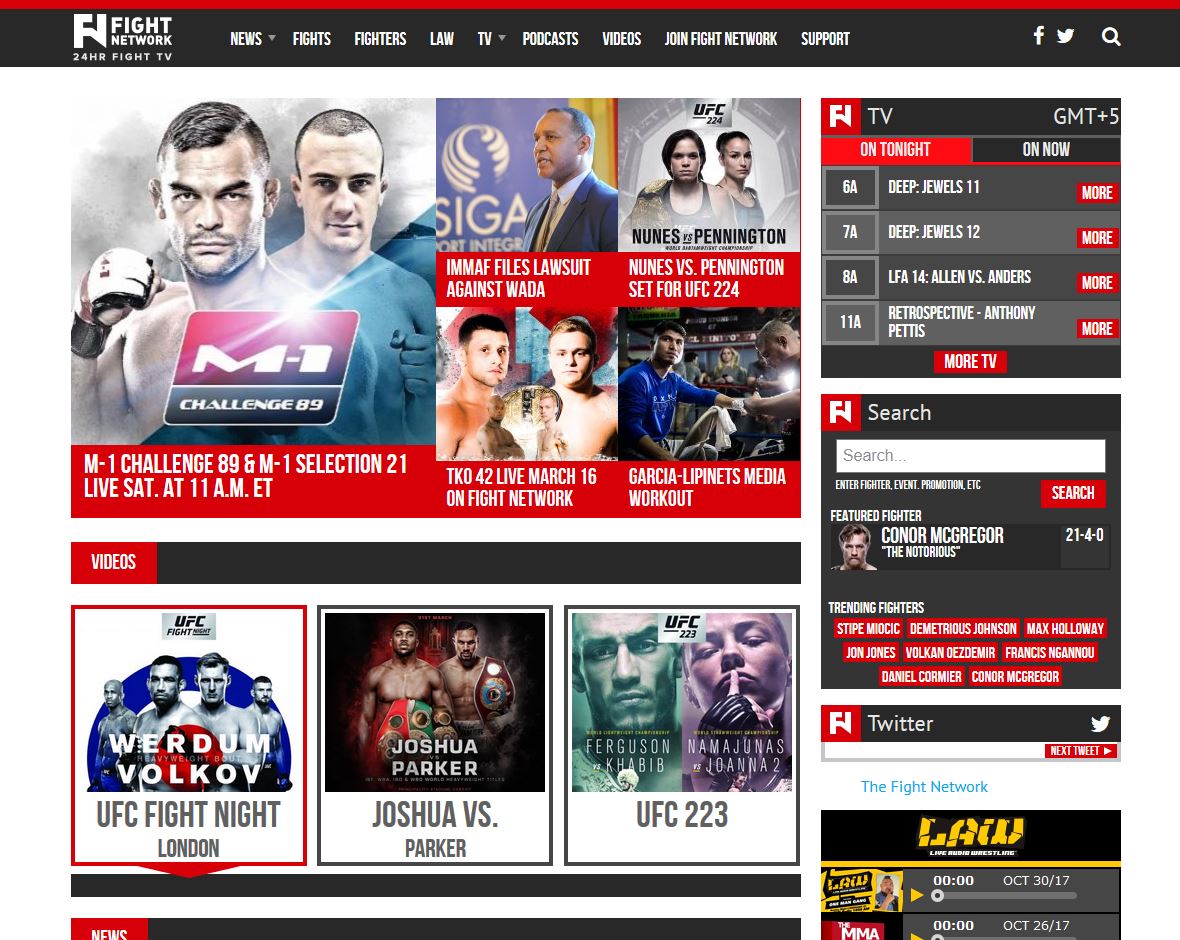 Watch Fight Network with fuboTV
fuboTV is a major cord-cutting service which also happens to stream the Fight Network. The service starts at a mere $45 a month, and in addition to Fight Network, they also stream nearly 75 other channels live. All channels are streamed via a series of apps for various devices. So, it's possible to catch your favorite fight even when not at home. Click below to try the service.
Live Stream Fight Network Online with Sling TV
Sling TV also helps millennials cut the cord but at a cheaper price point starting at $20 a month. The service streams a host of sports, entertainment and news channels live via a pretty decent selection of apps for various devices, but for now, the Fight Network is not part of their lineup of channels. Though if you're still interested try the service for 7-days free by clicking below.
Other Methods of Streaming Fight Network for Free
Well, there are a couple of other ways to live stream fights and Fight Network for free. But these methods are not legal which is why it can get you into trouble with the law. Plus unless you're willing to fight a copyright infringement lawsuit, it's a better idea to just stream via the cord-cutting services mentioned above.