UFC is as brutal, bloody and hardcore as you can get while still staying legal. It makes boxing look like kids pulling each other's hair. The UFC or Ultimate Fighting Championship held its first event back in 1993, in Denver, Colorado. Back then nobody knew who Joe Rogan was, but we'll leave that discussion for another day. The purpose of the UFC was to pit people with different martial arts background against each other to find the best one. Back in the day, there were just a couple of rules i.e. no nut shots, pulling hair, etc. However, the UFC began to evolve as fighters started adopting numerous techniques so, for instance, a Brazilian jiu-jitsu specialist would also start boxing and learn Muay Thai making them as effective standing up as they are on the ground. So, what you have today are fighters that use a combo of martial arts techniques, hence the name 'Mixed Martial Arts'.
If you love watching topless guys beat each other bloody, then you're our type of guy! Oh, and there are female bouts too. So without further adieu, Below is how you can stream the UFC online.
ESPN has UFC All Day, Baby!
EPSN has a streaming service called ESPN+ which includes almost all UFC content you could ever want, including live fights. Check it out and be sure to get the upgraded packagae for the upcoming title bout!
Live Stream UFC Online with Sling TV
There is no secret about the fact that UFC fans are not couch potatoes, they just happen to be a little chubby…think Roy Nelson. However, if you wanted to watch the UFC while you were working out in the gym or perhaps trying to pass the time in a boring math class, then Sling TV is perfect. When you sign up for Sling TV, you get to stream a whole host of channels which includes Fox Sports. Fox Sports airs just about every UFC event live. You will need to pay $25 for the 30+ channels package which includes ESPN and NFL RedZone too. But once you've subscribed don't forget to download and install the Sling TV app on your smart device.
Watch UFC Online Using the Official Fight Pass
The Fight Pass gives UFC fans access to hundreds of events both live and ones that have already been aired. You also get exclusive access to Prelims and behind the scenes footage of almost every fighter. You can view the UFC live on your Xbox One, Xbox 360 (if you haven't yet upgraded), PlayStation 4, Roku, Android, iPhone, Chromecast and Apple TV. The UFC Fight Pass is an excellent option given the fact that it just costs around $8 a month if you go for the yearlong commitment, and they also throw in a 7-day free trial.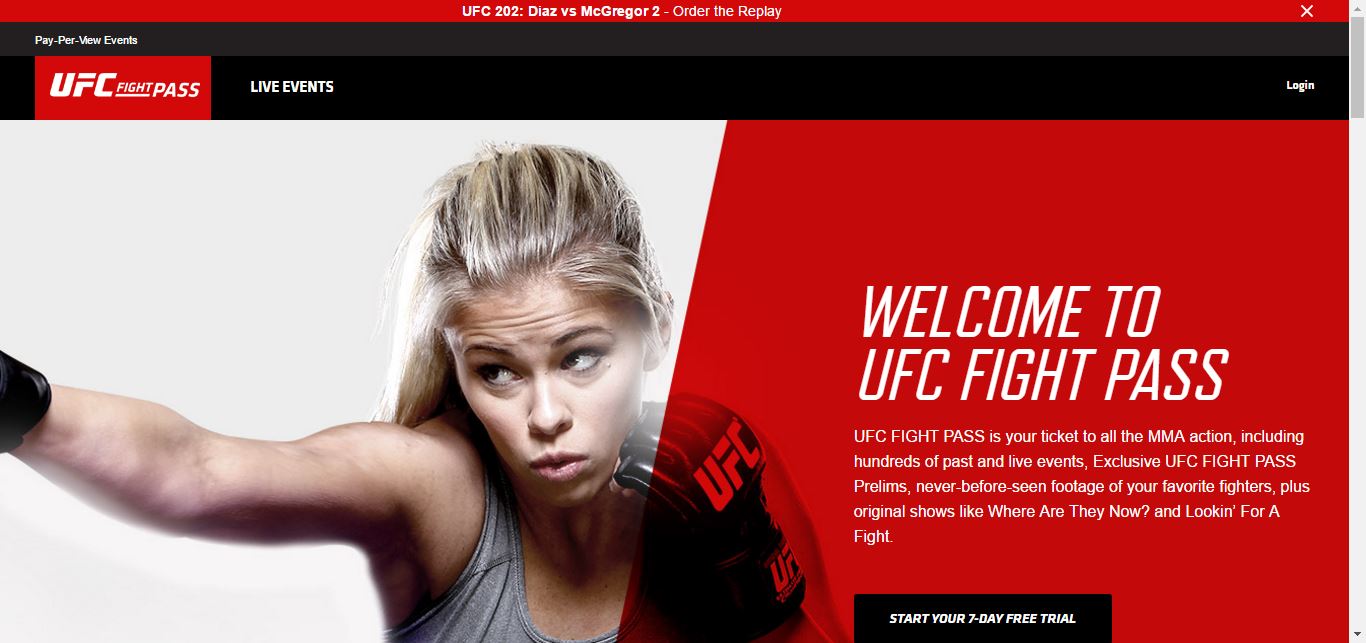 Streaming UFC on Netflix, Hulu, and Amazon
Unfortunately, you can't watch UFC live or even not live on Netflix or Hulu for that matter. However, you can download the fights you want to see from various UFC events via Amazon Prime at $3 a pop. That said it's by no means live and by no means is it going to be fun unless you like watching Daniel Cormier's hook punch knock out multiple times in slow motion.
Other Ways of Streaming the UFC Online
Above are all the 100% legit ways of streaming the UFC online, and these are methods we recommend. We are against all forms of piracy and so strongly urge you to steer clear of pirating UFC live events, or there is a good chance you'll be choked out by Dana White himself.
Last Updated on by Exstreamist