REPORT: Here are the Best and Worst Countries for Netflix Subscribers
|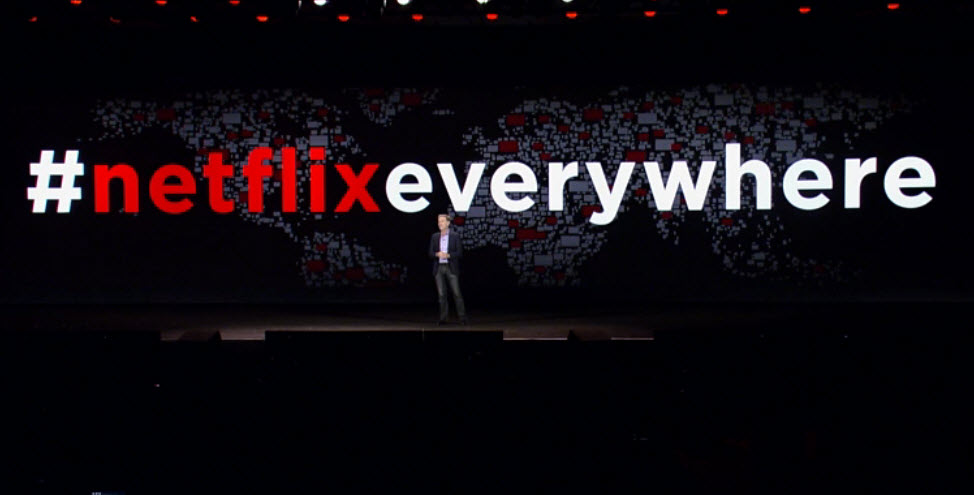 Netflix had been expanding globally at a steady pace prior to this year, streaming in nearly 60 countries around the world which is far more than any of the other major services. But then earlier this year, Netflix CEO Reed Hastings, speaking to CES, blew us all away by announcing that Netflix would now be streaming globally with few exceptions.
But it hasn't all been roses and puppy dogs for these new subscribers, many of whom have complained about both the quantity and quality of the Netflix libraries in their respective countries. Ridiculously complicated content ownership rights have made consistent distribution a logistical nightmare for Netflix, who would of course love to offer everyone around the world the same streaming library whether it be content from CBS or all of Fox's streaming offerings.
Methodology
We decided to do some research by pulling numbers from separate databases that collect the total number of titles streaming in specific Netflix regions. We then compared each country's total title count to the others and compiled lists of the top 10 best countries to be a Netflix subscriber, as well as the bottom 10 (see charts and data sources below). While you'll probably be able to guess the country at the top of the list, things got very interesting when we moved further down the list. Internet speeds vary by country and zip code in the united states so that may affect one's ability to stream effectively in these countries, too.
The Top 10 Countries for Netflix Subscribers
Below you'll find the total number of unique titles available in each country where Netflix is available as of February 22nd, 2016. You can download the full list here.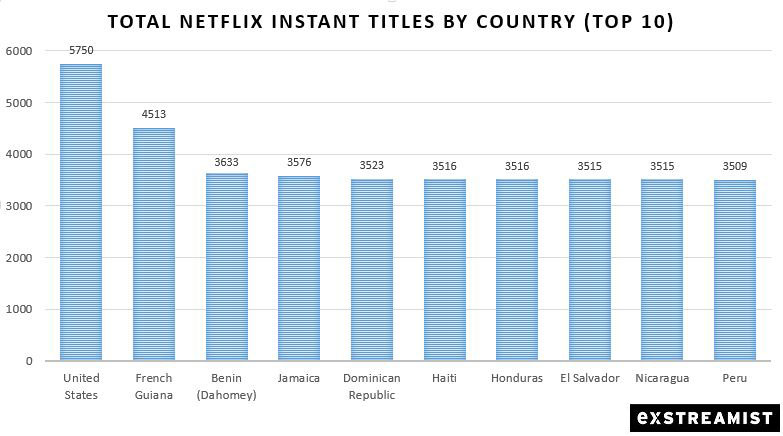 United States
French Guiana
Benin
Jamaica
Dominican Republic
Haiti
Honduras
El Salvador
Nicaragua
Peru
No surprises that the US remains at the top. Netflix is based here and has garnered a respectable subscriber base domestically. South and Central America also have large Netflix presences, as the service worked fairly actively to expand into those regions early on. The general theory is that content distribution costs are relatively inexpensive there as well.
You might notice the lack of European countries in the top 10. Netflix has struggled a bit in Europe, dealing with extremely complicated content distribution rights on top of a legislative mess while trying to function as a third party content provider in the EU.
You can see the top 40 below as well to get a better picture as to where other major Netflix hubs such as Canada, Mexico and the EU rank when it comes to Netflix library size: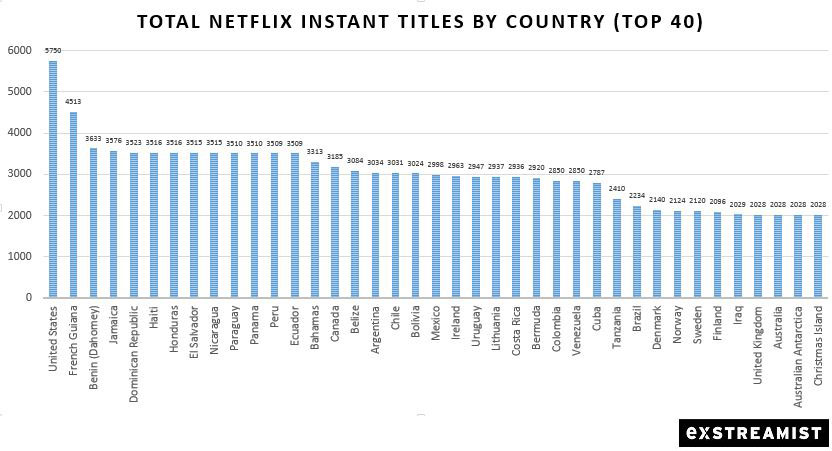 Many new international subscribers in smaller markets have been complaining about their Netflix libraries, stating they just can't justify paying the monthly subscription for less than 1000 titles of content, especially when most of that content can be found elsewhere or doesn't appeal to their taste. In all fairness, it would be very hard to justify a Netflix subscription while living in Morocco (157 titles):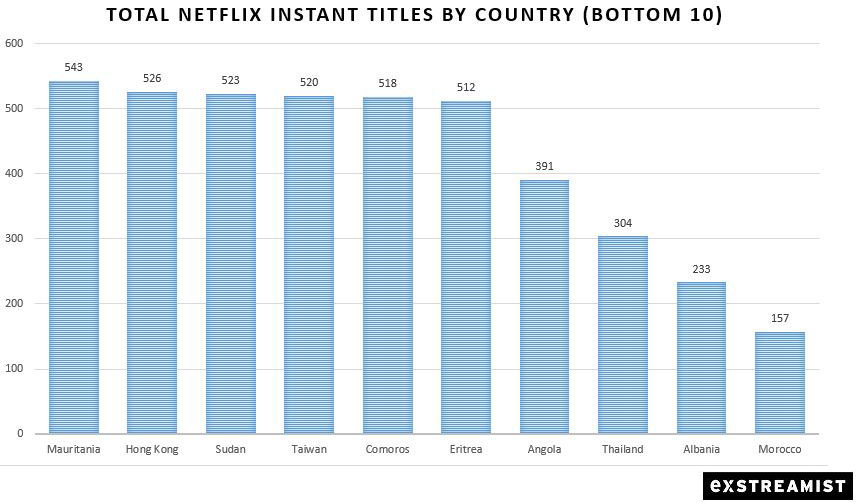 Mauritania
Hong Kong
Sudan
Taiwan
Comoros
Eritrea
Angola
Thailand
Albania
Morocco
But we're certain Netflix is hoping to expand the total number of titles in these countries, it's just a very complicated process. It's not as if Netflix wants to only offer a few hundred titles in places like Sudan and Albania.
Some Interesting Anecdotes from the Data
What fun would this all be if we didn't break down some fun factoids about the state of global Netflix distribution:
You can stream more titles on Netflix in the Australian region of Antarctica than you can in places like France, Germany and Japan. Rumors are circulating that "Penguins: The Movie" is in high demand there.
Netflix original 'House of Cards' is actually not streaming in a large portion of countries where Netflix is now available. Complicated ownership rights have prevented Netflix from streaming the series outright globally.
South and Central America are definitely the best regions outside of the US, surpassing Canada and most of the EU for total titles available.
Taking into account the exchange rates on currency around the world, the US is still the best value dollar-per-title ($8.99 for 5750 titles). Denmark is one of the most expensive of the larger libraries ($15.11 for 2140 titles).
Are you an international Netflix subscriber? What are your thoughts on your Netflix library? Let us know in the comments! We doubt you'll be able to stream a live cubs game from Canada on Netflix any time soon but we hope the behemoth expands their offerings internationally in the near future.
Sources:
The various true costs of Netflix around the world
Netflix title count | Netflix title count