How to Watch Golden State Warriors Vs. OKC Thunder Live Online Free – Game Seven
|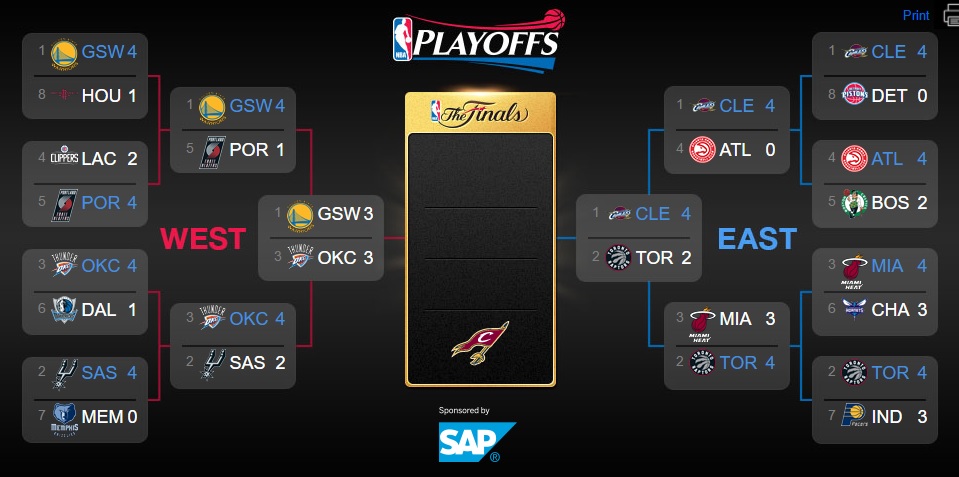 So here we are, the biggest game of the season yet. Game seven between the Golden State Warriors and the Oklahoma City Thunder. With the GSW coming off of the best NBA season of all time, and The OKC Thunder keeping things ridiculously interesting this series, this is a can't miss game, and likely going to be one of the best yet of the entire NBA playoffs. After Klay Thompson's insane game six performance, and Kevin Durant looking to prove himself after a pretty rough collapse, it's anybody's guess as to who could come out on top for this one.
If you're without a cable subscription, and you're on the hunt for a way to stream game seven live online free, your best bet is going to be a free trial of Sling TV. The service provides quick and easy access to live stream TNT. This is a great option if you're looking to stream the game on a mobile device or tablet as well. Their app is available on both iTunes and Google Play. Get access to those apps through Sling's website below:
>>Watch the game live on Sling TV here with a free trial<<
Now if you have a cable account but are away from your home and looking to stream game seven online, you're in luck as you'll be able to login to the TNT website for live streaming. TNT has actually had some pretty good coverage of each game, with solid live streams. The quality has been great too, especially as more and more people tune-in online.
You can tune into the audio of the game with an NBA League pass login here. While nothing is quite as good as watching Curry drain threes or not actually being able to see Steven Adams' mustache live, this isn't a terrible option for those trying to multitask.
We highly recommend avoiding illegal streams of the NBA playoffs, as most of the sites you end up trying to stream from will pummel you with popups and malware that encourage you to download software that might contain a virus. Be careful anytime a site tries to get you to download something in order to live stream. Most reputable services will be able to stream right from the web browser.
Who do you think is going to win this one? Golden State at home seems nearly impossible to beat, but then again OKC has proven they're capable of handling the onslaught of threes GSW can hang on any defense by simply containing the damage. We're not willing to make any major guesses here, except that this is going to be one game for the record books, no doubt.