UPDATE 2017/2018: The 49ers games on broadcast networks NBC, FOX and ESPN are now available on DIRECTV NOW this year, no cable required. If you're an AT&T Wireless customer you'll save a ton of money as well. Sign up for their seven day free trial to see if it's for you:
Try DIRECTV NOW Free for 7 Days
The 49ers.  This is a team that is a favorite amongst individuals in the Bay Area and all across the nation for that matter.  The San Francisco 49ers are a professional to the tee American football team. The 49ers compete quite intensively in the National Football League (NFL) as a member club of the league's National Football Conference (NFC) West division. The team currently plays all of its home games at Levi's Stadium in Santa Clara, California. They share the NFC West with their rival the Seahawks, the Cardinals and the LA Rams.
Live Stream the 49ers Game on Sling TV
Sling is a cable package that doesn't require a commitment. It also doesn't even require a TV! It's streaming only and will get you channels like ESPN, ESPN2, NBC, NFL Network and Fox. So if the 49ers are playing on one of those channels for a special game you can live stream the game for free with a subscription.
Head over there now to check it out and sign up for the free seven day trial.
Watch the 49ers Live Without Cable using DIRECTV NOW
The streaming world isn't always simple for Niners fans. It's always changing and cable companies try to gouge you.  DIRECTV Now's service is a bit newer than Sling but also has most of the same channels. ESPN, Fox News and of course you'll be able to stream the 49ers live as well. You get a 7 day free trial so you have no excuses. Give them a go.
Try DIRECTV NOW Free for 7 Days
How to Stream the 49ers Game Live on Mobile
No matter if the 49ers are playing on Thursday night, Sunday or for Monday night football, there are many options to live stream the game that people use to watch them on the go, at home, or with friends. The first way is through the San Francisco 49ers official website.
There are also options with NFL.com Game Pass, which gives fans both life and on demand games and replays including Playoff games and the Superbowl. Many of these live streaming games allow users to pause, rewind and search to find a specific play. The best part is that games can be watched and re-watched from any location at all.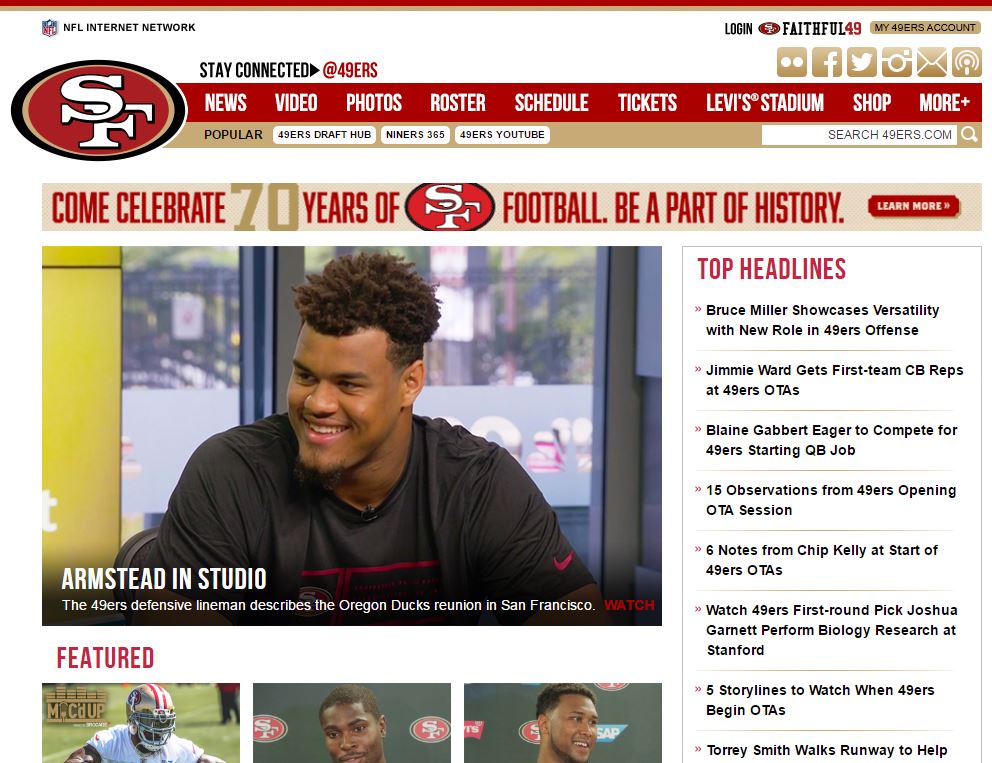 If you miss the game, you can catch the highlights through ESPN online. And, it's available through your I-Phone and other Apple devices as well as Android, Xbox and Roku as well.
For live access to every 49ers game DIRECTTV is usually the go-to. The company has streaming options for NFL Football games as well as the infamous NFL Sunday Ticket. The Sunday Ticket allows users to get direct access to every game, all season.
Are the 49ers on CBS? Watch Free Today
CBS now offers a free trial of their streaming service 'All Access.' Therefore if the San Francisco 49ers are playing on CBS this week in your broadcast area, you can live stream the game for free! Normally it costs $6 a month, but can be cancelled at any time.
Watch the 49ers on NFL RedZone Live Streams
NFL RedZone is another option for live streaming San Francisco 49er football. RedZone has every score play 8 hours a day to assist you with Fantasy Football or to follow the 'niners.
And how do you get NFL RedZone? Well, its not through Netflix, Hulu or Amazon Prime. But traditional cable subscribers can gain access to it through DIRECTTV, Dish, Cox, Xfinity, or Optimum.
Avoid Pirating 49ers Games with Illegal Live Streams
It's not always the easiest to watch our favorite sports teams play, but with the options offered above, it's possible to capture and re-capture every moment of all your favorite games. Dont succumb to illegal streaming methods for your Niners fix. That will either land you in jail or catch yourself a computer virus. Neither of which are a good look.
Have another way to live stream the 49ers game online? Leave a comment below.