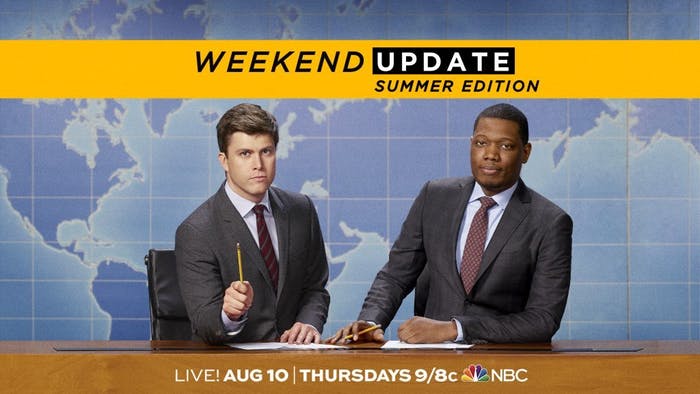 SNL: Weekend Update is a sketch that airs every Saturday Night. It parodies mainly events from the previous week. It also happens to be one of the longest running, and recurring sketches in television history. It started with the first broadcast of the show and is usually presented smack in the middle of the show right after the initial musical performance. Two people play the role of news anchors; as they present gag news items which are also based on current news events. Chevy Chase started the Weekend Updated back in 1975, which paved the way for other similar comedic current event shows like The Colbert Report and The Daily Show.
Since staying at home Saturday Night is not exactly an option for most people, below is how you can stream SNL: Weekend Update live on your mobile device!
Watch SNL: Weekend Update Online Using the Official NBC's official App and Website
The official NBC Website has all the episodes of SNL: Weekend Update available for streaming. However, it's not accessible to everyone, though it is free for cable subscribers who have subscribed to the network! The same goes for the official app which requires that you log-in with your cable subscription details. That said you'll have to sit through lots of advertising too just as you would with watching it on television. But then again, it's free!
Watch SNL: Weekend Update Live with AT&T TV NOW
AT&T TV NOW is a streaming service owned by AT&T. The service live streams dozens of channels like AMC, Syfy, CNN, Fox, and apparently NBC for just $35 a month. The service has apps for Android, iOS, Amazon Fire and Chromecast devices which mean that you can stream on the go. The other big plus of cord cutting services like AT&T TV NOW is that they don't require a long-term subscription, so you pay for each month that you want to stream!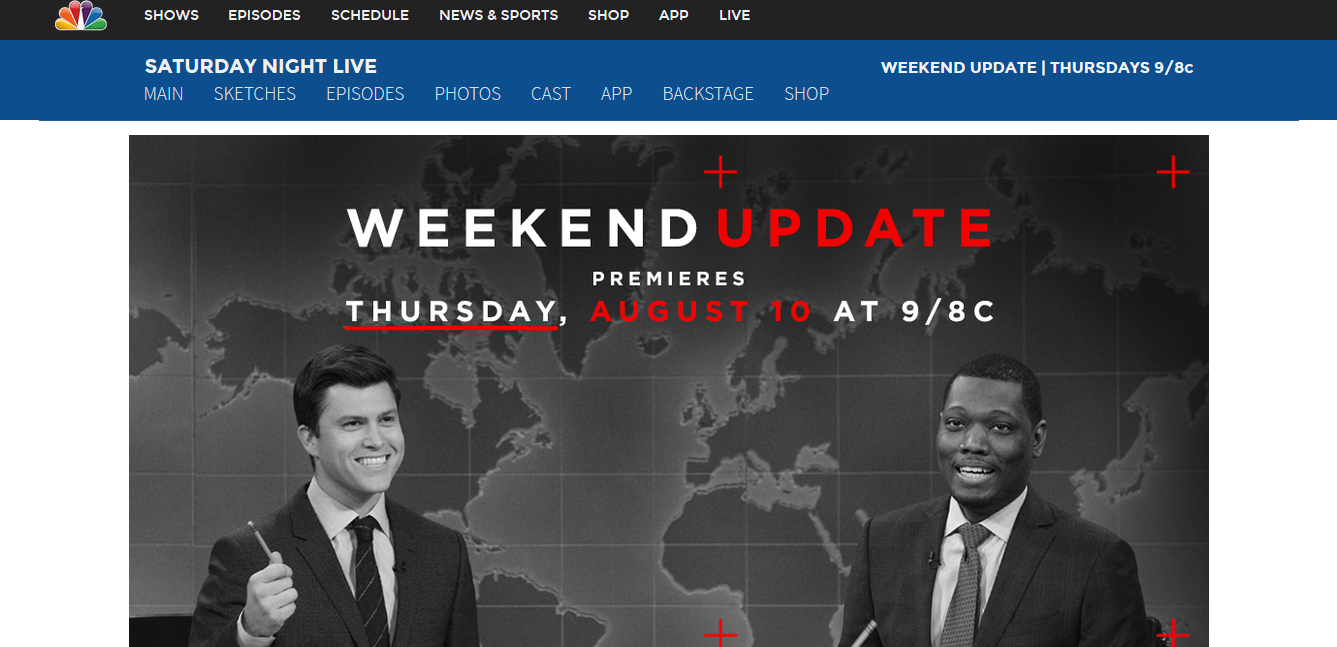 Live Stream SNL: Weekend Update Online with Sling TV
Sling TV is a cord cutting service which live streams SNL: Weekend Update directly via its apps for iOS, Android, Chromecast devices in addition to via a web browser. So, you can stream your favorite weekend show from just about anywhere live in addition to close to a hundred other channels. Click on the button below to try the service 7-days free!
Streaming SNL: Weekend Update on Netflix, Hulu, and Amazon
Netflix does not have episodes of SNL: Weekend Update available for streaming. But then again Netflix does not have many NBC shows anyways.
Hulu has the latest episodes of SNL: Weekend Update available for streaming. Though you'll need to wait up to 48 hours for the latest episodes to be uploaded and available.
Amazon Prime has episodes of SNL, but not the Weekend Update available for download. So, if you're one of those people who downloads first and watches later, then this option is unavailable.
Other Methods of Streaming SNL: Weekend Update for Free
Piracy is not a good idea especially because pirates go to jail! SNL: Weekend Update is a copyrighted show which is why we strongly recommend that you use the legal methods mentioned above. Alternatively, you should try searching YouTube for episodes of the show. Though keep your fingers crossed!