Chromecast 2 Release Date & Details Revealed
|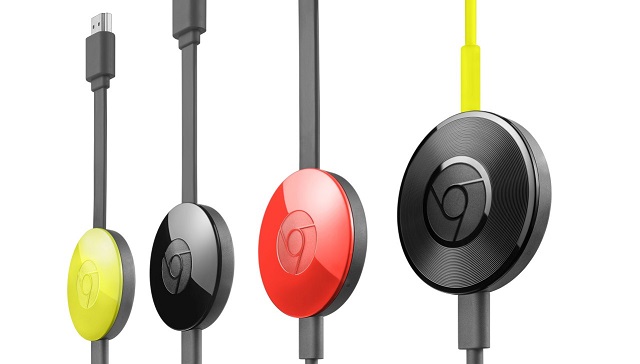 Update September 29th, 2015:
Some exciting feature announcements today at Google's live event. Things like universal search, a massively overhauled app interface, Chromecast audio (Spotify support!), improved support and more.
The new Chromecast is now available for purchase – excited to get a review up shortly.
Update September 17th, 2015:
Some great news for Chromecast fans, we just got word that Chromecast 2 will likely be launching within the next month. 9to5Google caught some early images of the newest version of the streaming dongle:

Their reports state that Google is set to announce some big news about the new Chromecast at an event September 29th. We will of course update this story as more news reveals itself.
—
One of the biggest technology conferences of the year, Google's I/O went down last month and with it came news about all of the Big G's coming offerings– except one. As the dust settled around all of the amazing technologies Google is dipping their toes into, streamers were left wondering when a new version of their beloved Chromecast would hit the streets. It's been over two years since the original streaming stick came to market and since that time there have been several advances in streaming and wifi technology. We had to find out what was happening with Chromecast 2.
Like any good technology conference, I/O is all about networking and back-room deal making. A few rumblings came out of the aftermath of the conference. Here are the details (some of which aren't too surprising) on Chromecast 2 straight from the horses mouth:
802.11 AC Wifi Support
5GHz Wifi Spectrum Support
4K Video Support
1080p / 60FPS Video Support
3D Video Support
Enhanced Multi-Screen Control
Support for Multi-Display Android Gaming
Some of the above was expected but Google's main concern, according to my sources, is delivering upon all of the above while keeping the device well under $50. Some of it may just be a waiting game while the price of streaming technology cools down– though Google isn't one to let themselves be late to the new technology party.
While a release for Chromecast 2 isn't official even within Google's walls the team is aiming for an Early 2016 launch. No, not in time for Christmas 2015 but the Chromecast 2 will be welcomed with open arms whenever it arrives.
Will you be upgrading your Chromecast to the latest version or are you doing just fine with your Chromecast 1? The above features are as official as they can be though some things may be left on the cutting room floor when all is said and done.  We'll keep our ears open for more Chromecast 2 details.