Netfix has some pretty big ambitions to be a globally dominant streaming service in the next ten years, especially as broadband internet continues to spread. We certainly expect Netflix to be available in countries like China and other European countries here shortly, but even moreso into entirely new regions such as South East Asia and Africa.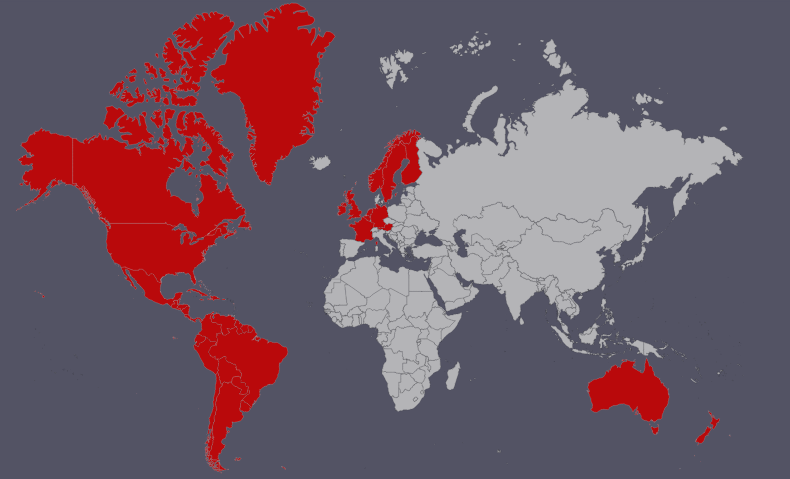 In case you're looking for a full list of where Netflix is available, here are the individual countries:
Åland Islands
American Samoa
Anguilla
Antigua
Argentina
Aruba
Australia
Austria
Bahamas
Barbados
Barbuda
Belize
Belgium
Bermuda
BES Islands (NE)
Bolivia
Brazil
British Virgin Islands
Canada
Cayman Islands
Chile
Colombia
Costa Rica
Cuba
Curaçao (NE)
Denmark
Dominica
Dominican Republic
Ecuador
El Salvador
Faroe Islands
Federated States of Micronesia
Finland
French Guiana
France
Germany
Greenland (Denmark)
Grenada
Guadeloupe (FR)
Guam
Guatemala
Guernsey (Baliwick of)
Guyana
Haiti
Honduras
Ireland
Isle of Man
Jamaica
Jersey (Baliwick of)
Luxembourg
Marshall Islands
Martinique (FR)
Mexico
Montserrat (UK)
Netherlands
New Zealand
Nicaragua
Northern Mariana Islands
Norway
Palau
Panamá
Paraguay
Peru
Puerto Rico
Sint Maarten (NE)
St. Barthélemy (FR)
St. Kitts and Nevis
St. Lucia
St. Martin (Collectivity of)(FR)
St. Vincent and the Grenadines
Suriname
Sweden
Switzerland
The Turks and Caicos Islands (UK)
Trinidad and Tobago
United Kingdom
United States
Uruguay
US Virgin Islands
Venezuela
So what about Russia, China and other European countries like Spain, Italy, Greece, India and others? Well, we'll just have to wait and see. The hardest part about expansion for Netflix is rights to distribute content. For example, just because Netflix has the rights to distribute a movie or TV show in the United States, it doesn't necessarily mean they can distribute it in other countries.
Last Updated on by Exstreamist