WATCH: How to Stream Sharknado 5: Global Swarming Online
|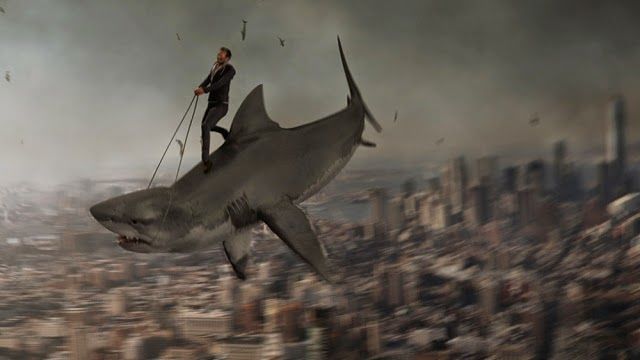 When it comes to movies about sharks and tornadoes, we're not sure if there's anything better than the Sharknado franchise. Of course competition might be somewhat limited, so, uh…, good luck to anyone trying to top this global sensation. This week, SyFy releases the fifth film in the series, Sharknado 5: Global Swarming, and apparently the sharks are now moving around the world, after the US has been left in ruins by previous sharknado attacks.
Several years ago, a humble little movie emerged starring Tara Reid and Ian Ziering, among a small list of C-list celebrities making brief appearances as giant sharks were taken up by a tornado, flung violently around the country, killing tons of innocent people in the worst way. This, of course for its ridiculousness, caught on , and now here we are, on the fifth installment of a movie that just can't seem to rid the world of the growing ridiculousness of tornadoes full of sharks. Countless celebrities have made brief appearances and there are even stories about how President Trump was almost cast in one of the films.
So you're sitting at home hoping to watch a little shark versus human action? Below are the ways you can watch Sharknado 5: Global Swarming online without cable:
Stream Sharknado 5 without cable using AT&T TV NOW
This one is quick and easy. DIRECTV has recently launched a "streaming-only" service that doesn't require cable television to access your favorite shows online. For about 1/3rd the cost of cable, you can get access to hundreds of TV channels including ESPN, CNN, FXX, and more on your phone, computer, and smart TV. One of the channels they offer is of course SyFy, so if you're interested in tuning in to watch Sharknado 5, you can get a seven day free trial of DirectTV Now to watch the movie, as well as determine if you like their service.
Watch Sharknado 5 online with Sling TV
Another great option is Sling TV. Sling is owned by DISH, but is their standalone streaming service, making it easier to simply watch TV online, they also give you a free trial which will let you immediately start streaming SyFy, among dozens of other channels as well.
Will Sharknado 5 be on Netflix, Hulu, or Amazon?
Probably at some point this movie will end up in the libraries of the above streaming services, but no telling how long that will be. These titles are likely cheaper than bigger blockbusters, so it's likely that we'll see Sharknado 5: Global Swarming streaming on Netflix, Hulu or Amazon at some point here soon. You can watch the first four in this accomplished movie series on Netflix now, so it's likely in a few months, the fifth installment will be added as well.