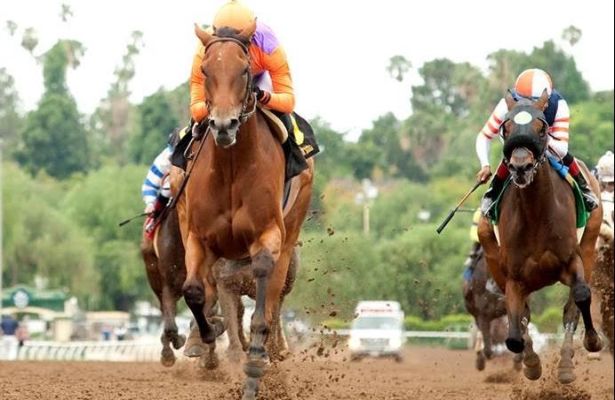 So, you love horses? Maybe you're more of a pony lover? Let's face it the only reason you watch horse racing has to do with wagering your life's savings with the prospect of becoming a millionaire. Unfortunately, you find yourself in a situation where you need to save money to wager and so paying for cable certainly isn't your idea of topping up on the piggy bank. Fortunately, you can stream live horse racing online without having to break the bank.
We give you the low down of just about all the best places you can go online to catch events from the paddock to the finish line.
Stream Horse Racing on NBC Sports and Watch the Kentucky Derby
NBC Sports has the rights to broadcast many major horse racing events including the Kentucky Derby. You can stream the events live via NBC Sports Live Extra app, which is also available for the Amazon Fire and Amazon Fire TV in addition to the iPad, iPhone, and Android devices. However, you will need a username and password which should be provided by your cable service provider if you have subscribed to NBC Sports on Cable. But because you're going the cheap route you could beg friends and family members to hand over their login credentials.
Watch LIVE Horse Racing Online with Sling
beIN Sports broadcasts a number of horse racing events throughout the year; you'll need to check their calendar for details. The good news is that if you subscribe to Sling TV, which is around $20 a month you get access to beIN Sports and other sports channels. So, you'll be up to date on 80% of the horse racing events that mean something in terms of payout action.
Sling TV's app allows you to stream horse racing events to your iPad, iPhone or any Android device. 
Head over there now to check it out and sign up for the free seven day trial.
HRTV Online is Another Great Streaming Option for Horse Lovers
HRTV is a sports oriented network but one which covers everything from pony racing to big boy horse racing events. So, there is a lot to choose from. However, to stream HRTV live you'll need to become a member which costs around $9.99 a month and $89.99 for the entire year. So, you can continue getting your fix or should I say wagering action going throughout the year.
https://youtu.be/ZstnjDJjP0g
Want to Watch Horse Racing Online for Free?
One way to get in on horse racing events for free and still legally is to hit the track. If you're so broke that you can't even pay the entry free then get a friend you pay your way. Once in you can watch those horses gallop to glory all day long.
Other, Illegal Ways to Stream Horse Racing Online
Betting on horse racing events is legal, but watching licensed channels without paying for a subscription is not. So, don't be surprised if you find yourself being questioned by the suits because their spyware detected that you were watching channels illegally.
A simple Google search for "Horse racing events online for free", should help you find an array of sites that stream all sports channels for free. However apart from the FBI, you run the risk of infecting your computer with a virus, or worse your bank account could be hacked as a result. So, you've been warned!
See you at the races!
Last Updated on by Exstreamist