Roku 4 Release Date: Fall 2015
|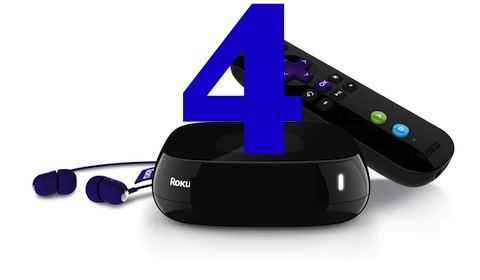 Better late than never, right? It's been over two years since the Roku 3 was released in March of 2013. That's a long development cycle for most gadgets, let alone the fast-paced world of online streaming. But if recent reports are to be believed we can at least confirm that the Roku 4 will debut this fall!
We're hearing that the Roku 4 will include a number of exciting enhancements:
Support for 4K streaming
Faster load times between navigational screens
A front-panel reset button
An enhanced channel store
Quicker boot-up times
Support for 802.11AC Wifi
Stabilized firmware
The company is keeping quiet so far but we expect an official announcement in the coming months.
The makers of Roku recently updated all of their products giving the Roku 3 a voice search button and a few other features so this may be a play for time until they can get the Roku 4 into anxious streamers hands.  If you're waiting, though you might just want to order the Roku 3 for $99 now, which is a great deal already.
We'll have all the details when we get them but the information our sources are leaking our wary sure are tantalizing to say the least.  What would you like to request for the Roku 4? Leave us a comment below with your ideas.