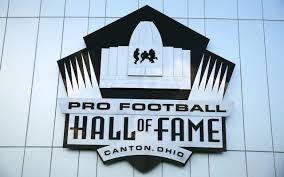 The NFL is back.
After a long spring and summer, deflated balls version two, dozens of trades, the NFL draft, the openings weeks of camp where everyone is sure their team is going to go at least 10-6, we can finally now watch some football tonight. For those less familiar with the HoF game, it's an exhibition game not unlike the pre-season where teams get a chance to duke it out, see how some rookies and new free agent signings are doing and get some TV coverage.
So how does one stream the Hall of Fame Game online free? For those with cable, it's on ESPN for the live broadcast. But if you don't have cable? Can you watch it online? Yep, absolutely.
Stream the NFL Hall of Fame Game Live with AT&T TV NOW
AT&T TV NOW is a great options for watching all NFL games live because you'll get ESPN and all local channels included for a very low price of about $35 a month. You can add more channels for more if you want and AT&T customers actually get a huge discount if you're an Unlimited Wireless user. Check out their seven day free trial now and check it out.
Watch the NFL Hall of Fame Game Live with Sling TV
The easiest way to watch tonight's game online free will be with a free trial of Sling TV. ESPN is one of the included channels in their streaming services, which is relatively new but bringing live sports to cord cutters.
The best part, you can get a free trial here, meaning if you're not yet so sure about signing up for a streaming service, you can give it a shot and see if you like it.
Will the Hall of Fame game be on Netflix, Hulu or Amazon?
Unfortunately, none of these services have particularly good options for live sports. It's unlikely that the NFL is in a rush to work out a deal with these guys anytime soon. Hulu is in discussions with bringing live streaming of television networks to their service, meaning sports will certainly be a part of that, but not in time for tonight's game.
If you have a cable account…
You can easily watch the game through WatchESPN online, which will let you log in through your browser and stream the game from a computer.
Avoid illegal streams of NFL games
We recently found data that suggests over 50% of live sports streaming illegally contain viruses. With that in mind, we simply just don't recommend trying to get access to the Hall of Fame game illegally, it's just too risky for the average viewer.
Last Updated on by Exstreamist