Hard Knocks is a sports reality documentary series produced in part by NFL Films along with HBO. The show's first season broadcast back in 2001 and has aired eleven seasons since then. That just goes to show just how popular football is in the United States. Each season follows an NFL team through the daily rigors of being a football star, from training camps to the team's preparation for the upcoming season. It also takes fans into the personal lives of coaches, staff, and players. Though it focuses mainly on rookies, who seem to be working harder than anyone else for obvious reasons. Hard Knocks is the first sports based series in the history of television. 2017's season is its 12th during which it follows the Tampa Bay Buccaneers.
Football fans can live stream Hard Knocks online at 10 pm EST using the methods below!
Watch Hard Knocks Online Using the Official HBO Go or Now App
The official method of streaming Hard Knocks online is to do it via either HBO Go or Now's app. Perhaps the only difference is in the way you sign up. The Now app allows you to pay outside of the cable package which costs an additional $15 month, which gives you access to all of HBO's content including episodes of Hard Knocks. On the other hand, the HBO Go app only works if you are a cable subscriber, but it's free!
Live Stream Hard Knocks Online via AT&T TV NOW
AT&T TV NOW is perhaps one of the cheapest live streaming services which throws in HBO for only $5 a month. Being able to live stream HBO means that you'll obviously be able to watch all the episodes of Hard Knocks live! Plus, thanks to the service's apps for iOS and Android device you can even stream on the go. Packages start at $35 a month, but AT&T also throw in free data for streaming and the fact that you can stream different channels on multiple devices! So, your wife could be watching The Bachelorette, and your kids are streaming SpongeBob on the iPad, all the while you're sneaking in a few minutes of Hard Knocks in the office!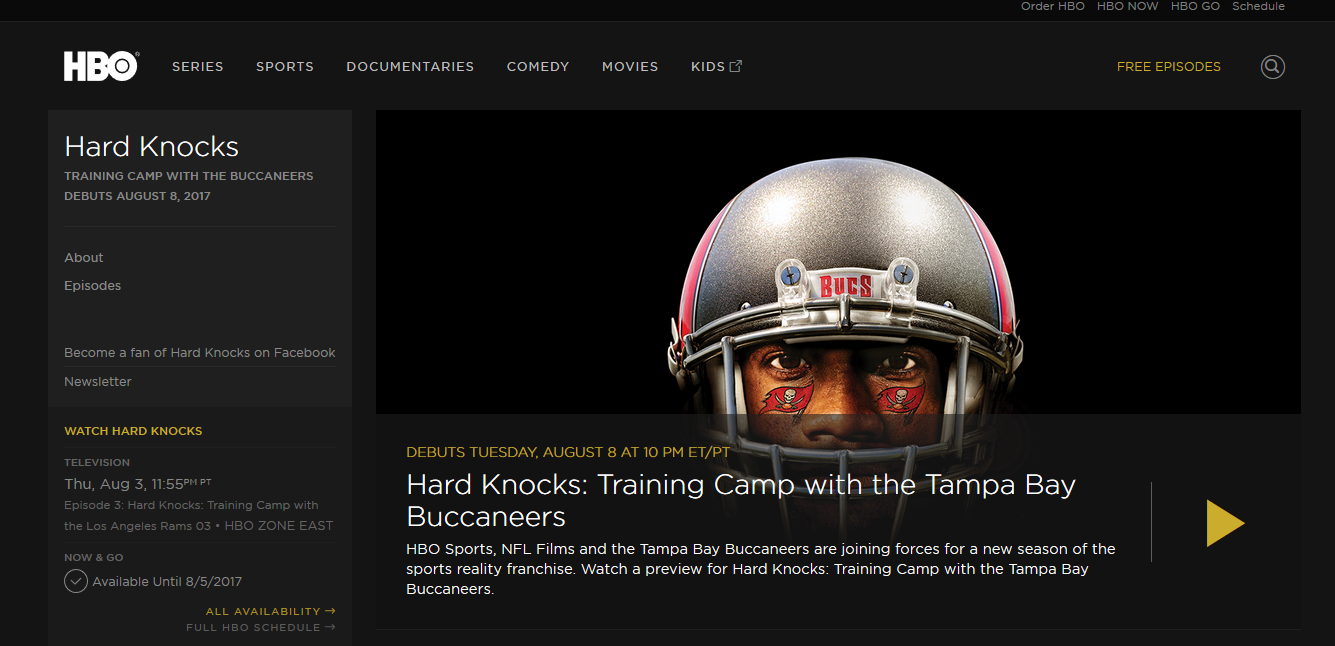 Live Stream Hard Knocks Online with Sling TV
Sling TV is a live streaming service which amongst other channels streams HBO. However, you'd have to add it for an additional $15 or buy the premium package. That said in additional to live streaming Hard Knocks on HBO you can stream over a hundred other channels. Not bad for a service which starts at $20 a month! Oh, and with apps for iOS, Android, Chromecast devices you can stream on multiple devices when on the go!
Streaming Hard Knocks on Netflix, Hulu, and Amazon
You will not find episodes of Hard Knocks on either Netflix or Hulu. HBO pulled out all their content a long time back and so it's no surprise.
Amazon Prime used to have episodes of Hard Knocks until a few years ago but not anymore. Yes! That's a bummer, but HBO's got to make money too!
Other Methods of Streaming Hard Knocks Online for Free
Hard Knocks is a pretty popular reality television series for obvious reasons which is why there is no shortage of free live streams. However, the vast majority of these so called free streams are illegal. Anyone caught using these services will inevitably land in prison. And if lucky maybe share a cell with OJ!
Last Updated on by Exstreamist