Part of NBC's Chicago trilogy, Chicago Fire focuses on, what else, the fire department of the windy city. There are all sorts of personality clashes along with action, adventure and perfectly chiseled bodies to keep you entertained on Tuesday nights. NBC has been struggling to find its place in the world but Chicago Fire has been a beacon of light (in a good way) for the network with higher than average ratings.
NBC has a few streaming options to choose from, all of which include Chicago Fire. Let's go through them here and hopefully you'll find the best way to watch the show online for free.
We Recommend: Hulu Live
The best option for streaming NBC and Chicago Fire live without cable is going to be Hulu Live. Not only can you watch tonight's episode of Chicago Fire online with Hulu Live, you can also get full access to Hulu's on-demand service where you can watch past episodes as well as hundreds of other shows. The best part is that they offer a great free trial, totally risk-free. Get full access to Hulu Live here:
Watch Chicago Fire Live with Sling TV
NBC shows are now on Sling and that include Chicago Fire! Sling is a cable alternative that includes networks such as USA, AMC and TBS among many others for a low price and doesn't require a commitment. Head over there now to check it out and sign up for the free seven day trial.
Live Stream Chicago Fire with DIRECTV NOW
Fans of Chicago Fire have another live streaming option in the form of DIRECTV NOW. The service is owned by AT&T, which has also decided not to bill subscribers for the data consumed during streaming. Additionally, no long term commitment is necessary and subscribers get to stream on the go via the DIRECTV NOW app for all iOS and Android devices. Starting at $35 a month its certainly not a bad deal even if you decide to upgrade to the $50 'Just Right' package which includes a few dozen more channels including NBC.
Try DIRECTV NOW Free for 7 Days
Watch Chicago Fire on the Official NBC Platform
NBC lets you watch all of their current shows online through their website including Chicago Fire. Just head over to NBC.com and click on the recent episode of Chicago Fire that you want to watch. It's completely free.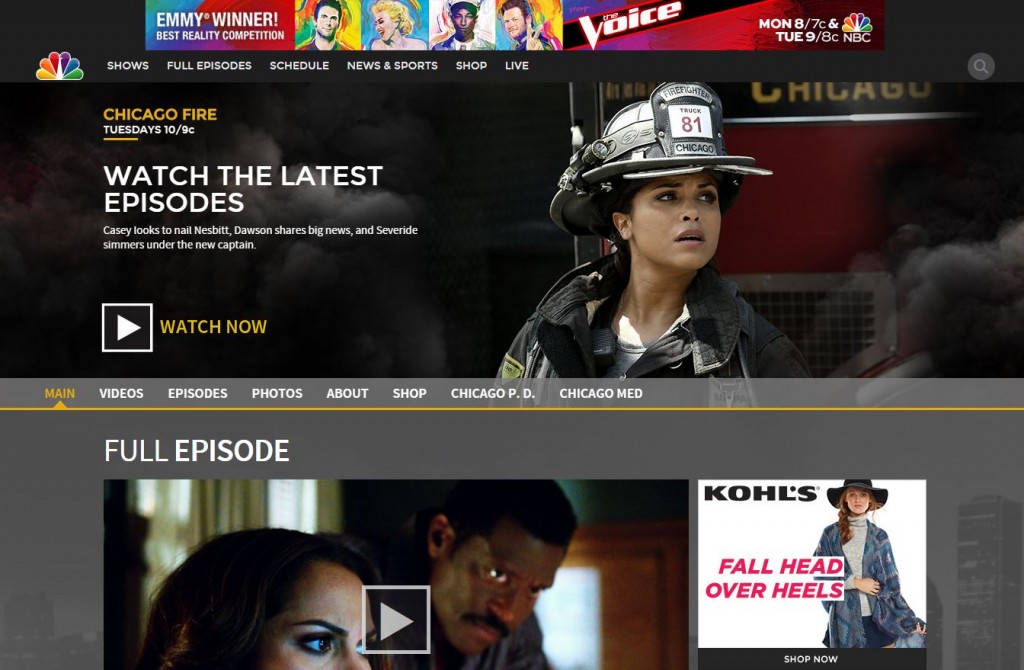 The great thing about this option is that you don't need to subscribe to anything or even download an app. You just need a browser to watch Chicago Fire online. Perfect for sneaking an episode or two from your desk at work– we won't tell!
Is Chicago Fire on Netflix or Hulu?
Netflix only has Chicago Fire in their DVD archive. You cannot stream Chicago Fire on Netflix with your streaming plan.
Hulu, on the other hand has access to at least the newest season of Chicago Fire. Be sure to watch them quickly, though because you can't go back to previous seasons. If you're already a Hulu subscriber this is a simple way to stream Chicago Fire for free (well, in addition to your Hulu premium fee). You'll have to watch some commercials if you haven't sprung for the ultra premium ad free version of Hulu but it might be worth it to you for Chicago Fire, uninterrupted.
Download Full Episodes of Chicago Fire
If you don't mind waiting a few months for full episodes of Chicago Fire you can always download them for a couple of bucks per episode on Amazon or iTunes. Check them out here
if you're interested. You can also grab a full season pass at a discount if you'd rather just own the entire series.
This isn't exactly a free Chicago Fire streaming option but it does get the job done. You also get to keep the files forever and can even download them for offline play on planes, trains and long car trips.
Is there a Chicago Fire Live Stream?
Can't wait a moment longer to watch Chicago Fire from your streaming box? Well unfortunately NBC doesn't have an official live stream for all areas but check your local NBC provider to see if they have one online. Many don't but some do so there's a chance. We're saying there's a chance.