HBO Now Prepaid Discounts are Coming
|
Are you a new HBO Now subscriber? Of course you are. The service only launched a few weeks ago! How would you like a bit more money in your pocket each month? Well, apparently HBO has been sending out surveys to a handful of HBO Now subscribers asking for their thoughts on a discounted pre-paid option for the streaming service.  Here's an example of one of the questions: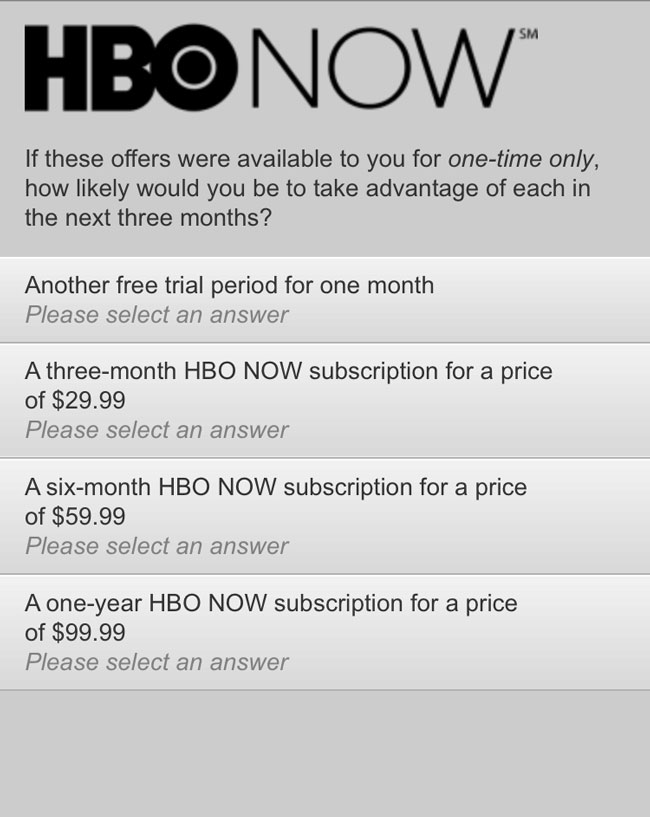 Bad at math? If you go with the $30 for 3 months plan you'll be saving $5 per month over the current $14.99 price tag for HBO.  The six month plan is the same discount.  The $100 plan for a year puts the service at $8.30/month which is a 45% reduction in price for buying an entire year of HBO up front!  It also puts the price in line with the cost of Amazon Prime, Netflix and Hulu.
Would you purchase HBO Now at this discounted rate? Some people still aren't convinced. It takes a lot of money to get premium content onto the airwaves.  But are you willing to pay it? Sometimes we cord cutters have an anarchist-type of attitude, expecting things to be cheap and/or free. HBO seems to still want our business regardless and is willing to strike a deal.  Are you?