Comcast Data Cap Overage Fees Being Advertised as 'Unlimited Data Plans'
|
Comcast recently announced they were planning on extending data caps into select markets that are starting to look more and more like the current cell phone plans consumers are familiar with, charging users for extra data usage.
After reaching a 300GB monthly data cap, Comcast customers in specific regions will start seeing a $10 fee per 50GB extension each month. In order to entice heavy users into avoiding these fees, Comcast is advertising a $30-35 per month extra 'unlimited' plan.
On the surface, this sounds like a great deal, but it is deceptive in nature as currently most subscribers have no overage fees, meaning this extra charge will be a new fee for most users who hit the cap.
See the below email from Comcast: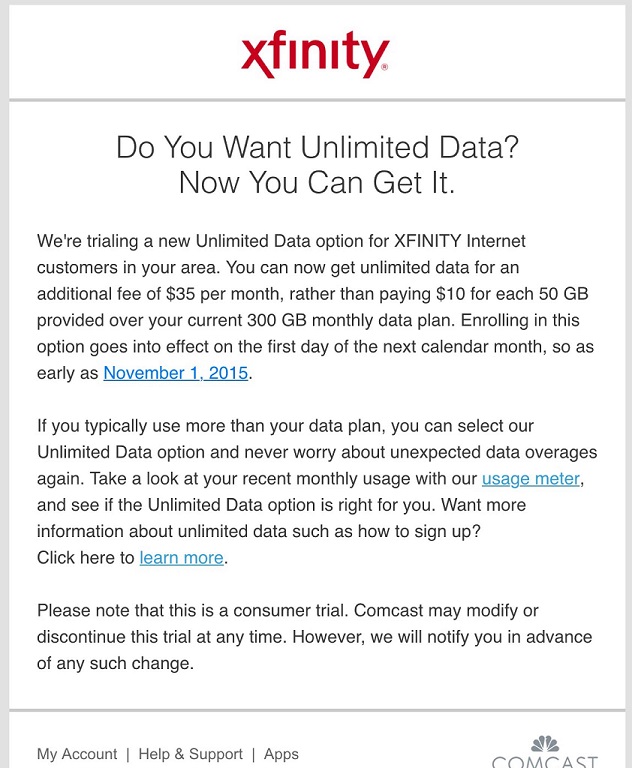 We're hearing more and more from our readers regarding Comcast expanding these plans into new markets, so we fully expect the trend to continue, at least in the short term.
But there's no doubt that as this expansion takes place, more upset customers will realize what is happening to their internet plan and complain, both socially but most importantly to the FCC. For example, this type of behavior strikes us as particularly monopolistic. If everyone had the opportunity to change providers, similar to the cell phone industry, it would seem far more likely that these types of business practices could be stopped through competition. But Comcast has a strong hold on a large percentage of consumers, where other cable options are less readily available.
Have you received a warning like this? Do you have the opportunity to easily switch internet service providers? We'd love to hear from you.