And the Most Viewed Netflix Original is…
|
Netflix isn't one to exactly publicly blast data about viewership numbers for any of their content, both curated movies nor Netflix originals. 
And while a few consistent signs point to the success of an original series, such as a quick renewal, or social trending data, it's rare that Netflix releases anything about just how many folks have streamed the series. 
So with that, we're left with third party data to draw conclusions, which it turns out is a full time task of RBC analyst Mark Mahaney via a survey he sends out every couple of months. With a quick, cursory glance of his survey data below, it certainly passes a sniff test, and does seem relatively accurate with the many assumptions we might make about the Netflix original series catalog. 
You can see the full breakdown here (h/t Peter Kafka @ Re/code):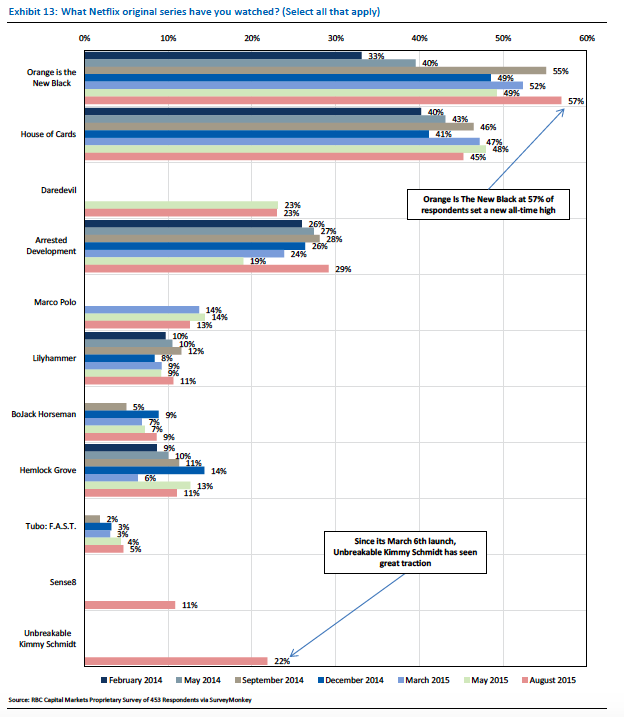 As you can see above, the 453 survey responses show that 'Orange is the New Black' reigns supreme atop Netflix viewership according to survey data collected in August 2015, with over 57% of responses stating they have seen the show. Shows like Daredevil and BoJack Horseman seem to be a little lower than we would have expected, but then truly thinking about overall Netflix viewership makes sense of the data, as there are tons of digital fans of those shows, likely making the total viewership seem higher with more vocal fans. House of Cards of course is of course performing well.
What is most fun to see is how quickly Unbreakable Kimmy Schmidt became one of the highest viewed shows on the streaming service, as over 22% of Netflix subscribers have seen the show, despite it only having been just released a few months ago. We'll always be left to wonder how successful the show would have been on NBC as a normal broadcast comedy.