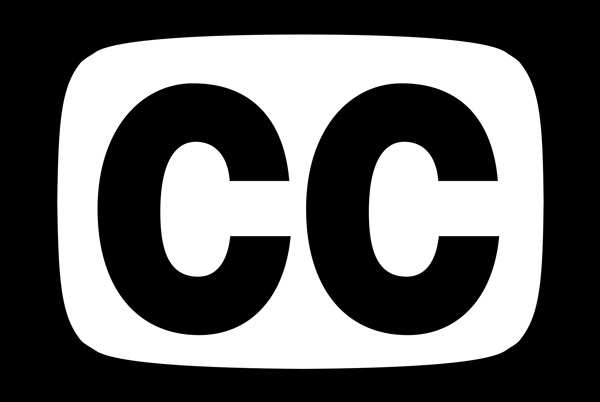 In the early days of television there weren't many options for those who are deaf or hard of hearing. But by the early 70's some programs were offering a primitive form of Closed Captioning and fast forward to today almost every form of TV has universal access to speech-to-text technology.
Even the latest streaming apps have Closed Captioning these days but sometimes the options can be buried deep in the navigational options.  These captioning services aren't just for our deaf friends, many others find them useful such as those with language differences, or if you're like me– you'll use them at night when the wife and kids are asleep so you don't miss a word of that new episode of Game of Thrones you're forced to watch alone on low volume.
Not sure how to enable these features on your favorite streaming app?  Here's a guide:
Closed Captioning on Netflix
Subtitles and captions are displayed in the lower part of the screen mirroring character dialogue or sound. To save or adjust your subtitles and captions settings, play a TV show or movie for at least 5 minutes with your preferences set. Not a fan of how the subtitles and captions look? Netflix has made it possible for you to customize the appearance of Netflix subtitles and captions which will change the look of subtitles and captions on many Netflix ready devices.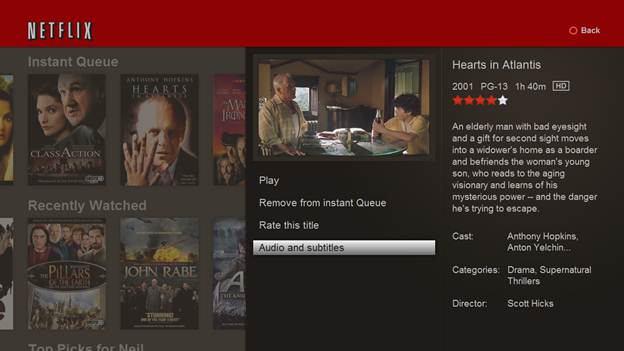 It's a little different on each device so here are some popular choices:
APPLE TV
To adjust subtitles and alternate audio while streaming on your Apple TV:
Hold down the center button on your Apple TV remote.
Select your preferred audio or subtitle language options.
GOOGLE CHROMECAST
Subtitles must be adjusted from the device that you're using with your Chromecast.
To adjust subtitles and alternate audio from your Android or Apple iOS device:
During playback, tap anywhere on the screen.
Select the

Dialog

button.
Select your preferred audio or subtitle options.
Tap

Done

.
ROKU 3+
On newer Roku devices, Audio & Subtitles options are accessible during playback:
Play a movie or TV show.
During playback, press the

Down

arrow.
Select

Audio & Subtitles

.
Select your preferred audio or subtitle options.
Additional Help at Netflix.com
Closed Captioning on HBO Go
APPLE TV
Go to your Apple TV "Settings"
Select "Audio & Video"
Select "Closed Captioning"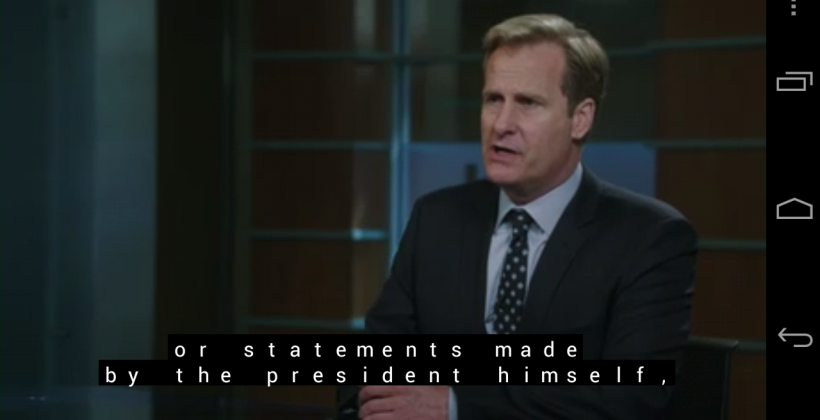 ROKU
Go to your Roku "Settings"
Select "Captions"
Select "Captions Mode"
Select Enable Closed Captions"
HBOGo.com (Browser)
Mouse over the video while it is playing. You will see a button labeled "CC"
Click the "CC" button to turn closed captions on
Click the "CC" button again to turn closed captions off
Closed Captioning on Hulu
While browsing Hulu.com, hover your mouse over an episode or movie thumbnail until a box with additional details appears. For videos where closed captioning is available, you'll see "CC" beneath the air-date. To enable captioning during playback, hover over the Gear icon and choose On under Closed Captions. Your preference will now be remembered for future videos that offer this ability.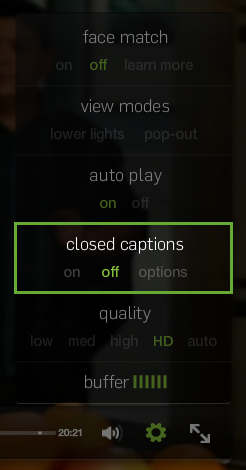 Closed Captioning on Amazon Instant Video
To watch videos with closed captioning on Amazon:
Find a video that has closed captioning. The "CC" symbol is displayed next to titles that support closed captioning. You can also browse for videos with closed captions from the Amazon Instant Video Store on Amazon:


From the Amazon website, look for the search box at the top of your screen.

Click the All departments menu on the left side of the search box, select Amazon Instant Video, and then click Go. This will take you to the Amazon Instant Video Store.
Scroll down to find the Subtitles & Closed Captioning browse filter in the left-navigation panel and select a language.
We'll do our best to keep this guide up to date. Please contact us if you'd like to see a service or device combination featured above.  We'll gladly add it promptly.