How Do We Watch TV? – Netflix Releases 'The Binge Scale'
|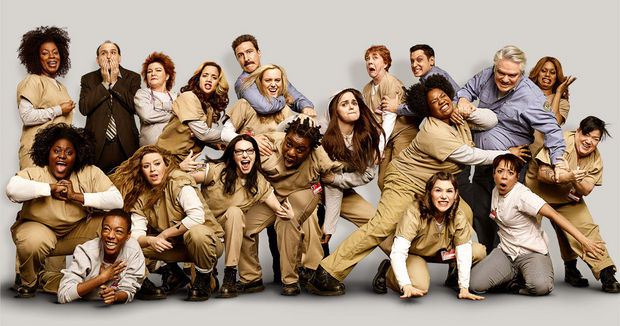 Quick! How long did it take you to get through 'Breaking Bad' while binge-watching it on Netflix? If the answer was "no time at all!" then you're in a large group.
Netflix, a service normally a bit cagey about sharing data, released 'The Binge Scale' detailing out aggregate data about our viewing habits. Breaking down the ways in which we binge, Netflix determined the genres that we all end up streaming quite rapidly and those that we tend to take slower and savor.
Turns out we tend to enjoy shows like 'House of Cards' over a longer time period, while shows like 'Breaking Bad' and other thrillers we just can't get enough of in rapid order.
"As The Binge Scale indicates, the viewing experience of a series can range from the emotional to the thought-provoking," said Cindy Holland, Vice President of Original Content at Netflix. "Netflix helps you to find a series to binge no matter your mood or occasion, and the freedom to watch that series at your own pace – whether that's to appreciate the drama of Bloodline or power through Orange is the New Black."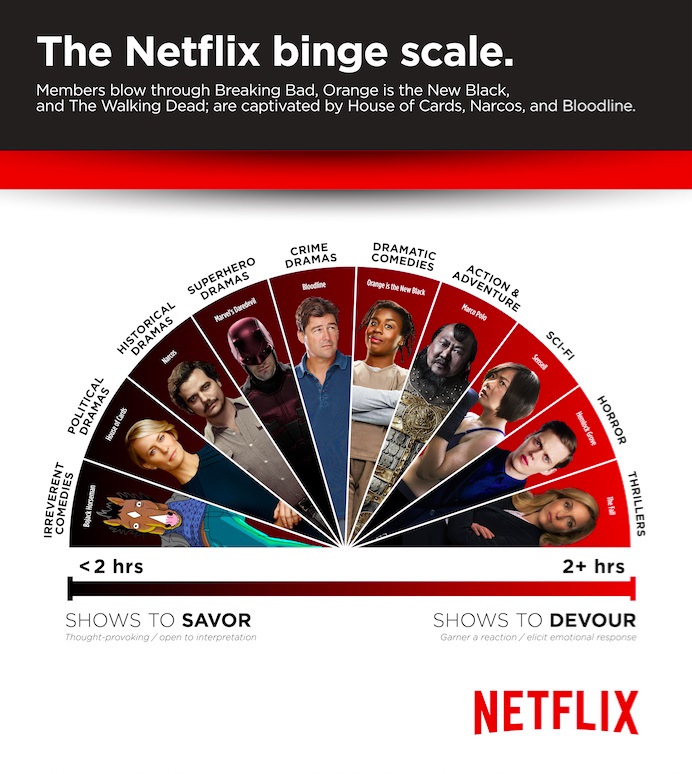 Below you will find a list of show examples that Netflix has released. The below titles are in order of "savor to devour" directly from Netflix.
SAVOR
Irreverent Comedies:

Arrested Development, BoJack Horseman, Club de Cuervos, F is for Family, Love, Summer Heights High, Unbreakable Kimmy Schmidt, Wet Hot American Summer

Political Dramas

Homeland, House of Cards, Occupied, The Good Wife, The West Wing

Historical Dramas

Mad Men, Narcos, Peaky Blinders, The Americans

Superhero Drama

Gotham, Marvel's Daredevil, Marvel's Jessica Jones, The Flash

Crime Dramas

Better Call Saul, Bloodline, Fargo, The Blacklist, The Bridge, Twin Peaks

Dramatic Comedies

Flaked, Grace & Frankie, Nurse Jackie, Orange is the New Black, Parenthood, Rescue Me, Weeds

Action & Adventure

24, Arrow, La Reina del Sur, Marco Polo, Outlander, Prison Break, The Last Kingdom, Turn, Vikings

Sci-Fi

Ascension, Between, Heroes, Orphan Black, Sense8, The 100, The 4400, Under the Dome

Horror

American Horror Story, Hemlock Grove, Penny Dreadful, Scream, The Walking Dead, Z Nation

Thriller

Bates Motel, Breaking Bad, Dexter, Sons of Anarchy, The Fall, The Following, The Killing
DEVOUR
How about you? What are your television viewing habits? Let us know in the comments.