Here are the Top Rated Netflix Original Series on Rotten Tomatoes
|
With the recent news that Netflix's Daredevil was the highest 'user rated' show, knocking House of Cards out of the top spot, the editor of filmprophecy.com made a great chart ranking the Netflix original series list.
(click to expand)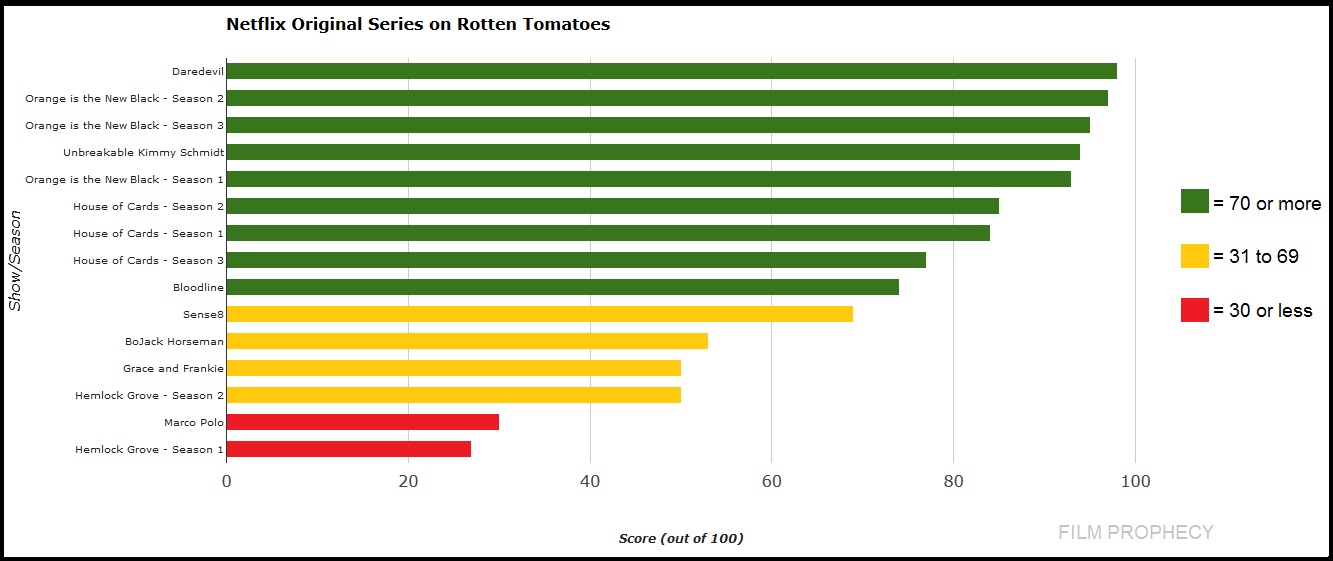 Now for our take…
I'm going to argue into eternity that Bloodline is criminally underrated, both by Netflix users as well as critically. BoJack Horseman seems underrated as well (personally I expect season two to increase the ratings of the first season as well).
Sense8 seems a bit high as most folks have complained that it's relatively "boring" and seemed to be hyped a bit too much.
House of Cards season one in our opinion is far superior to all subsequent offerings from the series (we'd argue it's been a steady decline).
Lastly, there appears to perhaps be a bit of recency bias with Orange is the New Black's third season three being ranked as high as it is, the first two seasons felt like better television, but then again, perhaps our opinion is suffering as well because of how recently we watched season three ourselves. Time will probably adjust universal ratings appropriately.
What do you think of the list? Are things where they should be or would you order them differently?