Comcast Cable Price Increases Coming to Seattle
|
One of the best things about having a massive list of customers who don't have a lot of option to use a competitor is you can raise prices and most won't do anything about it.
Comcast is planning on raising rates in the Greater Seattle area with increases across almost every package. Installs and service calls have seen the biggest spike in price, nearly doubling, while other packages have seen smaller increases. Packages such as HBO and Showtime actually saw a small decrease in monthly cost, most likely to align with standalone options such as HBO Now.
You can see the full rate increase in their mailer here: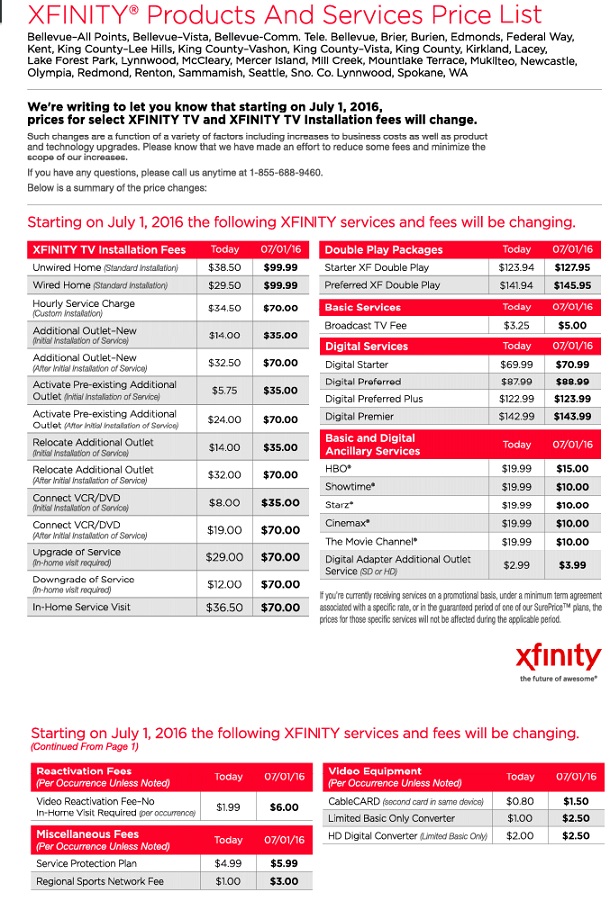 Hopefully you don't need any technical help at your home else you'll end up paying quite a bit out of pocket. Customer service doesn't scale as well as a simple cable subscription, so of course this gets expensive very quickly as the real estate boom in Seattle has tons of new installs and new customers using the cable giant's services.
Seattle has little competition when it comes to high speed internet, but it seems things are starting to change a bit as fiber continues to expand into more and more neighborhoods.
Will these price increases cause you to think about your current cable bill or are you too unsure about the alternatives? Let us know your thoughts in the comments.