Yahoo! Screen original Other Space review: The seeds of a real life Futurama
|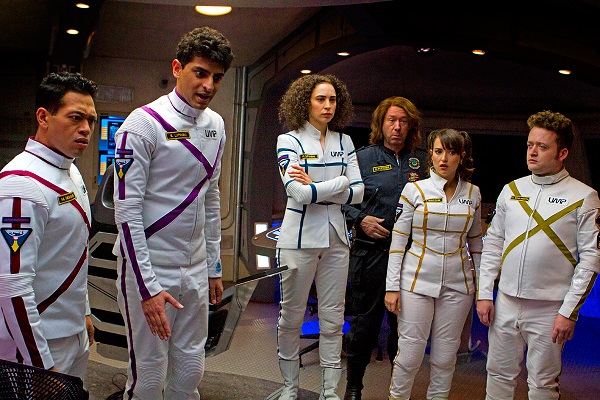 Yahoo! Screen has been making waves as of late.
With a big signing of the Community continuation, the launch of original series Sin City Saints and now, perhaps their best surprise yet 'Other Space' going live this week.
Created by Paul Feig, someone who in my book falls into legendary status for his creation of Freaks and Geeks and his directing of episodes of The Office and Arrested Development, the show fits all the quirkiness one might expect from a man with his resume.
'Space' follows an inexperienced crew of space travelers as they fly in nothing more than a heap of metal facing the standard affair associated in science fiction. In other words, at least in some senses, 'Other Space' feels a lot like a real life version of Futurama, from the similar trials and tribulations faced by Fry and crew to the character dynamics throughout their deep space adventures. Before you roll your eyes, let me clarify that 'Space' has not reached the levels of Futurama quality, and has a long way to go for this to be remotely true. But it certainly has shown early and promising signs that the potential is there for something great.
The show has a specific geek appeal to it, with Joel Hodgson of MST3K fame leading the way, but 'Other Space' should likely still appeal to most comedy fans. It doesn't pigeonhole enough to the point where a casual observer might be turned off. It also doesn't necessarily push any crazy boundaries but is a solid showing from a few very trusted names when it comes to creating some great laughs.
Critically, the show has found relatively favorable reviews elsewhere as well. If nothing else, 'Other Space' will certainly offer a few hearty laughs for most, and likely appeal in a big way to fans of shows like Feig's Freaks and Geeks. I expect a cult following to quickly develop, and with such easy access to 'Other Space' on Yahoo! Screen, envision this trickling outward with some relative rapidity.
Will there be a second season of 'Other Space?' No word yet from Yahoo! but we'll certainly keep our ears peeled, and perhaps send a few tweets to the service begging them to do so.