What's New on Netflix in December 2015 – New Netflix Originals
|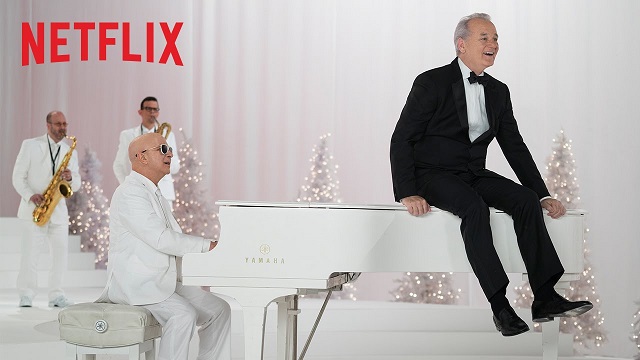 With December fast approaching, we're certain you're on the hunt for some shows on Netflix to watch to get you through the holidays with your loving family, right? Well great news, Netflix is premiering several new original shows, comedy specials and a movie for you all to enjoy.
So while you're probably being forced to pretend like you're really happy about that terrible christmas sweater you're being forced to wear to keep Aunt Agatha happy, at least a few of these new Netflix titles should put a smile on your face.
What's new on Netflix in December – Netflix originals edition:
December 1st – Dawn of the Croods – Prehistoric animated comedy series aimed more at kids, but we won't judge you if you end up watching it as an adult with nobody under the age of 25 in the room with you.
December 1st – Brent Morin – Stand up comedy special featuring Los Angeles-based Brent Morin. One of our favorite comedians on Twitter. Stars on NBC's 'Undateable Live.'
December 4th – A Very Murray Christmas – Bill Murray, certainly a man of mystery, is releasing a Christmas special on Netflix, and the cast of characters is quite impressive. George Clooney, Amy Poehler, Michael Cera and more. Likely a one-and-done, but let's be honest, it's going to be amazing.
December 11th – The Ridiculous 6 – Adam Sandler's controversial comedy series featuring his regular costars. Rumors of walkouts by the Native American actors cast on the show cast some negative attention on the show. Likely to be Adam Sandler comedy-style, meaning everyone should know what to expect.
December 18th – Care Bears and Cousins – A children's show, one major section of Netflix's catalog they're looking to expand to keep all those parents happy.
December 18th – Mike Epps: After Dark – A comedy standup special starring Mike Epps. The After Dark title should probably give you a hint as to what types of audiences this special is best suited for.
December 18th – F is for Family – A cartoon series featuring Bill Burr. The series looks wildly inappropriate, with plenty of crude humor and cussing, if you're into that sort of thing.