What's New on Hulu September 2018
|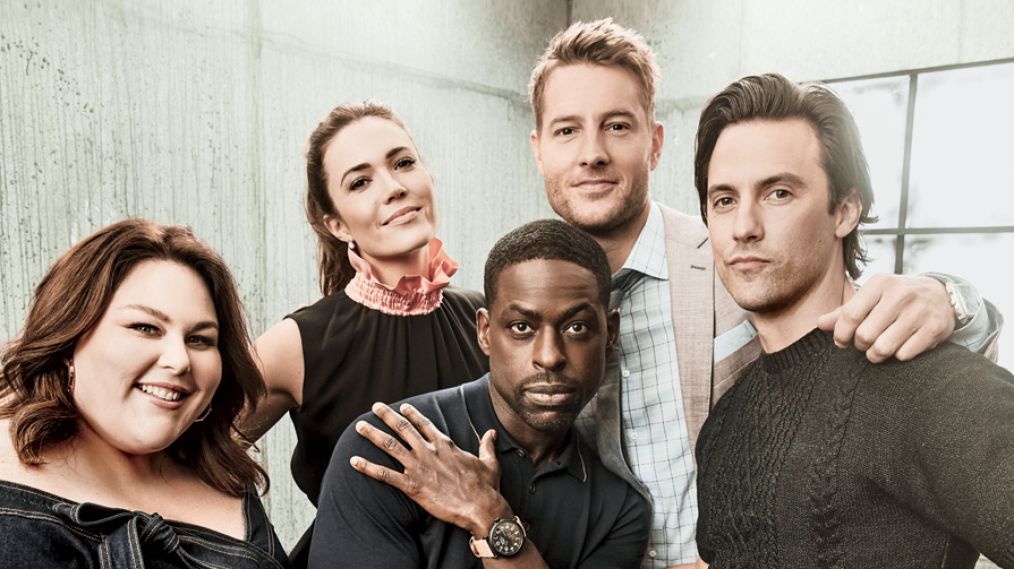 September Highlights:
I Love You, America: New Episodes (Hulu Original) (9/6)
Serving heavy concepts in a big, bready, aggressively silly sandwich, Silverman tackles the symptoms of why we are where we are today. With monologues about this very moment coming from her personal point of view, this show aims to venture out of our echo chambers and connect unlike-minded people. The show reunites ourselves with compassion and empathy without missing a comedic beat.
The First: Series Premiere (Hulu Original) (9/14)
Sean Penn leads an ensemble cast in this near-future drama about a crew of astronauts attempting to become the first humans on Mars. Under the direction of visionary aerospace magnate Laz Ingram (Natascha McElhone), the crew contends with peril and personal sacrifice as they undertake the greatest pioneering feat in human history.
This Is Us: Season 3 Premiere (NBC) (9/26):
Everyone has a family. And every family has a story. This Is Us chronicles the Pearson family across the decades: from Jack and Rebecca as young parents in the 1980s to their 37-year-old kids Kevin, Kate and Randall searching for love and fulfillment in the present day. This smart, modern dramedy challenges your everyday presumptions about the people you think you know.
South Park: Season 22 Premiere (Comedy Central) (9/27):
Every episode of this critically-acclaimed and award-winning show is packed with unforgettable adventures, cutting satire, and hilarious absurdity – from pissed off celebrities to talking towels to crime-fighting kids. So join Kyle, Stan, Kenny and Cartman for all the dysfunction and all the excitement. For them, it's just a part of growing up in South Park!
Fall TV kicks off in September with returning favorites like 9-1-1 (FOX), The Resident (FOX), Empire (FOX), The Good Doctor (ABC), Grey's Anatomy (ABC), The Good Place (NBC); and new buzz-worthy premieres such as Manifest (NBC), New Amsterdam (NBC), A Million Little Things (ABC), and Single Parents (ABC). Catch them all streaming on Hulu day after network premiere!
New movies and TV shows on Hulu September 2018
13 Going on 30 (2004)
A Good Woman (2006)
A Murder of Crows (1999)
Adaptation (2002)
The Amityville Horror (1979)
AntiHuman (2017)
Any Given Sunday (1999)
Bandits (2001)
Blow Out (1981)
Bolero (1984)
The Bone Collector (1999)
City of God (2002)
The Cleanse (2016)
Cool It (2010)
Darkness (2002)
The Dark Half (1993)
Doctor Dolittle 2 (2001)
Double Impact (1991)
Dragon Blade (2015)
Dressed to Kill (1980)
Emma (1996)
Fall Time (1993)
The Female Brain (2018)
Field of Dreams (1989)
The Fly (1986)
Going Overboard (1989)
Jerry Maguire (1996)
Joyride (1997)
Kill Me Again (1989)
The Longest Yard (1974)
The Midnighters (2018)
Miracle on 34th Street (1994)
No Game, No Life: ZERO (2018)
Over the Top (1987)
The Perfect Weapon (1991)
Poltergeist II: The Other Side (1986)
Primal Fear (1996)
Pumpkinhead (1988)
Pumpkinhead II: Blood Wings (1994)
Rodger Dodger (2002)
Rushmore (1998)
Rustlers' Rhapsody (1985)
Searching for Sugar Man (2012)
Senorita Justice (2004)
Signs (2002)
Sixteen Candles (1984)
Small Town Saturday Night (2010)
Stealth Fighter (1999)
There Will Be Blood (2007)
Unbreakable (2000)
What Dreams May Come (1998)
What's Eating Gilbert Grape (1993)
Available September 2
The English Patient (1996)
Available September 3
Flower (2017)
The Miracle Season (2018)
Available September 4
Daphne & Velma (2018)
Monochrome (2016)
Women and Sometimes Men (2018)
Available September 6
I Love You, America: New Episodes (Hulu Original)
Happy-Go-Lucky (2008)
Available September 7
Cesar Chavez (2014)
Available September 8
Stand Up To Cancer: Special (EIF)
From Paris with Love (2009)
Stronger (2017)
Available September 10
REL: Series Premiere (FOX)
Grace Jones: Bloodlight and Bami (2017)
Available September 11
Bodysnatch (2018)
Natural Vice (2017)
Available September 12
Grace Unplugged (2014)
Available September 13
El Clon: Complete Season 1 (Telemundo)
Higher Power (2017)
Available September 14
The First: Series Premiere (Hulu Original)
The Housemaid (2017)
Available September 15
Good Behavior: Complete Season 2 (TNT)
Alien Invasion: S.U.M.1 (2017)
Hardware (1990)
She's So Lovely (1997)
The Queen (2006)
The Shipping News (2001)
Available September 16
Moonrise Kingdom (2012)
Available September 18
American Horror Story: Cult: Complete Season 7 (FX)
La Impostora: Complete Season 1 (Telemundo)
Pasion De Gavilanes: Complete Season 1 (Telemundo)
Available September 20
Total Divas: Season 8 Premiere (E!)
BB King: On The Road (2017)
Boom for Real (2018)
Sacrifice (2016)
This is Home: A Refugee Story (2018)
Available September 21
Aurora: Complete Season 1 (Telemundo)
My Little Pony (2017)
Available September 22
For Colored Girls (2010)
Love after Love (2018)
Available September 24
9-1-1: Season 2 Premiere (FOX)
Gemini (2018)
Iris (2001)
Available September 25
Dancing with the Stars: Season 27 Premiere (ABC)
The Good Doctor: Season 2 Premiere (ABC)
Manifest: Series Premiere (NBC)
The Resident: Season 2 Premiere (FOX)
The Voice: Season 15 Premiere (NBC)
Afterlife (2018)
UFO Chronicles: The Black Vault (2018)
Available September 26
Dama y Obrero: Complete Season 1 (Telemundo)
The Gifted: Season 2 Premiere (FOX)
Lethal Weapon: Season 3 Premiere (FOX)
New Amsterdam: Series Premiere (NBC)
This is Us: Season 3 Premiere (NBC)
The Krays (1990)
Available September 27
A Million Little Things: Series Premiere (ABC)
American Housewife: Season 3 Premiere (ABC)
Chicago Fire: Season 7 Premiere (NBC)
Chicago Med: Season 4 Premiere (NBC)
Chicago P.D.: Season 6 Premiere (NBC)
Empire: Season 5 Premiere (FOX)
The Goldbergs: Season 6 Premiere (ABC)
Modern Family: Season 10 Premiere (ABC)
Single Parents: Series Premiere (ABC)
South Park: Season 22 Premiere (Comedy Central)
Star: Season 3 Premiere (FOX)
Available September 28
The Good Place: Season 3 Premiere (NBC)
Grey's Anatomy: Season 15 Premiere (ABC)
How to Get Away With Murder: Season 5 Premiere (ABC)
Law & Order: Special Victims Unit: Season 20 Premiere (NBC)
Suburbicon (2017)
Available September 29
The Cool Kids: Series Premiere (FOX)
Dateline: Season 28 Premiere (NBC)
Hell's Kitchen: Season 18 Premiere (FOX)
Last Man Standing: Season 7 Premiere (FOX)
Jigsaw (2017)
Available September 30
Nicky Ricky Dicky & Dawn: Complete Season 4 (Nickelodeon)
*The following are available with the SHOWTIME premium add-on:
Kidding: Series Premiere (9/9)
Shameless: Season 9 Premiere (9/9)
*The following are available with the HBO premium add-on:
The Deuce: Season 2 Premiere (9/9)
Ferdinand (2017) (9/1)
The Greatest Showman (2017) (9/8)
Pitch Perfect (2012) (9/15)
The Shape of Water (2017) (9/22)
Phantom Thread (2017) (9/29)
*The following are available with the CINEMAX premium add-on:
Snatched (2017) (9/7)
12 Strong (2018) (9/14)
All Eyez on Me (2017) (9/21)
Insidious: The Last Key (2018) (9/28)
What's leaving Hulu September 2018
September 30
The Adventures of Panda Warrior (2012)
American Psycho (2000)
American Psycho 2 (2002)
And God Created Women (1988)
Angel Heart (1987)
Arlo: The Burping Pig (2016)
Babel (2006)
Back to School (1986)
Beautiful Boy (2010)
Beyond Borders (2003)
Bill & Ted's Excellent Adventure (1989)
Billy Madison (1995)
Bloodsport (1988)
Bound (1996)
The Brothers Bloom (2009)
Cadillac Man (1990)
Chasing Amy (1997)
Clear and Present Danger (1994)
Cyborg (1989)
Delta Force (1986)
Disaster Movie (2008)
The Disembodied (2011)
Double Jeopardy (1999)
Dr. T and the Women (2000)
Drugstore Cowboy (1989)
Elephant Kingdom (2016)
Everybody's Fine (2009)
Evolution (2001)
Extract (2009)
Field of Dreams (1989)
Get Real (1999)
Halloween H20: 20 Years Later (1998)
Hello, My Name is Doris (2016)
Hoosiers (1986)
House Arrest (1996)
In a World… (2013)
Incident at Loch Ness (2004)
It Takes Two (1995)
The Indian in the Cupboard (1995)
Jay & Silent Bob Strike Back (2001)
Jeepers Creepers (2001)
Judge Dredd (1995)
Just Before I Go (2014)
Kalifornia (1993)
Ladybugs (1992)
The Ladies Man (2000)
Last Castle (2001)
The Legend of Bagger Vance (2000)
Masters of the Universe (1987)
Maximum Overdrive (1986)
Miami Blues (1990)
Mimic (1997)
Next (2007)
Pawn (2013)
Precious Cargo (2016)
Pretty in Pink (1986)
Rabbit Hole (2011)
Rare Birds (2002)
The Rock (1996)
Salsa (1988)
Sex Drive (2008)
Six Shooters (2013)
Sleepers (1996)
Snake Eyes (1998)
Spaceballs (1987)
Superstar (1999)
The Suffering (2016)
This is Spinal Tap (1984)
Trade (2007)
Witness (1985)
Wooly Boys (2004)