What New Movies and TV Shows are Streaming on Crackle July 2016
|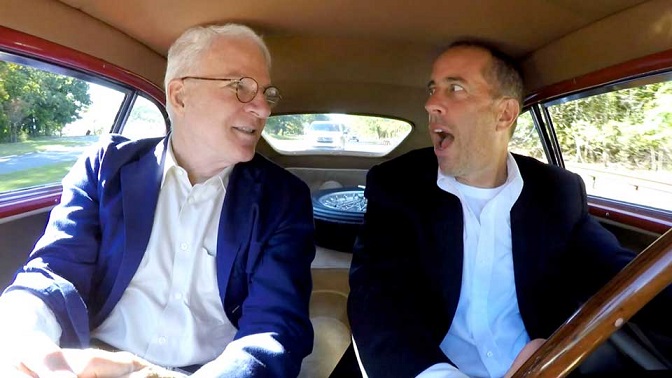 Confession time – we recently watched Joe Dirt: Beautiful Loser the other day with some friends and everyone in the room was pretending really hard not to laugh. But it turns out it was actually quite hilarious, especially with appropriate expectations.
All that said, Crackle has plenty of interesting content streaming instantly, and July is looking like a pretty fun month. Most notably, hit streaming series 'Comedians in Cars Getting Coffee' is back for its 8th season, starring Jerry Seinfeld as he, and a group of comedians, drive around and, you guessed it, get coffee.
Get the full list of all the new movies and TV shows joining Crackle July 2016 below:
New Crackle Originals:
Comedians in Cars Getting Coffee: Season 8 (Weekly Thursdays)
Sports Jeopardy! (Weekly Wednesdays)
What's New:
Armored
Conan the Barbarian
Conan the Destroyer
Fast Times at Ridgemont High
High Plains Drifter
Jack Hunter and the Lost Treasure of Ugarit
Jack Hunter and the Quest for Akhenaten's Tomb
Jack Hunter and the Star of Heaven
Jarhead
Josie and the Pussycats
Lords of Dogtown
Mallrats
Mystery Men
Orgazmo
Rudo y Cursi
Rumble Fish
Serenity
Sunset Park
The Hulk
The Messengers
227 Season 2
All in the Family Season 8
Archie Bunker's Place Season 1
Benson Season 3
Between Brothers Season 1
Blue Thunder Season 1
Charlie's Angels (2011) Season 1
Dark Skies Season 1
Extreme Ghostbusters Season 1
Fantasy Island Season 1
Fortune Dane Season 1
Franklin & Bash Season 1
Grady Season 1
Hardcastle & Mccormick Season 1
Hart To Hart Season 1
Heavy Gear Season 1
Huff Season 1
I Dream of Jeannie Season 2
It's Your Move Season 1
Jeannie Season 1
Living Dolls Season 1
Mad About You Season 2
Malcolm and Eddie Season 2
Marvel Anime: Blade Season 1
Muddling Through Season 1 & Season 2
My Two Dads Season 1
NewsRadio Season 2
Partridge Family: 2200 AD Season 1
Sanford Season 2
Sheena Season 2
Sledge Hammer! Season 1
Soap Season 1
Something Is Out There Season 1
That's My Mama Season 1
The Jackie Chan Adventures Season 1
The Jeff Foxworthy Show Season 2
The Karate Kid Season 1
The Mob Doctor Season 1
The Real Ghostbusters Season 1
The Shield Season 5 & 6
The Steve Harvey Show Season 2
The Three Stooges Season 1
V.I.P. Season 2
What's Happening Now!! Season 1
What's Happening!! Season 2
Who's The Boss? Season 1
Available July 2016 Only
2001: A Space Travesty
Adaptation
American Crude
Assassination Games
At Any Price
Before Midnight
Best of The Best
Blood: The Last Vampire (2009)
Cadillac Records
Catch and Release
Cowboy Up
Cruel Intentions
Cruel Intentions 2
Donnie Brasco
Double Team
Formula 51
Girlfight
Glory
Half Past Dead
Hitch
Hustle and Heat
I'm So Excited!
Iron Man: Rise of Technovore
Kung Fu Hustle
London
Meeting Evil
Money Train
My Best Friend's Wedding
Oldboy
Once Upon a Time In Mexico
Quarantine
Robot and Frank
Safety Not Guaranteed
Secret Window
Seinfeld [Theme: Kramerica the Beautiful]
Male Unbonding             S1,E2
The Pez Dispenser         S3,E14
The Letter                     S3,E20
The Chaperone              S6,E1
The Couch                     S6,E5
Bottle Deposit Part 1 &2S7,E21
The Invitations               S7,E24
The Package                  S8,E5
The Voice                      S9,E2
Sheena
Snowboard Academy
Spanglish
Stomp the Yard: Homecoming
Sugar
The Covenant
The Devil's Own
The First Time
The Grudge 2
The Intruders
The Marksman
The Mask of Zorro
The Mothman Prophecies
The Professional
The Virginity Hit
Ultraviolet
Urban Legend
Urban Legends: The Final Cut