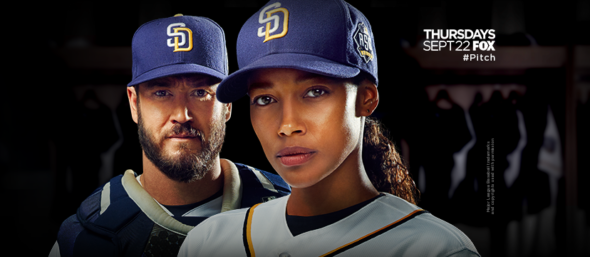 You may have watched countless baseball themed movies where the pitcher is this guy who starts off as a nerd and becomes a cool dude towards the end by winning the game for this team. However, those were the old days when people didn't think women could pitch let alone become a champion slugger. Fast forward to present day and Fox finally has a serial rightly titled "Pitch", about an ordinary girl who later turns out to be extraordinary when she is the first lady to become a Major League Baseball pitcher. Obviously, she's beautiful, emotional and gifted all at the same time. Oh and just so that you know she joins the San Diego Padres. What follows is episode after episode of politics, men's bigotry and a bit of romance.
Watch Pitch Online Via the Official Fox Now App and Website
Fox has made watching Pitch online very easy but only if you're a subscriber to the channel. So, you'll need to have a good old television and call up your cable service provider, pay big bucks and then wait for them to give you Fox. Once you are a subscriber, you can download the Fox Now app for your smartphone i.e. iPhone, iPad, Samsung Galaxy, etc. Once you've installed the app all you need to do is to enter in your credentials to start streaming Fox live on your device. You can also stream previous episodes of Pitch as it's aired in real time. Though keep in mind there is no avoiding the commercials. If you don't want to become a subscriber and want only to stream on the go then you'll have to try the other options discussed below.
Live Streaming Pitch Online with Sling TV
One of the great things about Sling TV is that even though it has the term 'TV' as part of its name its only link to television is the channels it legally streams. Sling TV can be considered a cable alternative for millennials who are constantly on the go and love to watch shows that are a cross between chick flicks and beer belly busting sports. Sling TV enables you to stream Pitch live because you're streaming Fox live! As long as you're in a market where Fox is available, you'll get Fox on Sling. All you need is to subscribe to the basic package which is just $20 a month, install the Sling TV app and you're ready to start streaming on the go.
Streaming Pitch on Netflix, Hulu, and Amazon  
If you're reading this in September 2016 or beyond Fox has just put out the first few episodes of Pitch, so it will take a while for it to be available on Hulu and Amazon but not necessarily on Netflix. The reason being that not many of Fox's shows make it to Netflix, but they certainly make it to Hulu and Amazon. That said Hulu is of course a cheaper streaming option and with a premium setup, you can skip the commercials. Amazon requires that you download the episodes at $2.99 a pop which is pretty expensive.
https://www.youtube.com/watch?v=k0wLCGwYZ3g
Some Other Ways of Streaming Pitch
Above are by far all the legal ways to stream Pitch online. However, we strongly advise you against using any illegal source just so that you're saved from being thrown in jail and paying a hefty fine that would have made Barry Bonds think twice before jabbing himself!