Watch Bob Ross Online for Free with Twitch.tv
|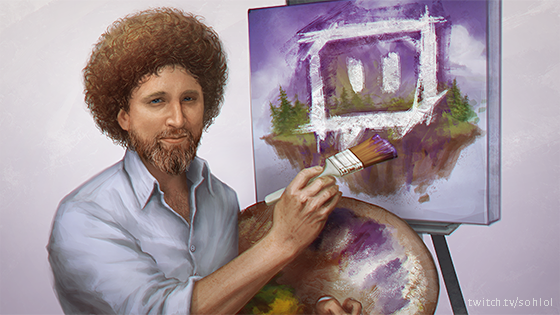 Twitch.tv for the uninitiated is a streaming site where people can tune in to, most commonly, live video game streams. From the professionals to amateurs, it's possibly to watch and subscribe to thousands of gamers as they play both competitively and casually.
Recently, Amazon paid $1 billion to buy Twitch.tv, further cementing that e-sports live streams were certainly growing in massive popularity, and now the service is looking to expand its live stream offering with an interesting bit of news today.
Of all the things the service was planning on streaming, would you have guessed Bob Ross's entire catalog of "The Joy of Painting?"
Check in for the live stream here.
Twitch.tv is hoping to recruit other folks to live stream their lives and activities, and in a blog post today announced their plans to offer far more options for this to become a reality. Labeled "The Twitch Creative Community"
Bill Moorier, Head of Twitch Creative commented on the release, "Today, we're happy to announce our official support for the Twitch Creative community. There are a few things that make the Creative category unlike anything else on Twitch, so we, along with our launch partner Adobe, are excited to see what you dream up."
We'll be watching closely to see what this new announcement develops into over time. Certainly an interesting direction for a company so focused on gaming to head this direction, but it seems like there could be plenty of potential.