American Crime is a crime drama created by John Ridley and premiered on ABC in 2015. Each season is slightly different and obviously, stars a majority of new faces except for the main characters without which the serial will not make sense. American Crime received 10 Primetime Emmy Award nominations. Huffman received Lead Actress in a Miniseries or Movie nomination. Hutton received best Supporting Actor in a Miniseries or Movie. The first season is about a war veteran's murder in Modesto, California. The second season is about a basketball team's players sexually assaulting a fellow student and then posting the photographs online. The third season deals with labor issues in North Carolina and mainly focuses on the economic divide.
If you have a thing for crime dramas, then American Crime is a must-watch if you haven't already. Below is how you can stream ABC's American Crime online for free.
Live Stream American Crime with Sling TV
Sling TV streams live channels like ABC directly to a device of your choice i.e. iPad, iPhone, etc. Sling TV gives you the ability to stream American Crime and other ABC shows where ever you are just as long as you switch to the channel at the right time. Prices start at $20 a month, and you're not expected to make a deposit or pay an advance fee. Also, you're treated to dozens of news and entertainment channels like AMC, CNN, Bravo, etc.
Watch American Crime Using the Official ABC App and Website
Thanks to ABC's app subscribers can stream American Crime on devices of their choice for free. That said the key here is being a subscriber so if you're not a subscriber the app will not allow you to stream any of ABC's serials for free. The other point worth nothing is that you can't just buy a subscription to ABC via their website which means you'll have to deal with a crusty cable service provider. However, if you're serious about streaming American Crime and other ABC shows online there are other options!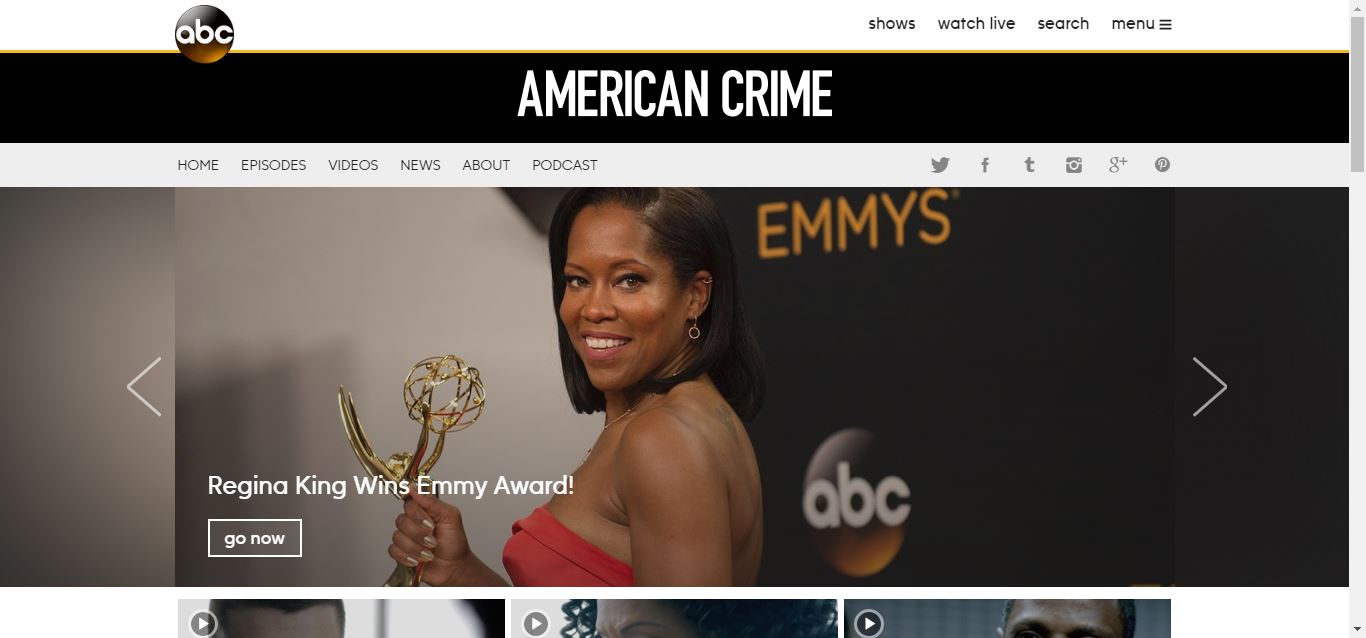 Streaming American Crime on Netflix, Hulu, and Amazon
Netflix has all the latest episodes and even the previous two seasons of American Crime. That said Netflix was a little late to the party mainly because ABC didn't invite them! Netflix gets the most recent episodes but not as soon as ABC airs them which is sort of a bummer but not a total deal breaker. Hulu, on the other hand, gets all the latest episodes within hours of it airing in some cases. Subscribers can also live stream the latest episodes when they are aired on Hulu.
You'll also find complete episodes and seasons of American Crime on Amazon Prime in Full 1080p HD. However, unlike all the other options above Amazon is going to be expensive for the struggling crime drama loving millennial at $2.99 an episode and $19.99 a season.
Other Ways of Streaming American Crime Online for Free
As far as we are concerned there are no free methods of streaming American Crime legally. However, if you resort to using torrents and free streaming websites then prepare yourself for prison time because the FBI takes piracy very seriously. In our opinion, Sling TV is your best bet because it's cheap and very accessible.
Last Updated on by Exstreamist