The Jags Bills Game Streaming on Yahoo Brought in 15.2 Million Viewers
|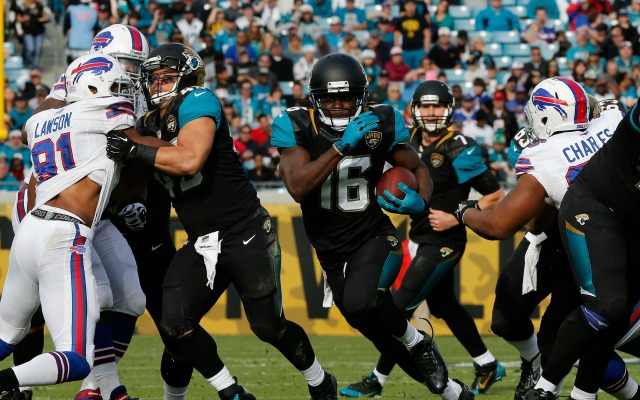 The biggest mystery of the weekend has been solved.
Yahoo! has just announced that 15.2 million unique devices tuned in to stream the game live, certainly a sizable audience, especially for a 9:30 AM game between two teams near the bottom of the NFL rankings. The company spent $20 Million on rights to the game.
More Yahoo numbers: 15.2 million unique viewers (a little less than average TNF (17.6M) and more than average for MNF (13.5M)

— Peter King (@SI_PeterKing) October 26, 2015
From Yahoo's press release:
We saw 33.6M streams of the game and over 15.2M unique viewers tuned in for one of the largest live streamed sporting events in history.
Football fans streamed over 460 million total minutes of the game across devices.33% of those streams came in internationally, across 185 countries worldwide.
More than 30 top brands partnered with Yahoo to kick off this new era of sports programming, making this a sold out event.
We performed a technical first with rebuffering ratio of nearly 1%, while delivering over 8.5 petabytes to end users.
But these numbers might be slightly misleading, at least according to some analysis.
The Yahoo NFL game pulled a 1.64M average minute audience in the USA. The previous low for a national US game was 1.9M for a game on NFLN. — John Ourand (@Ourand_SBJ) October 26, 2015

As the quote above states, Yahoo!'s actual continuous streaming audience might have been a lot smaller.
But the general takeaway here: the live stream certainly brought in a sizable audience, and one that was certainly interested in watching football online. The game was broadcast locally per NFL regulations in both markets via standard TV networks, thus the two markets that would have almost certainly tuned in to stream had no reason to do so. With that in mind, even a 1-2million number in total viewership certainly shows that people out of these markets wanted to tune in to watch the game via digital distribution. And that's with the teams being the Jaguars and the Bills in this case.
Live streaming sports is in its infancy, so no matter the numbers above, this was a strong showing in both the ability to stream high definition live sports as well as an audience interested in doing so certainly existing.