The Hotwives of Las Vegas Premieres on Hulu
|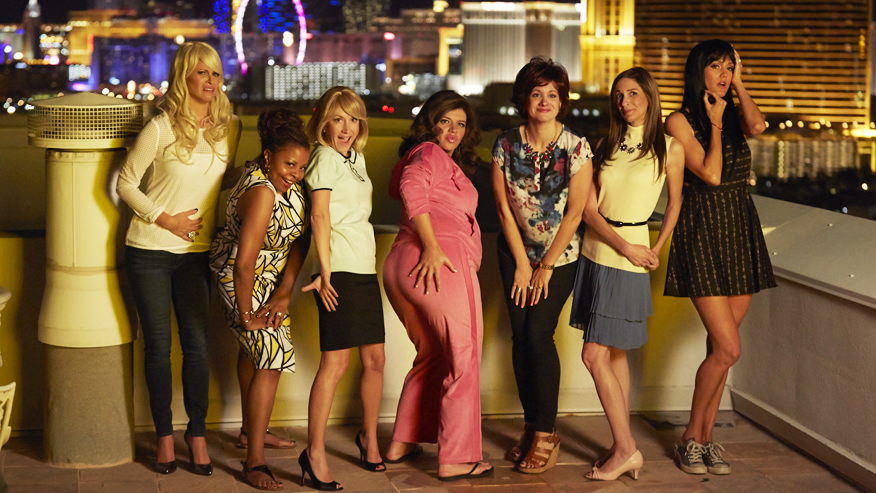 Hate reality television?
How about love reality television but with a reasonable understanding how trashy it is?
Then do we certainly have the perfect show for you! Hulu original 'The Hotwives of Las Vegas' mocks the genre perfectly, with enough satire for the haters and enough trashy dialog to keep the rest of us happy. 
'Hotwives' is clearly mocking Bravo television, and it can sometimes be difficult to distinguish between the two, which we suppose is ultimately the point of parody. Regardless, you'll immediately know whether or not you'll like the series within minutes of the first episode. 
The character descriptions below (from Wikipedia):
Tymberlee Hill as Phenomenon "Phe Phe" Reed: "The Entrepreneur" – Smart, outspoken, always juggling several jobs. Newly relocated to Las Vegas from Orlando.
Erinn Hayes as Callie Silversan: "The Wiccan" – A sensuous, mysterious, raven-haired witch and wiccan.
Angela Kinsey as Stephanie: "The First Lady" – A highly tailored, uptight snob. Was married to the former mayor of the Vegas Strip.
Dannah Phirman as Leona Carpeze: "The Matriarch" – A tough, straight-talking broad. Matriarch of the group and self-appointed peace keeper.
Andrea Savage as Ivanka Silversan: "The Ex-Model" – A European former model, she believes she is the standard of beauty and perfection as is her family.
Danielle Schneider as Denise Funt: "The Divorcée" – Neurotic, needy and recently divorced.
Casey Wilson as Jenfer Beudon: "The Southern Bitch" – Cocky, southern, white-trash and very pregnant.
The first two episodes of the season are available for streaming right now, with the rest set to release one episode a week on Tuesdays. For those who haven't been paying too close attention, Hulu has recently announced that they intend to follow this trend of weekly releases for all original shows. 
You can watch the trailer for the second season here.