STUDY: 7 out of 10 People Subscribe to at Least One Streaming Service
|
With more options than ever, streaming television and movies online only continues to get more popular. Now nearly 70% of consumers are subscribed to at least one streaming app, with over 10% subscribing to three or more.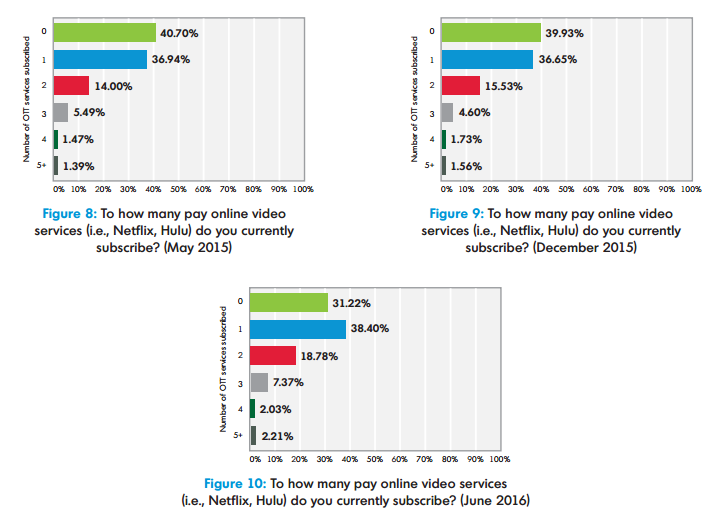 A recent study by Limelight Networks tracked the trends around streaming video and things only continue to trend upwards. But competition is getting more fierce.
Some of their key findings:
Video quality is becoming increasingly important. Consumers continue to report buffering to be the most frustrating part of watching online video, but poor video quality is starting to close the gap.
YouTube's decline may signal an interest in higher quality online content. TV shows and movies remain the most watched type of online video, with original content/YouTube demonstrating a steady decline since the last study. Millennials in particular are watching less YouTube in favor of OTT services.
Advertising in online video is becoming more accepted. Respondents are increasingly fine with online video ads – particularly if it allows them to access content for free. Interestingly, Millennials are the most accepting of advertisements.
Millennials are the video sharing generation. Across all social media channels, Millennials share dramatically more video than their generational counterparts with Facebook continuing as the channel of choice for all generations.
Another interesting data point is the increase in total quantity of video we're now streaming online each week. Over 18% suggest they watch over 10 hours of video online a week, including things like YouTube on mobile devices and computers.
As we uncovered in previous editions of this study, online video consumption is on the rise. That trend continues its climb in this most recent study. As indicated in Figures 1 through 3 below, the number of respondents watching only 1-2 hours of online video per week is steadily decreasing while the number watching over 10+ hours per week continues an uphill trajectory.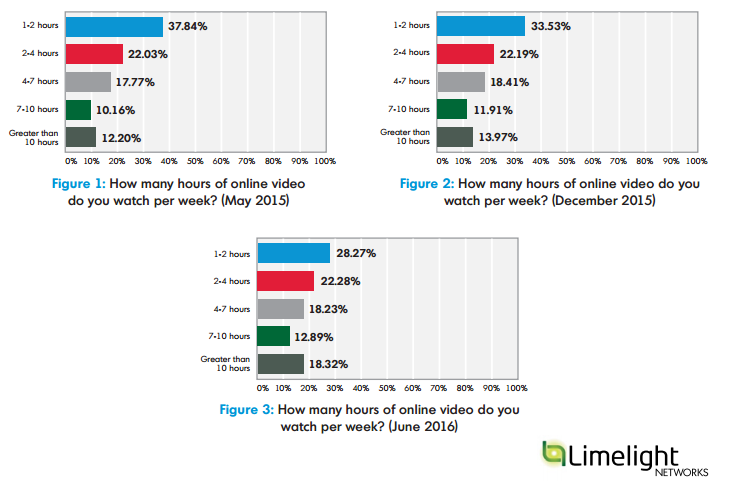 "Our research continues to show increasing adoption of OTT content, especially among younger consumers," said Nigel Burmeister, vice president of global marketing at Limelight Networks. "Consumers are demanding access to content when they want it, using the device of their choosing. Traditional providers and delivery models are increasingly at risk of being left behind as consumers become more savvy."