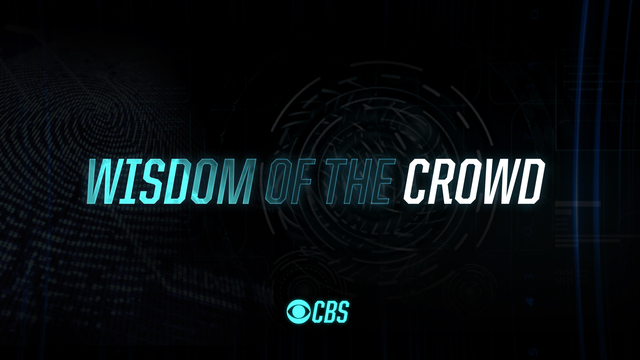 What if you could crowdsource crime fighting? Well, that's precisely the premise for CBS' new crime-fighting drama starring Jeremy Piven. Jeffrey Tanner played by Jeremy Piven owns a billion dollar IT company. However, he announces to step down as the CEO only to unveil a brand new system called SOPHE after being frustrated by the police's lack of interest in his daughter's murder. He also suspects that the person charged is not the real murderer. The new system does prove to be useful as it gets millions involved in finding the real murderer, but it does have a number of unforeseen drawbacks.
If you are a fan of crime fighting thrillers, then you'll be in for one rollercoaster ride with this one. Below is how you can continue to enjoy the ride that Wisdom of the Crowd has to offer without a regular cable service!
Watch Wisdom of the Crowd Live with CBS All ACCESS
Paramount Plus is the networks online subscription service which allows people to stream past and present episodes of all CBS shows. That means if you pay $6 for the subscription and download the app to your iOS or Android device its possible to watch Wisdom of the Crowd live on the go. Plus, if you happen to miss an episode you can choose to watch it whenever you want. However, if you 're going to watch more than just CBS shows, then you'll need to look elsewhere, perhaps at a cord-cutting service!
Live Stream Wisdom of the Crowd Live with AT&T TV NOW
AT&T TV NOW helps people cut the cord and stream shows like CBS' Wisdom of the Crowd live online. Subscriptions start at just $35 a month but in addition to streaming CBS', you can watch a load of other networks like BBC America, AMC, CNN, ESPN, etc. All networks are streamed live to the service's apps for iOS, Android, Chromecast and Amazon Fire devices amongst others. Try the service for 7-days free via the link below: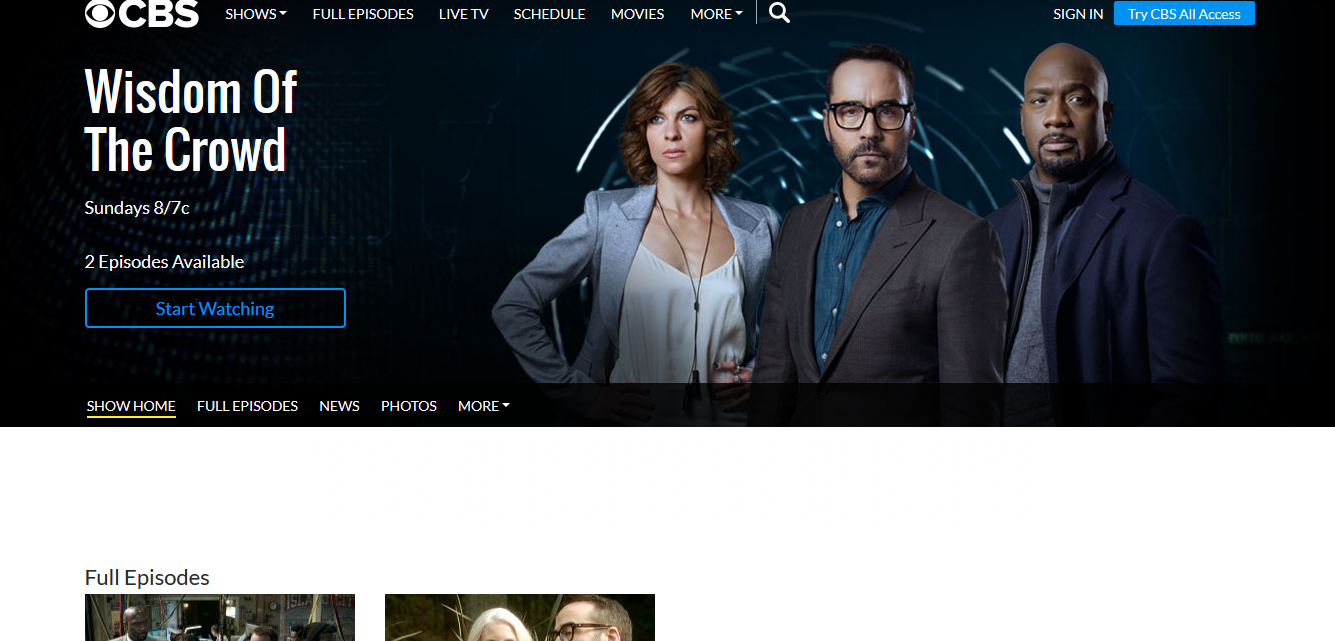 Live Stream Wisdom of the Crowd Online with Sling TV
Sling TV is one of the cheaper cable alternatives starting at just $20 a month. Subscribers can watch dozens of shows across over a hundred networks which are streamed live to apps for all major devices. Subscribers can also stream on their computer via a conventional web browser. That said the service does not yet include CBS so you won't be able to stream Wisdom of the Crowd just yet! Though you should still try the service because its free for 7 days.
Streaming Wisdom of the Crowd on Netflix, Hulu, and Amazon
Netflix and CBS have not exactly being seeing eye to eye for some time. So, it stands to reason that Netflix subscribers will not be able to watch Wisdom of the Crowd just yet.
Hulu does not have Wisdom of the Crowd available for streaming either. We expect that this will change, but we are not sure when.
Amazon Prime has episodes of Wisdom of the Crowd available for download. The pilot and sneak peek are free to download, but all other episodes cost $2.99.
Methods for Streaming Wisdom of the Crowd Free
Even though we are sure that there are many ways of streaming CBS shows like Wisdom of the Crowd for free, but those are all illegal. We wouldn't advise seeking out free methods of streaming copyrighted content because that will only lead to hefty fines and worse maybe even jail! After all who knows maybe the FBI turn SOPHE on you!