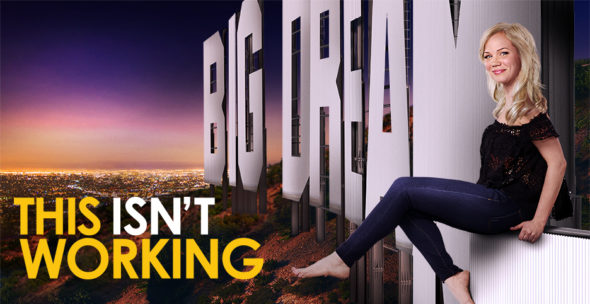 Lisa Schwartz plays Sarah Turner an average looking aspiring or should we say struggling actress who is broke beyond belief. So, in a bid to keep her head above water, Sarah needs to take on an array of often embarrassing part-time gigs. Also thrown in for good measure and a few extra chuckles are her roommates i.e. Nicole, an upright individual, and Jake a hippie. Sarah seems to be having a tough time adjusting to adult life something most of us can relate to too. Another thing we can all relate to is our hate for the 9-to-5 grind. Co-produced and written by Lisa Schwartz aka Lisbug it is worth watching if you have some time to kill. Though while watching don't forget to tweet #ThisIsntWorkingShow.
Below we examine how you can stream 'This Isn't Working' online for free!
Live Stream 'This Isn't Working' with Sling TV
If you want to watch every episode of 'This Isn't Working' live as soon as its broadcast on ABC then, Sling TV is how it can be done. Sling TV is a cable service provider but one which does not require a long-term commitment or television for that matter. All you need is a good internet connection which every tech-loving young adult already has and a working credit card. For $20 a month you get access to dozens of channels such as AMC, Bravo, CNN, CNBC, etc.
Watch 'This Isn't Working' Online Using the Official ABC App and Website
The ABC app and website should be the first place you head on over to stream 'This Isn't Working' online for free. Yes! The show is available for free but only if you subscribe to ABC. Subscribers can download the ABC app to their smartphones and tablets which essentially allows them to stream other hit shows as well such as Notorious, Secrets, and Lies, Jimmy Kimmel live, etc. on the go. Millennials who are not subscribers cannot, unfortunately, piggyback off this feature to watch free TV!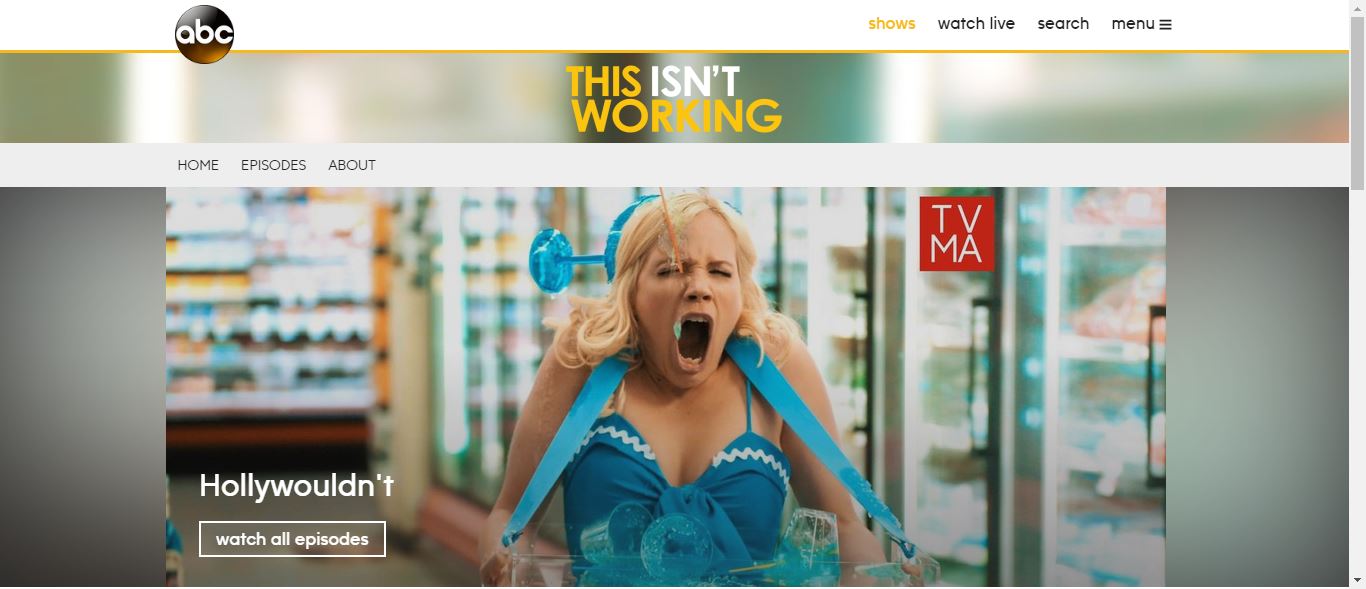 Streaming 'This Isn't Working' on Netflix, Hulu, and Amazon
'This Isn't Working' is surely not working on Netflix! As of late most ABC shows have not made it to Netflix and 'This Isn't Working' is one of those many shows unfortunately for Netflix subscribers.
Despite ABC being kinder to Hulu than with Netflix we couldn't find 'This Isn't Working' available for free streaming. All we could find were error messages! Perhaps that's one reason you shouldn't name a show after a typical error message.
People who love downloading episodes of shows in HD from Amazon Prime will also be disappointed. 'This Isn't Working' is not working on Amazon either! We guess the show's name didn't go down well with Amazon's tech department.
Other Ways of Streaming 'This Isn't Working' Online Free
We certainly haven't come across any free streaming methods which were also legal. If you stream shows like 'This Isn't Working' from websites streaming pirated content, you'll get jail time. So unless this cushy life isn't working for you don't stream via these websites!
Last Updated on by Exstreamist