Love and Hip hop is a reality television series franchise owned and broadcast by VH1. The show is a lot like a behind the scenes type which documents the lives and relationships of various musicians but mostly those associated with R&B and hip hop. The original version was called Love & Hip Hop: New York and was aired in 2011. The spin-off built on that success and relocated to Atlanta in 2012, then Hollywood in 2014. Subsequent installments have been successful resulting in many other spin-off series which can be confusing.
If music, love and bling bling! Is your thing then you'll want to watch Love and Hip Hop any time you're feeling miserable! Thankfully, you can watch Love and Hip Hop online for free using the after-mentioned methods.
Sling TV is the Place to Be for Love & Hip Hop
If you don't have cable, but you still want to watch Love and Hip Hop online for free, then you may want to take this online cable alternative very seriously. At just $19.99 a month, you get access to dozens of channels, hundreds of serials and movies on the go. Sling TV's app for iOS and Android devices mean that you can stream wherever there is an internet connection. It is by far the easiest and cheapest way for any millennial to watch Love and Hip Hop as soon as it is broadcast.
Head over there now to check it out and sign up for the free seven day trial.
DIRECTV NOW Also has Love & Hip Hop on VH1
But wait there are more options for streaming Love and Hip Hop! DIRECTV NOW is newer than Sling but much the same. They have mostly similar channel offerings. Give thema seven day free trial and you won't miss your cable bill at all:
Try DIRECTV NOW Free for 7 Days
Watch Love & Hip Hop on the Official VH1 Outlet
The official website of VH1 allows for subscribers to the music channel to just enter in their credentials and stream the latest episodes of Love and Hip Hop directly to just their iOS device. So, if you happen to be totally uncool because of a cheapo Android device, then this option will not work for you.
The app allows subscribers not just to stream Love and Hip Hop online for free but also discuss the show, tweet and chat while taking advantage of numerous other interactive features.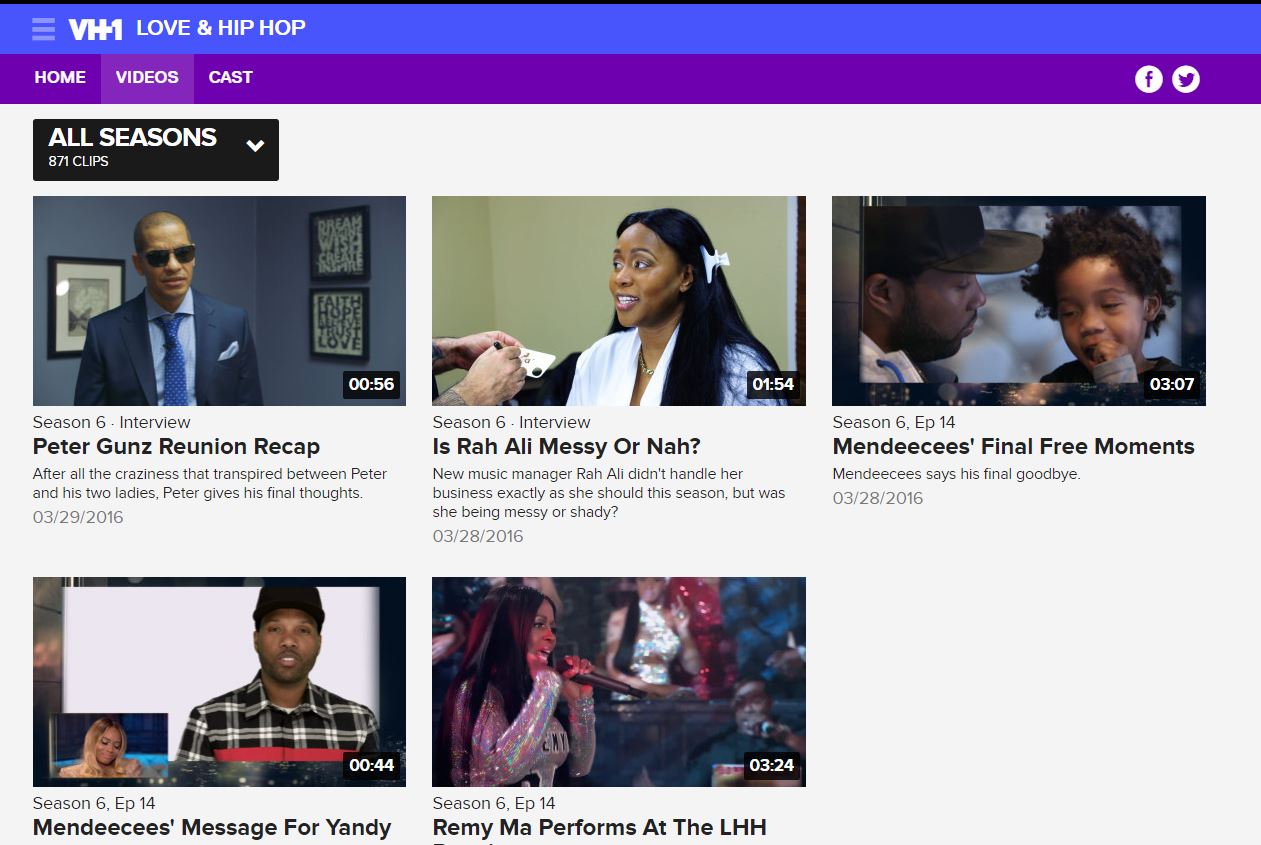 You Can Watch Love & Hip Hop on Hulu But not Netflix
If you're a Hulu subscriber then you're in luck. You can watch Love and Hip Hop online at Hulu without having to pay anything more than your current subscription. By the looks of it, Hulu has all the latest episodes, and there are no restrictions on what you can view. However, expect that Hulu will have the most recent episode after 48 hours or 24 hours of it being broadcast live via VH1.
Love and Hip Hop is not on Netflix at the moment.
Playstation Vue has VH1 and L&HH
The alternative or should we say the more expensive alternative to Sling TV is the Vue. For $39.99 you can watch Love and Hip hop online while switching between Call of Duty and Twitch. Though you can also stream, all the channels offered directly to your mobile device via the Vue app available for dozens of devices running everything from Amazon Fire to iOS.
Is there a way I can watch Love and Hip Hop without paying anything i.e. truly free?
Well, you can find some episodes on YouTube, and you can borrow subscription credential from friends and family members to stream it officially. Other methods will mean you will be breaking copyright law and inviting a whole family of viruses and Trojans to your computer. Since its dangerous and illegal we'll not get into them here.