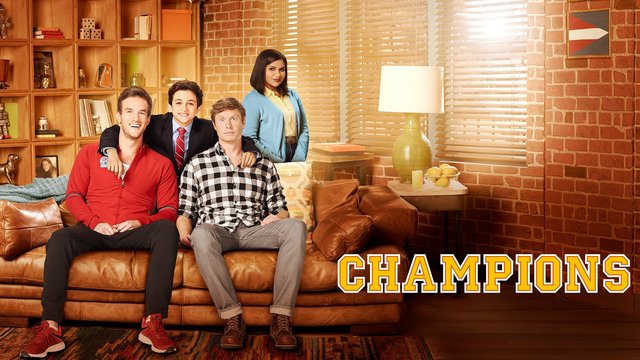 Champions is a comedy television series on NBC. Created by Mindy Kaling and Charlie Grandy it's about a man who's living the ideal bachelor life until disaster strikes! Vince is part owner of the largest gym in Brooklyn, where he works out and eats. His dashing good looks ensure that the can date a number of beautiful women. He shares an apartment with his dumb yet lovable brother named Matthew. Though his life soon gets complicated when his high school, one-time fling Priya played by Mindy Kaling lands up unexpectedly to drop off their now 15-year-old son named Michael. Unlike his father, Michael is talented and needs to attend a school for talented kids. Now Vince is in charge of handling a witty, ambitious and smart teen.
Award situations are one of the things that make Champions so funny. So, if you're into awkward comedies below is how you can stream Champions online.
Watch Champions Online Using the Official NBC App or Website
The official NBC App and website live streams Champions but requires that you log-in with your cable subscriber credentials. Subscribers can also watch previous episodes of their favorite shows. That said it would only work if you're a subscriber, if not then this option is not worth even considering. The good news is that there are other ways of streaming Champions without subscribing to cable TV!
Live Stream Champions Online via AT&T TV NOW
AT&T TV NOW is a cable alternative which does not require a long term commitment. Also starting at just $35 a month you can watch just about every NBC show including Champions live. The service live streams not just NBC but also other networks like AMC, Syfy, ESPN, etc. As an added plus AT&T does not charge subscribers for the additional data, they use when streaming over a mobile connection so you can stream all you want on the go.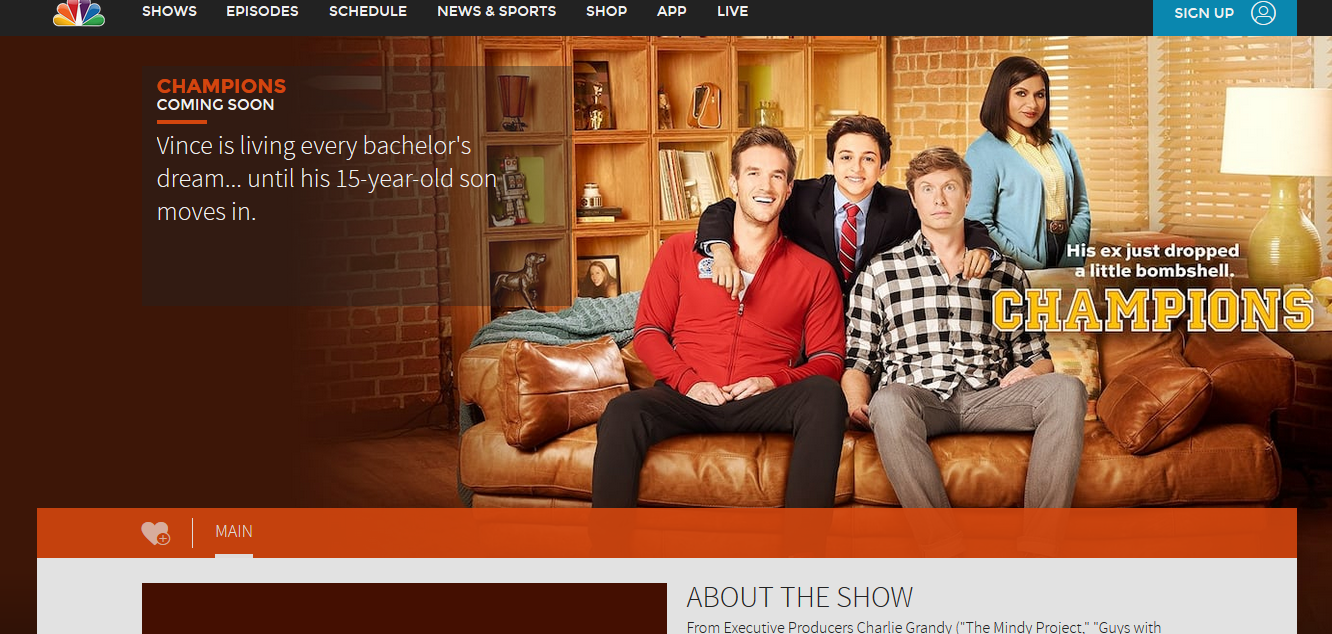 Live Stream Champions Online with Sling TV
Sling TV is a cord cutting service that live streams channels like NBC via a series of apps for various devices like Amazon Fire, Chromecast, iOS, Android, etc. Starting at just $20 a month subscribers don't have to sign a long term contract. So, if all you want to do is watch episodes of Champions live then you can simply unsubscribe after the finale! Try the service free via the button below.
Streaming Champions on Netflix, Hulu, and Amazon
Netflix may probably not get episodes of Champions just yet. We say this because many of the latest NBC shows haven't made it to the service lately.
Hulu will get episodes of Champions, and it will most probably be available the very next day its broadcast on NBC. Being partly owned by NBC/Comcast certainly, helps!
You should start seeing episodes of Champions available for download from Amazon Prime soon. Though you'll have to pay $2.99 an episode then again, most people reading this already know that!
Other Methods of Streaming Champions Live and Free
In the online streaming world, the word 'free' is usually synonymous with piracy which is of course illegal. Though you should be able to find websites streaming Champions live or offering it for download. We'd advise against it because it doesn't take a genius to know that going to jail isn't exactly entertaining for funny for that matter!
Last Updated on by Exstreamist