Stream Netflix at 35,000 Feet with Virgin Air's New In Flight Streaming
|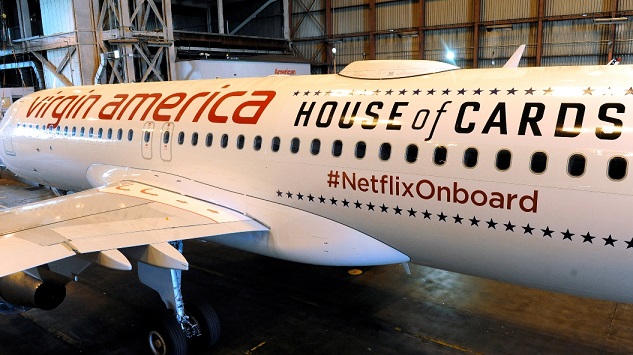 Let's be honest, Netflix would make any flight infinitely better. Think of all the shows you could binge watch over a six hour flight. That's almost an entire season of some television shows and at least three or so movies.
But often times the wifi on airplanes is expensive, unreliable, or just inconvenient. So you can imagine the pleasant surprise today when Netflix and Virgin Airlines announced a joint partnership to bring shows like House of Cards and Orange is the New Black free for all customers on their flights.
The wifi access will be complimentary for those interested in streaming Netflix and its entire catalog with a subscription to the service.
Netflix and Virgin America are both known for their focus on innovation and for shaking up their respective industries – so we're thrilled to team up to bring the best in technology and entertainment to the skies. These latest generation investments in our WiFi and entertainment platforms allow us to provide the largest breadth of streamed content ever available at 35,000 feet – along with entire seasons of some Netflix favorites via the Red platform," said Abby Lunardini, Virgin America Vice President of Brand Marketing and Communications.
Virgin Airlines will also have some special edition planes flying through the air with House of Cards branding. No word yet as to whether or not Air Force One will undergo the same treatment.