STREAM LIVE: Monday Night Football Oakland Raiders vs. Houston Texans Free
|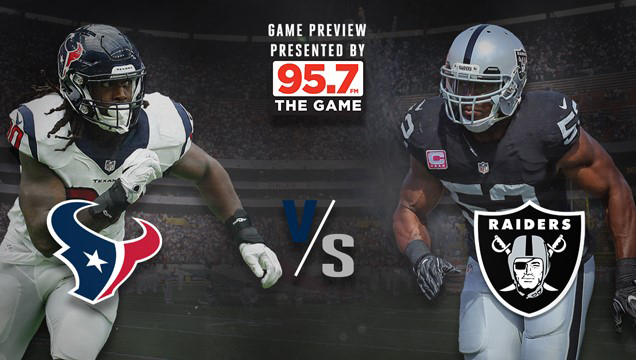 Looking to legally stream tonight's Monday Night Football match up between the surging Oakland Raiders and the Houston Texans in Mexico City? Great news, there are several ways to do so, get the full scoop below:
Stream the MNF game free with a trial of Sling TV
For those of you curious on how to watch ESPN online, where Monday Night Football is hosted, Sling TV is going to be your best bet. You don't need a cable subscription, and Sling TV has a seven day free trial, which you can check out by clicking here. It will stream on mobile phones including Apple iPhones and Android devices through their free mobile app as well.
Already have cable?
If you're already a cable subscriber, you can log in with your cable password and login information directly. ESPN has an app that will allow you to stream the game on smart TVs, mobile devices and more. Chek out the official ESPN website here for details.
Illegal streams of MNF
Be careful out there with illegal streams, there are plenty of options when it comes to pirating the game, but we have to warn you, a lot of the sites promising ways to stream Monday Night Football free are filled with viruses and malware. Make sure not to download anything and don't click on any ads that pop up over the screens.
Review of the Texans versus Raiders game
The Oakland Raiders are one of the hottest teams in the NFL right now, and are getting a big prime time slot for tonight's MNF game. They're blossoming in a tough division and have already locked up some big wins, including one against division rival Denver Broncos.
The Houston Texans on the other hand have been an interesting team this season. Their record indicates a great team at 6-3, but a lot of questions remain with their QB and injured defense. It will be interesting to see how they fare against a very tough Raiders squad.
If we had to guess, our money is on the Oakland Raiders to remain dominant with a powerful offense and a defense that is starting to look like the 2015 squad that was so dominant. Brock's QB skills are still too big of a question mark, but they certainly seem to be finding ways to win games with him. It doesn't hurt when you have one of the best WRs in the game in Deandre Hopkins.
So if you're looking to stream the Oakland Raiders vs the Houston Texans on ESPN's MNF, we highly recommend Sling TV. Get a free trial here!