Star Wars: The Force Awakens will be Streaming Early on April 1st
|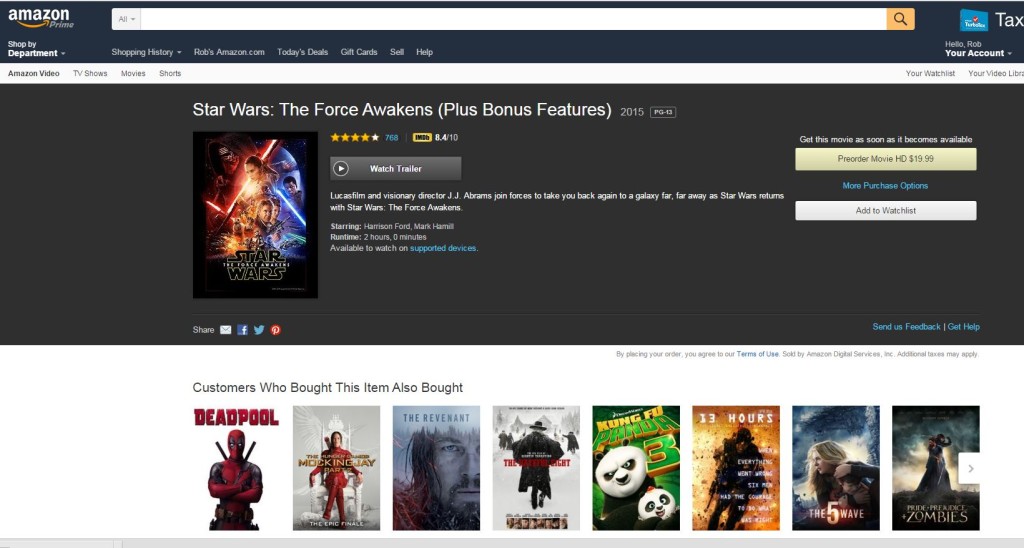 There are few singular movies that warrant exclusive coverage as they make their way to streaming months after their theatrical release: Star Wars is one of them. We can now confirm that the digital version of Star Wars: The Force Awakens aka "Episode VII" will appear on digital streaming outlets on April 1st! You can pre-order your copy now to be ready for viewing that morning here.  It's about $20 at the moment.
The movie has broken all kinds of records including the highest domestic takings ever and currently holding 3rd place behind Titanic and Avatar for highest grossing film of all time. Pretty impressive for a series that's almost 40 years old and went through a decade of darkness (the prequels).
You may be wondering about the Blu-Ray or DVD release. That comes out a few days later on April 5th. Note that the streaming version is coming out first. A testament to the rise of online video consumption versus physical media.  It's the same price ($20) so pre-order it now before it sells out. Both versions come with special features that any Star Wars fan will appreciate:
Secrets of The Force Awakens: A Cinematic Journey – For the first time, discover the complete story behind the making of The Force Awakens, revealed through in-depth footage and exclusive interviews with the actors and filmmakers in this feature documentary
The Story Awakens: The Table Read – Cast members familiar and new reflect on the memorable day they all first came together to read the movie's script
Building BB-8 – See how the filmmakers brought the newest droid to the screen, creating an instant fan favorite in the Star Wars
Crafting Creatures – Watch movie magic as the filmmakers bring a cast of new creatures to life
Blueprint of a Battle: The Snow Fight – Go deeper into the epic, climactic lightsaber battle between Rey and Kylo Ren
John Williams: The Seventh Symphony – The legendary composer shares personal insights of his work on Star Wars and The Force Awakens
ILM: The Visual Magic of The Force – An insider's look into the remarkable digital artistry of the movie's visual effects.
Force For Change – Heroes come in all shapes and sizes. See how the Star Wars: Force for Change initiative has united Star Wars fans all over the globe to help others
Deleted Scenes
Here's the launch trailer:
Earlier there was some speculation that all of Star Wars would be on Netflix due to their deal with Netflix. That has not come to pass just yet. Here's all the ways to stream Star Wars online that we know of. We'll keep you updated on everything Star Wars streaming as we have it.